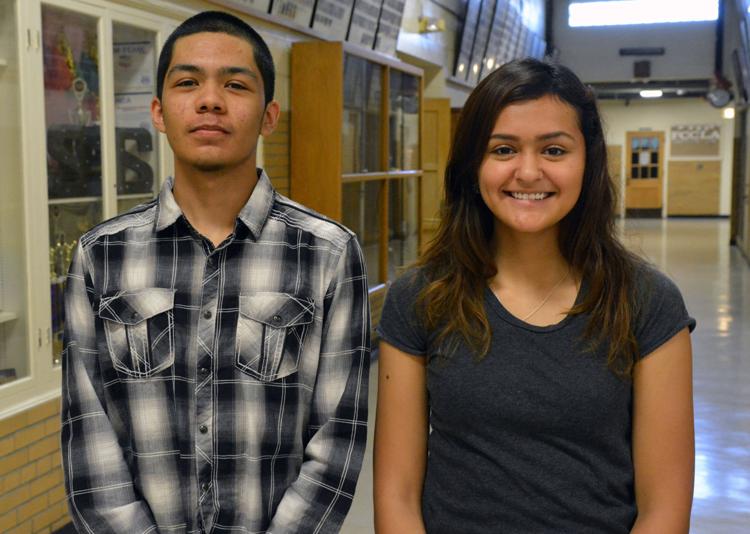 For outsiders, Schuyler Central High School graduate Stephany Corona may have stuck out in her classes.
"I get that a lot, 'Oh, you're the only girl in construction. How is that?'" said Corona.
But to her classmates, she was just another student.
"I feel like I fit in with my classmates," she said. "We're all learning the same stuff in that class and it's not like, 'Oh, you're a girl.' They don't treat me differently."
Corona said she probably got her interest in making things from her mother.
"My mom has always been a hands-on person," she said. "She always has her projects."
And she gets a lot of satisfaction from construction projects.
"It's working with my hands and seeing the finished product," she said.
Corona was one of the participants in last year's Women in Construction camp led by SCHS instructor Mark Wemhoff. She said it was different working with a group of female students.
"We were a lot more perfectionist with the girls, so we took our time to make every detail perfect," she said. "And there was a lot more talking when it was girls. It was good."
Wemhoff encouraged her to sign up for the construction class, where she built a house with other SCHS students.
"I told her building a house would give her on-site experience to understand what contractors have to do," said Wemhoff.
He was right.
"I learned a lot in that class," said Corona.
It was a natural next step in her education and a project she took very seriously.
"Somebody's actually going to live in that house so we have to make everything perfect and make sure nothing falls down and make sure it's all sturdy," she said. "So it was a lot more nerve-racking to build it, but it was fun."
Wemhoff knew he could count on Corona to meet the challenge.
"You ask her to do something and she does it. She's not afraid," he said. "I'd give her instructions and she took them and went."
In addition to working at Panda Express in Columbus, she plans to help her mother renovate their garage this summer and build a doghouse for her stepfather.
After that, she'll attend the University of Nebraska-Lincoln to study construction engineering.
Wemhoff has no doubt she'll succeed there.
"She's very motivated," he said. "I know she wants to be successful."
Corona's not worried either.
"I've been ready to graduate," she said. "I'm excited for the real world."
Second chance
SCHS counselor Amy Johnson said Alberto Arciva's transformation from a quiet kid putting in the minimum effort to get by to calculus whiz seemed to come out of nowhere.
"His first two years here, he didn't do much," said Johnson. "Then he walked into my office and asked to take pre-calculus."
Johnson said she was surprised because, until that point, Arciva hadn't shown much interest in school or mathematics.
Arciva admitted he wasn't real motivated.
"The first two years, I didn't really try. I wasn't doing my best," he said. "So I didn't get the greatest grades, but I knew I could have gotten better if I really wanted to."
At the time, Arciva thought it didn't matter how well he did in school.
"My dad always worked in Mexico a lot — he had a farm over there," he said. "I figured that's where I would end up regardless of how I did in high school."
Then a few of his friends graduated from high school and went on to study engineering in college.
"That's when I started realizing that that's something I could possibly do," Arciva said. "I was always wanting to make stuff, take stuff apart, always interested in how things work."
He wanted to take calculus, so he asked math teacher Lynn Sweeney if he could sign up for the online pre-calculus course offered in the summer so he could move on to calculus as a senior.
"That was the longest string of words I'd ever heard him say," said Sweeney.
When he got into pre-calculus, Sweeney said Arciva transformed.
"Pretty soon we realized he was getting it really quick," she said. "He just really blossomed from there."
In addition to studying calculus, Arciva got involved with the Math and Science Club and Quiz Bowl and was promoted to manager at Pizza Hut. He plans to attend UNL to major in computer engineering.
While he's looking forward to college, Arciva wishes he'd been more motivated at the beginning of high school. He has some advice for incoming freshmen.
"Know what you want to do, think about what you want to do, where you want to be," he said. "Don't mess it up like I did."
His story is also a reminder not to dismiss the quiet kid in the back of the classroom.
"That's the biggest transformation I've seen in 20 years," said Sweeney.