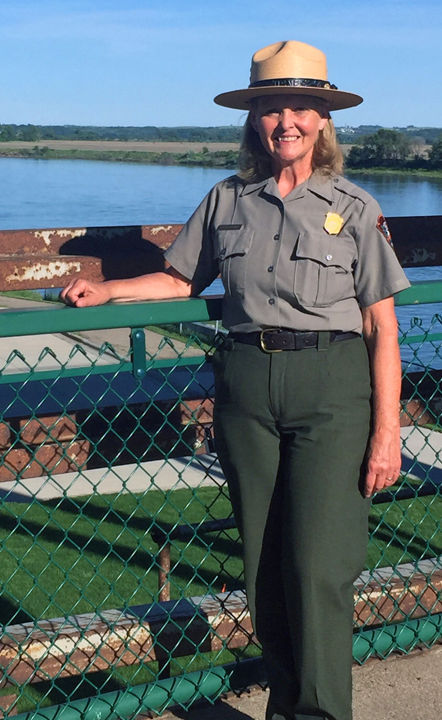 Schuyler residents visiting the Missouri National Recreational River this summer might see a familiar face.
Teresa Mentzer works as an educator at the national park, which runs along the Missouri River near Yankton, South Dakota.
Mentzer spent the majority of her life in Schuyler and taught English at Schuyler Central High School for 32 years before deciding in 2014 to pursue a passion that had slowly grown over the years.
"I thought, 'Maybe this is the time when I have the energy and interest to get out of my comfort zone,'" she said of the decision to retire from SCHS and take a job with the National Park Service.
Mentzer has always been interested in nature. She and her husband Curt, who still lives in Schuyler, have visited many national parks with their children.
In 2007, she participated in a program through the National Park Service that allows educators to travel to national parks for professional development.
At Rocky Mountain National Park, Mentzer met a ranger who impressed her and learned she was a teacher in Denver. That educator was part of the Teacher-Ranger-Teacher program that allowed her to work for the park during summer break.
"That stuck in my mind for a few years," Mentzer said. "It got to the point where I got more interested and started doing research in 2010."
She discovered the closest national park was only two hours away along the Missouri River.
"I did not know there was a national park this close to where I live," she said. "I became more interested in the idea that maybe this is something that I could try as a job other than teaching."
After a few years working over the summer, a full-time education technician position opened at the park. Mentzer and her husband discussed the opportunity, and she decided to apply.
"It all just came together. It seemed a natural fit for me," she said. "I wasn't tired of teaching necessarily, I was trying to have an impact on young people about our environment and taking care of it for the future."
There are things she misses about teaching in Schuyler, such as seeing several generations come through the classroom.
"There's several families where I had all their children," she said. "The relationships with families over the years, that was really fun."
She also misses teaching writing, putting together the school paper and directing one-act plays.
"I miss the kids and their writing, their creativity," she said. "Working and collaborating with the kids on different projects and having them produce something that's theirs and take ownership of it. I really enjoyed that."
But her current job has brought new experiences and she's learned new things about herself along the way. One time she was taking a group of children fishing, but didn't really know how to bait a hook or cast the line.
"I just fished as a young girl and most of that was done for me," she said. "Now I'm the dad-person putting their worm on the hooks."
She's also led groups on canoe trips and is undergoing official training for kayaking.
"If I hadn't taken this job I don't know if I would have learned kayaking," she said.
Through canoeing, kayaking and hiking, the job has also given her the opportunity to stay active.
"At the age I'm at it's important to be healthy and stay active," she said. "This gives me an outlet for that and gently persuades me to stay in shape and to stay active in order to still fulfill the duties of the job."
Every summer she sees some familiar faces from Schuyler, but would like to see more.
"I think the national parks are something that we need to continue to protect and preserve for years to come," she said. "See what's in your backyard. We've got a lot of great parks here in Nebraska."
There's a quote by George Eliot she thinks of when sharing her story.
"It is never too late to be what you might have become," Mentzer said. "You can try something different no matter what age you are."