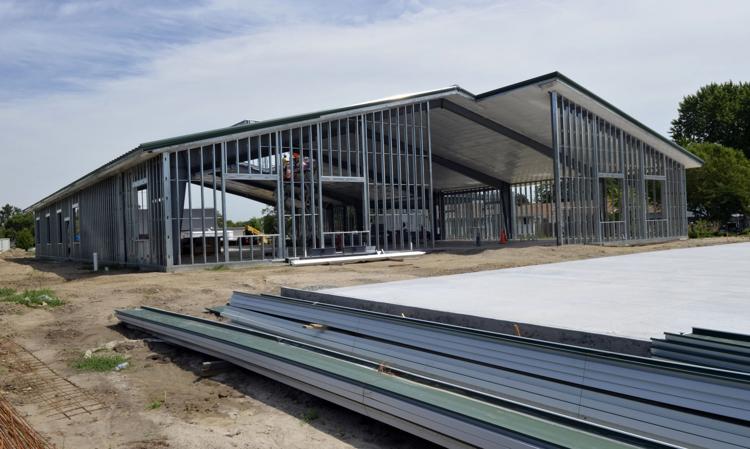 The new Schuyler Public Library building is taking shape.
The foundation has been poured, steel is raised, the roof is on and some of the cement work for the parking lot and driveway is complete.
"We don't have a real definite timeline when it will be complete, but things have definitely picked up the pace, so we are happy with that," said Library Director MeMe Smith.
Ground was broken last summer on the roughly $2 million facility located along the east side of Colfax Street between 18th and 19th streets.
Fundraising and donations, including a $1.5 million contribution from former Richland resident James Sindelar on behalf of himself and his wife, have more than covered the construction costs. Another $250,000 came from the Nebraska Department of Economic Development.
Money not needed for the building construction will be used to fund library programs and events.
Smith said the approximately 11,300-square-foot building will be roomier for library patrons.
"It's double the space that we have now," she said.
Spaces inside the building are designed for multiple uses, serving as meeting and conference rooms when they're not needed for library events. There will also be a reading area with a fireplace and study area.
"Libraries are now much more active spaces than they used to be, so people who want a quiet place to study will have that," Smith said.
She said there aren't immediate plans for a makerspace lab — something that's become popular for libraries — but one could be added in the future since there's space available.
In the meantime, Smith said the library could take advantage of a traveling makerspace program provided through the Nebraska Library Commission.
There will also be a push to promote the new library. A digital sign will likely be installed on the building to let the public know about library events and programs.
"No matter how much we try to spread it around, some people won't know about it," Smith said.
The new location should give the library a boost.
"I think that people who might not be used to using a library will see the new structure on a new thoroughfare and will want to check it out," Smith said.
Another ongoing construction project in the community is an addition to Schuyler Central High School.
Work began in April on the approximately 8,000-square-foot, $1 million project that will add six classrooms and a music room to the southeast side of the school. The addition will eliminate the need for portable buildings and accommodate a growing student population.
The foundation has been poured and steel erection should begin soon, according to Schuyler Community Schools Superintendent Dan Hoesing.
"We are pretty much on schedule. The floor is in, so there is nothing that will slow us down now," he said.
Construction will be ongoing during the upcoming school year with portable buildings used until the addition is complete and ready for use, which is expected around the first week in October. After that, the portables will be removed to provide more parking space.
Bierman Contracting Inc. of Columbus is the general contractor for both the high school and library projects.