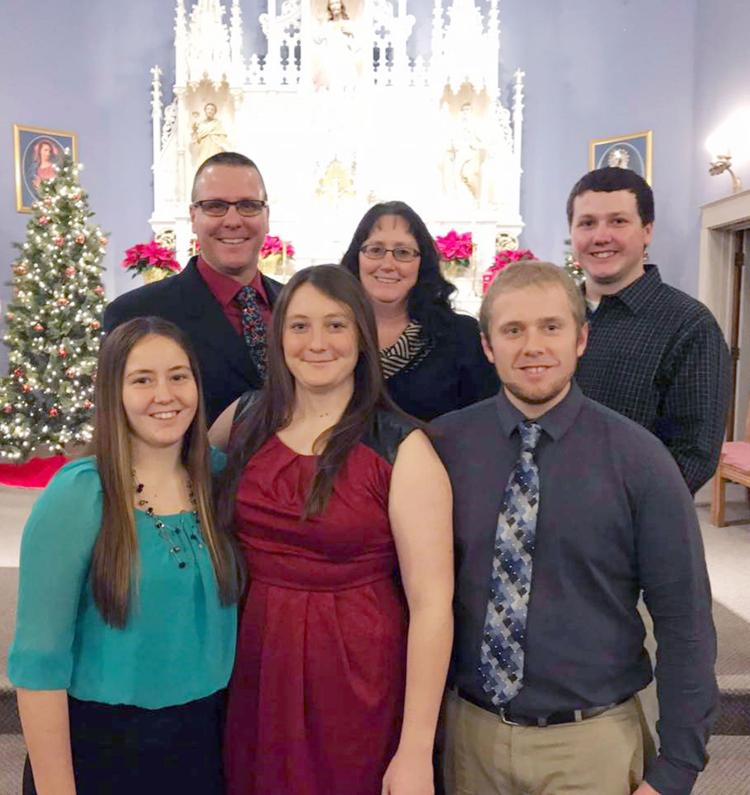 Jeff and Becky (Boyle) Black and their family will be honored this month as the 2017 St. Anthony of Padua Knights of Columbus Family of the Year.
They were married May 30, 1991, at St. Joseph's Catholic Church in Lyons and are current members of Divine Mercy Parish in Schuyler.
Jeff graduated from Bellevue East High School in 1988 and Wayne State College in 1992 with a Bachelor of Science degree in criminal justice and minor in sociology. He retired from the military after 21 years of service in the United States Army Reserve. During that time he held various jobs, including infantryman, sergeant, military police, instructor and first sergeant. He was deployed twice in his career, once as an instructor to Fort Leonard Wood, Missouri, and to Iraq, where he was awarded the Bronze Star.
Jeff's first law enforcement position was with the city of Schuyler in 1995. In 1998, he joined the Columbus Police Department, where he still works. He also works part time as a substitute teacher and bus driver for Schuyler Community Schools.
Jeff joined the Catholic Church in 1995. He joined the Knights of Columbus in 2011 and has been involved in various council activities since then. He serves on the Parish Council and assisted with faith formation classes, the RCIA program, EME and ushering.
He is a former member of the Schuyler Grade School Operating Council and served on the baseball board and as a Cub scoutmaster and Boy Scout patrol leader. Jeff has coached various youth sports including baseball, softball, soccer and wrestling. In addition to the Knights of Columbus, he is a member of the American Legion and VFW.
Becky graduated from Oakland-Craig High School in 1987 and Wayne State College with a Bachelor of Arts degree in elementary education. She taught four years in Catholic schools in Osmond and Wayne and worked in the social work field for Columbus Community Hospital and at East Central District Health Department in the early development network program, both as a services coordinator and supervisor. Later she returned to teaching at Schuyler Community Schools.
Becky has been a teacher in the faith formation classes. She also serves as an EME and sings in the choir. She has served three terms on the library board, with two terms as secretary, and the library foundation board as secretary. Becky has also been a Girl Scouts and 4-H leader, assisted in Cub Scouts and Boy Scouts and was treasurer for two years and co-chair for two years of PADRE. She was secretary for one term for the music boosters. She also coached youth soccer and kept stats for the high school softball team for three years. Becky has been a representative on the Schuyler Education Association and is part of the negotiations team.
Jeff and Becky have three children, Brianna, Jeffrey Jr. and Bethany.
Brianna was baptized in Wayne and Jeffrey and Bethany were both baptized at Divine Mercy Parish. All three received their first Communion and confirmation at Divine Mercy.
Brianna is a student in the University of Nebraska-Lincoln animal science program and will receive her Bachelor of Science degree in May. She will be employed at Midlands Vet Clinic upon graduation. She is engaged to Tyler Brabac, also of Schuyler. They have plans to marry at Divine Mercy Parish in July 2018.
Jeffrey Jr. is a 2015 graduate of Schuyler Central High School and currently attends Northeast Community College. He expects to receive his associate degree in criminal justice in December.
Bethany is a junior at Schuyler Central High School. She has plans to attend Wayne State College following her graduation in 2018.
The family will be recognized March 18 during the St. Anthony of Padua Knights of Columbus awards banquet at the St. Mary's Parish Hall.
The banquet begins with a 6 p.m. social followed by dinner at 6:45 p.m. Dinner tickets are $12.50 per person and reservations must be made before Monday. To make a reservation, contact Tom Healy at 402-615-2797, Steve Bailey at 402-615-1090 or Tom Bayer at 402-352-5818.