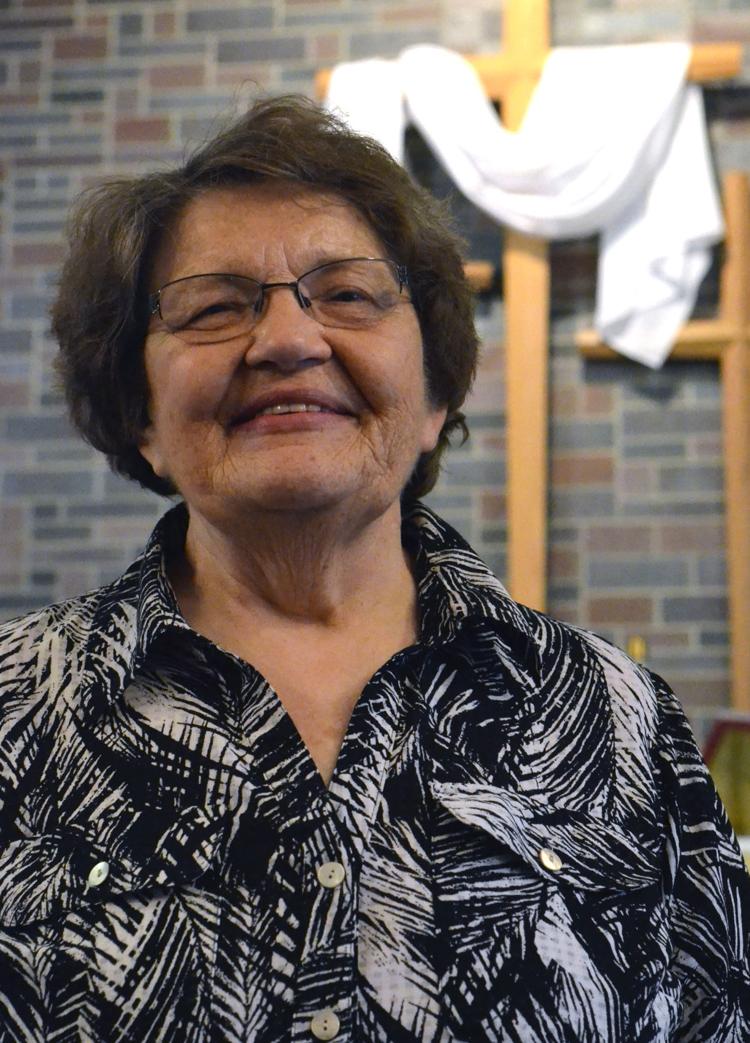 Two local religious and community leaders will be moving on at the end of June.
St. John's Lutheran Church Pastor Ruth Boettcher is retiring and Christ United Methodist Church Pastor Pat Norris is transferring to another parish to be closer to family.
Boettcher lived in Newman Grove until she entered elementary school and her parents moved to Columbus. Her parents were very involved at Trinity Lutheran Church in Newman Grove, and one of her uncles became a Lutheran pastor.
During a service, her uncle leaned across Boettcher to tell her brother that he should consider becoming a pastor.
"I'm going, 'Why didn't he say that to me?'" she said.
The Lutheran church didn't ordain women until 1970, and even then it wasn't common to see female pastors.
Boettcher became a pastor following a career as a librarian. In her early 40s she said she began to feel restless and was considering going back to school for a second master's degree.
"One Saturday morning I was sorting through some papers and the tears started streaming," she said. "It was my spirit saying, 'You're avoiding making a decision here.'"
Norris is also a second-career pastor. Originally from Davenport, she had gone through a few careers and was also in her 40s, living in Denton, when she was called to the ministry.
"I was in banking when I heard my call," she said. "I finished my bachelor's at Doane (University) in 2005 and went straight into seminary."
While at the Saint Paul School of Theology in Kansas City, she served part time at churches in southeast Nebraska. After graduation, she served at First United Methodist Church in York and Waco United Methodist Church for six years.
When she was officially ordained, Norris was sent to lead the United Methodist churches in Schuyler, Rising City and Brainard, where she's been the head pastor for four years.
Boettcher graduated from what is now the Luther Seminary in St. Paul, Minnesota, and returned to Nebraska. She served as an interim pastor for a few congregations, including the one Norris attended when she was growing up.
In 2006, Boettcher was asked to serve as the interim pastor at St. John's Lutheran Church in Schuyler. A year later, she was officially called on by the congregation to serve as their first female pastor.
Boettcher and Norris have both been involved with the Schuyler Ministerial Association, which brings together several congregations in town to provide assistance to the community, such as the food bank based at Schuyler Middle School.
"In Schuyler, I've enjoyed the ecumenical relationships," said Boettcher. "It's that kind of helping and exchange and working together and saying, our unity is in Christ, we just have different ways of practicing our faith."
Two years ago they ran a campaign to provide basic supplies to unaccompanied minors who arrived in Schuyler from Central America.
"They were coming with nothing," said Boettcher.
Members of Schuyler Ministerial Association also formed the Schuyler Housing and Hospitality Committee, which is working to address the local housing shortage.
Boettcher and Norris also had a hand in collaborating with Habitat for Humanity of Columbus to build a Habitat house in Schuyler. A lot along Gold Street between Fifth and Sixth streets was recently selected for the project and the committee is in the process of selecting a family to receive the home.
Seeing so much activity and progress in the community gives Boettcher mixed feelings about her retirement.
"I'm leaving when there's lots of exciting things happening in Schuyler," she said. "There's these wonderful things happening in this community. I'm leaving at a good time."
The other challenge is the Lutheran church is fairly strict about former pastors removing themselves from their congregations.
"There's a stipulation that when you leave, you leave," she said.
Boettcher bought her parents' home in Newman Grove so she can be close to her mother, who lives in a care center in that community. She will serve as head pastor at St. John's until June 30.
Norris is moving back in with her husband, who still resides in Denton. She will serve part time at the United Methodist churches in Fairmont and Milligan.
United Methodist Church is less strict about visiting former congregations, so Norris hopes to be at the groundbreaking for the Habitat for Humanity house in Schuyler and may bring a group from her new congregations to help build it.
Her last services will be Sunday in Brainard and Rising City and June 18 in Schuyler. A celebration of ministry will be held June 25 to say goodbye to Norris.
Pastor Dennis Wheeler with Calvary United Methodist Church in Fremont and Faith United Methodist Church in Hooper will assume the head pastor position at United Methodist Church in Schuyler.
Pastor Dale Coates, who is currently assisting at the United Methodist churches in Brainard and Rising City, will lead those congregations.