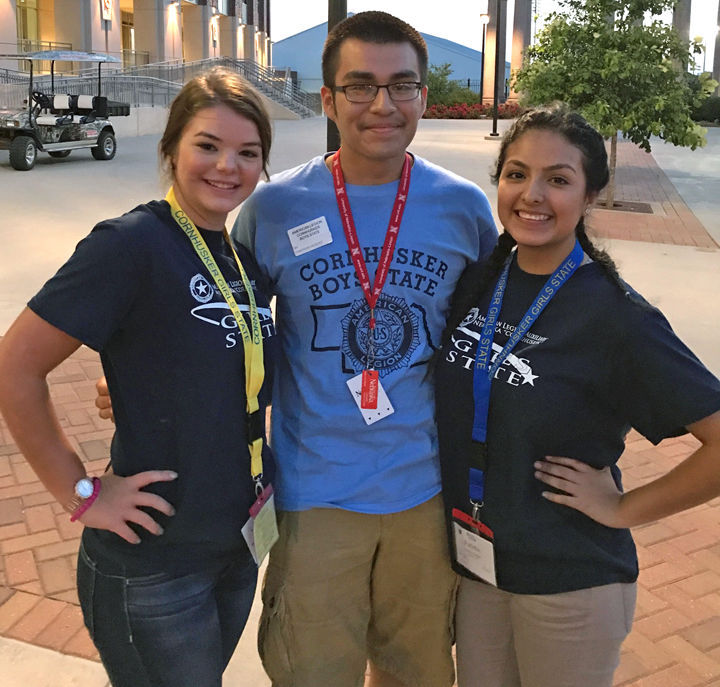 Schuyler Central High School students Jonathan Vazquez, Kameryn Healy and Fatima Arroyo recently attended Cornhusker Boys and Girls State to learn about leadership, government and civic responsibility.
The three, selected by American Legion McCleod Post 47 and Auxiliary, stayed in a University of Nebraska-Lincoln dormitory for the event held June 4-10 for high school juniors from across the state.
Before camp began all the students chose to participate in either choir, band, the camp newsletter or a service group that involved volunteer work.
Vazquez signed up for the newsletter because he's interested in writing.
"It's something that's intrigued me for a while," he said. "They gave us an assignment each day and we'd go into the different sessions the boys were in and write about what was going on."
For Vazquez, that experience was one of the highlights of his time at Boys State.
"Being a part of that, it was something really exciting," he said. "I can't explain into words what I felt every time I went into the newsletter team and wrote about the different boys' thoughts and feelings in the other sessions."
Arroyo and Healy signed up for the service learning experience, where they made arts and crafts for veterans and helped children practice reading and play dodge ball at the Malone Community Center.
To learn about politics, each floor of the dormitory was designated as a city in Nebraska and residents on that floor had to run for government positions.
Vazquez was on a school board.
"I can say that I did learn about our government system, because going there at the beginning, I didn't know much about it," he said. "I gained a sense of how the government is run."
Vazquez said that experience, as well as the daily speakers, helped him learn about leadership.
"What I really learned from it is how I can develop myself more as a leader," he said. "And be willing to help others that are struggling."
One of the highlights for Arroyo was when she ran for the Board of Regents. Before the camp, she didn't know what that position was.
"I didn't really know what else to choose because a lot of the names, I didn't know what they were," said Arroyo. "I went on Google and learned it has to do with the university, the people that run the University of Nebraska helping the colleges out and making them the best for the students."
She had to run a campaign against other campers vying for the same position.
"It made me get out of my comfort zone and get out there and tell people about the skills I have that would make me qualified for the Board of Regents," she said.
Arroyo also had to step outside her comfort zone when she wasn't campaigning.
"It made me open up more," she said. "I was socially forced to have conversations with new people."
That helped her gain confidence in herself and her abilities.
"I feel like this camp gave me a lot of leadership skills," she said. "I won't be scared to step up and take the lead."
Healy didn't have to campaign to become a state senator, but when they visited the Capitol building, she and the other senators created and debated their own bills.
"That was pretty fun," she said. "It was pretty cool, all the different opinions people had."
Boys and Girls State attendees also listened to a debate between the state's Democratic and Republican leaders.
For Healy, one of the highlights of the event was comparing the life experiences of the girls who lived on her floor.
"There was a girl who had 600 people in her (high school) class and there was a girl with five people in her class," she said. "One night we were talking about the differences between big schools and small schools. It was really interesting, the advantages and disadvantages of living in a small town, going to a small school, and living in a big town, going to a big school."
It showed her the diversity and different perspectives in the state.
"Getting to know Nebraska, really," Healy said.