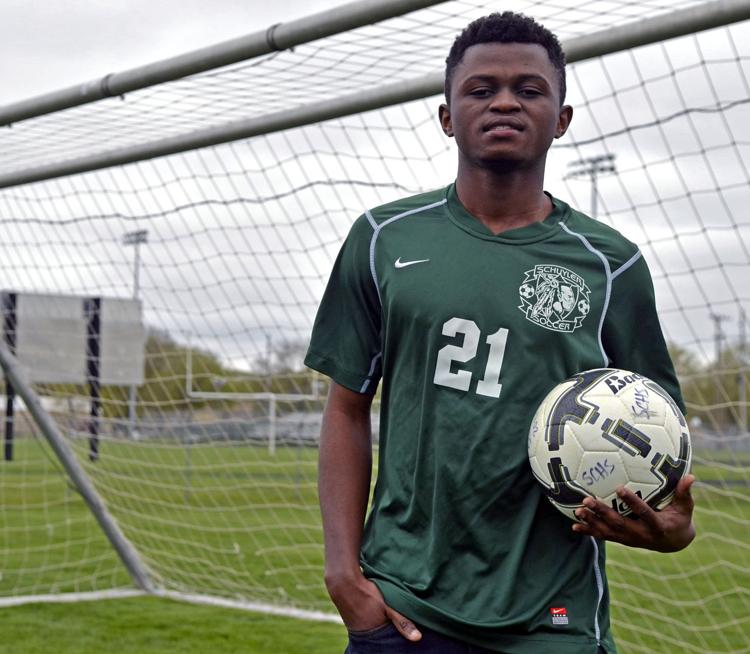 As a junior in 2016, Nathan Kutalu scored 18 goals and led Schuyler to the Class B semifinals.
After the season, he was named first team All-State by both the Lincoln Journal Star and Omaha World-Herald.
He was primed for a huge senior year.
Then he was ruled ineligible. Kutalu, who turned 20 on March 22, had his high school career cut short by the Nebraska School Activities Association's age restrictions.
"I was really disappointed," the Schuyler senior said.
But this isn't the end of the road for the immigrant from the Democratic Republic of the Congo.
Kutalu came to the United States a little more than three years ago. He brought his soccer skills with him.
In America, kids are exposed to countless sports. It's common for youths to play four or five different sports growing up.
But in the Congo, soccer trumps all. Some kids eventually gravitate toward basketball, but it pales in comparison to soccer.
Every young person knows how to play soccer, Kutalu said. "Sometimes you play with friends, sometimes in league."
Kutalu was on the pitch nearly every day for 10 years prior to his arrival in America. Whether it was on dirt, grass or even sand, where there was a little room available, soccer was played.
"If you play in sand, it's a little tough," Kutalu said.
If there wasn't enough room for a full game, they'd find a makeshift goal and one person to serve as goalie. The rest would shoot penalty kicks.
That background turned Kutalu into an All-State player.
His parents applied for the diversity visa program, an annual lottery that selects 55,000 people a year to immigrate to the United States. The program is open to those from countries with low rates of immigration to the United States in the previous five years.
The goal is to help diversify America's population.
Kutalu's parents weren't selected the first year they applied. Driven by the American dream, they applied again.
This time they were selected, but they weren't in the clear yet.
Next came the interview to determine if his family qualified to make the adaptation to life in America. They passed and received their visas. Kutalu, his parents and brother Tychique boarded an airplane headed to the United States.
Kutalu had no nerves about the move to a new country.
"I was excited," he said.
The trip took two full days. They spent one night in Belgium before completing the journey.
Before making the trip, his parents called some of their Congolese friends living in Lincoln to scout for a place to live.
By the time Kutalu and his family reached Lincoln, their friends, including Kutalu's uncle, had an apartment ready for them. They just had to pay the rent.
Kutalu attended Lincoln High School when he arrived in November 2013. He spoke little English at the time, but in only a month was able to understand the language.
"It was pretty fun," he said of learning English. "At the beginning it was tough, but I like it."
The language came easily to Kutalu, who is also fluent in French, the primary language in the Congo, as well as Lingala and Kikongo, two native Congolese languages. Kutalu said the similarities between French and English helped him master his fourth language.
The following August, Kutalu and his family came to Schuyler. The job market drew them to the area.
"My mom had to find a better job," Kutalu said.
His parents found jobs at BD and Camaco.
The family settled in and Kutalu found his place on the soccer field in his sophomore and junior seasons.
The NSAA took soccer away from Kutalu for his senior season, and an injury sidelined him in August during Schuyler's summer league.
As he went to kick the ball during a game, an opposing player crashed into the side of Kutalu's leg. He felt a crack, then pain. His leg started to swell up.
"I was scared," Kutalu said. "I asked my friend after, 'Am I going to play again?'"
A visit to the doctor determined Kutalu broke his femur.
His focus shifted from the NSAA ruling.
"I knew I'm not going to play because of my age, but then I got injured in a league in Schuyler," he said. "Right now I just think about that. The doctor said, 'You're going to play after the rehab.'"
It took until this month for the bone to fully heal.
It may not be in high school, but Kutalu has every intention to get back on the field.
He'll graduate from Schuyler Central High School this month before becoming the first person in his family to attend college. Kutalu plans to attend Central Community College in the fall and play soccer for the Raiders.
"They will be proud," Kutalu said of his parents' reaction when he graduates.