COLUMBUS — Columbus High rings its victory bell after every home win.
The Discoverers (6-1) could've rang it at halftime Friday against South Sioux City (0-7).
Michael Koch engineered four first-half touchdown drives before he and most of the starters took a seat midway through the second quarter as Columbus sailed to a 49-16 win over the Cardinals.
"We talked about how it didn't matter who the opponent was, we wanted to come out and play our football," Columbus head coach Craig Williams said. "And that's what we did."
Koch ran for a score, threw for two more and accounted for 162 yards, playing distributor rather than taking on his usual starring role.
Caleb Esch ran for 73 yards on five carries with a TD and caught three passes for 68 yards and another score.
"We talked to Caleb and Michael to play with that edge we had the first five weeks," Williams said. "Knowing that when you get the football and nobody's going to bring you down in that moment. I thought both of them did that."
Columbus, ranked No. 7 in Class B, rolled up 278 yards in the first half, averaging more than 12.5 yards per play.
A mismatch on paper, Koch made it a mismatch on turf, taking the first play from scrimmage 58 yards for a TD. He only had two carries the rest of the game.
Esch capped an 80-yard drive on the Discoverers' next possession with a 34-yard scamper, making it 14-0 less than five minutes into the game.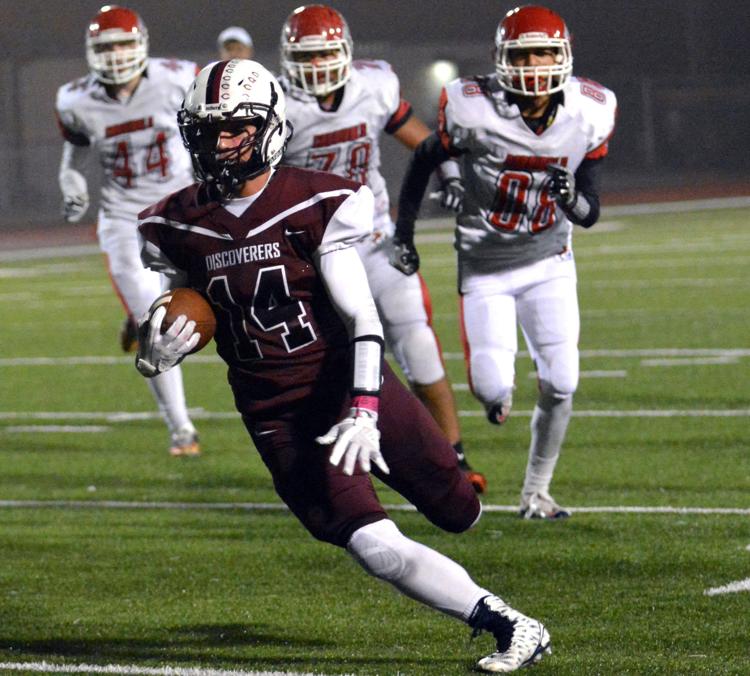 After forcing South Sioux City to punt, a high snap sent the ball flying into the end zone. Columbus' Santiago Ramirez pounced on it for a touchdown.
Two touchdowns in the first 16 seconds of the second quarter made it an early exit for the CHS starters.
Koch found Esch for a 15-yard score on the first play of the second quarter.
The Cardinals fumbled the ensuing kickoff and Koch hit a wide-open Cade Fullner for a 20-yard touchdown on the next play.
Landon Thompson ended South Sioux City's best drive of the first half with an interception on the Discoverers' 25-yard line with 6:30 left in the second quarter.
"Our first-team offense and defense had a lot of success," Williams said. "I was happy after that first quarter and a-half."
Backup quarterback Jadon LaPointe directed the Discoverer offense into the fourth quarter, engineering a scoring drive in the third. Carson Zwingman finished that drive with a 10-yard touchdown run.
The Cardinals scored twice in the fourth quarter and converted the two-point try both times.
Thompson found Anthony DeAnda for a 10-yard score with 19 seconds left in the game to cap the scoring.
"We got a chance to look at a lot of our young guys," Williams said. "I thought some of those kids played really well. It's great to get a chance to evaluate them for 2 1/2 quarters on film. That doesn't happen very often. It's going to be great for our future."
Columbus finished with 348 total yards as a running clock shortened part of the second half.
South Sioux City quarterback Nate Canoles completed 14 of 22 passes for 192 yards, nearly half of them coming on two completions in the second half, and the Discoverers held the Cardinals to 43 rushing yards on 31 carries.
Williams hopes for a repeat performance against the run Friday at Schuyler.
"Defensively, we're going to have to stop the run," he said. "They're a much-improved ballclub and we're going to have to be ready to go."