LINCOLN — Humphrey St. Francis head volleyball coach Dean Korus saw Friday's Class D-2 state semifinal match change in the third set.
The fourth-seeded Flyers (26-6) tensed up, while top-seeded Ewing (29-2) loosened up.
"They got a lot more aggressive offensively and they didn't make any mistakes," Korus said. "They were on their game."
The Tigers took the final two sets to win the match 25-23, 29-31, 25-14, 25-20 at Pinnacle Bank Arena.
"They were by far the better team today," Korus said.
Bailey Schindler had 23 kills, six blocks and three aces to lead the Tigers. Ashley Koenig added 16 kills.
For the first two sets, the teams were separated by the slimmest of margins.
St. Francis scored six straight points to take an early 10-7 lead in the opening set. Later in the set, Ewing recorded six points in a row to take a 19-17 advantage, then scored four of the last six points after the Flyers tied the set at 21-all to take a 1-0 lead in the match.
St. Francis went on another big run early in the second set to go on top 13-6, but the Tigers responded by taking 13 of the next 16 points to turn a seven-point deficit into a three-point advantage.
The Flyers rallied to tie the set at 21-all before outlasting Ewing to even the match at one set apiece.
They couldn't carry that momentum into the third and fourth sets.
"We were just out-of-sync today," Korus said.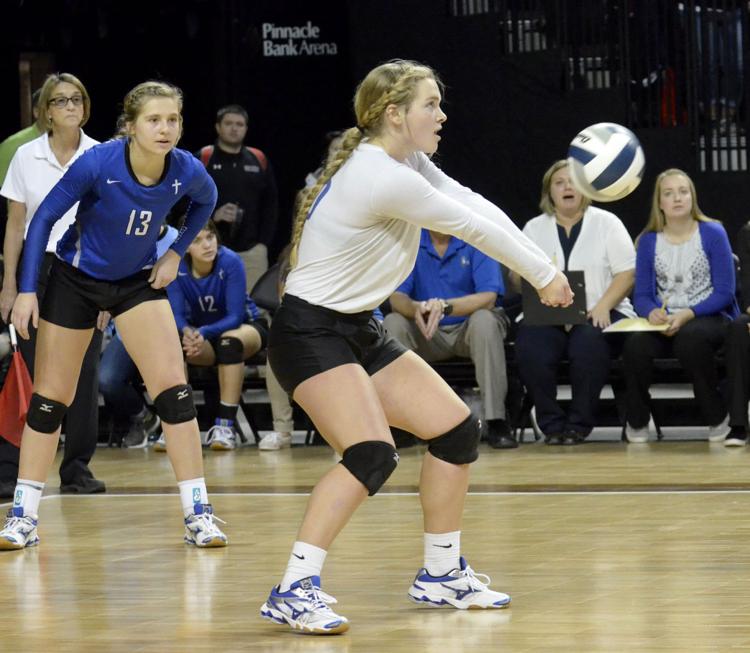 Ewing scored the first eight points of the third set. St. Francis got within four points a couple of times, but couldn't put serious pressure on the Tigers.
St. Francis led 8-5 and 14-13 in the fourth set, but Ewing won six of the next seven points to pull away and clinch the match.
Logan Wemhoff finished with a team-high 18 kills for St. Francis and teammate Caitlin Jarosz added 14.
The loss doesn't diminish what the Flyers accomplished this season, including a school-record 26 wins and the program's first state semifinal appearance since 2007.
"We knew we had high expectations this season and they came through," Korus said. "Today we just came up a little short."
The Flyers can end their season on a high note in Saturday's third-place match against second-seeded Hyannis (30-2) at Lincoln Southeast High School.
"They'll find a way," Korus said.