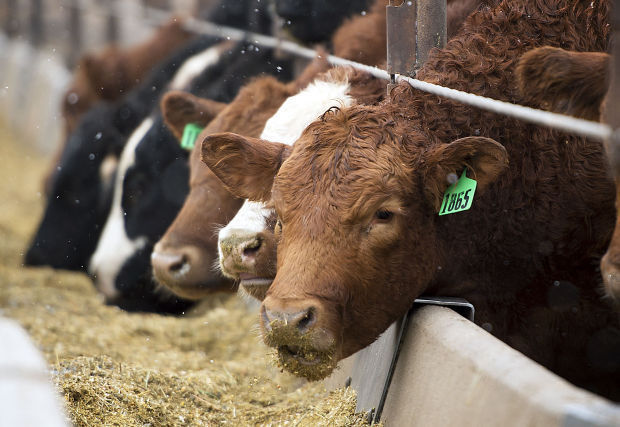 The Platte Valley Cattlemen will reflect on the year that was at its annual banquet Feb. 8 at the Humphrey Community Center.
Doors will open at 5:30 p.m., with a cash bar available. Tickets are $40 per person, and a prime rib dinner will be served complete with sides. Following dinner and social hour, awards will be presented and guest speaker Matt Davison, former Husker wide receiver, will speak to the crowd. The night will conclude with a performance by 90 Proof, a Cedar Rapids-based band.
Boyd Hellbusch, president of the Platte Valley Cattlemen, said that this year's event will likely be similar to previous years in that it celebrates the accomplishments of the past year and looks ahead to what's to come.
"Our banquet is designed to give a wrap on everything that we did for the year," Hellbusch said. "We go over that (and) we give out awards."
Of course, 2019 was an eventful one for the Cattlemen, mainly due to the flooding that impacted so many over the course of the year. Looking back, Hellbusch said he feels that it's a good thing that the calendar has passed to 2020 with the hope that some farmers can get a fresh start.
"I think I speak on behalf of everybody (when) I think we're all glad that it's done," Hellbusch said. "We've had some challenges thrown at us that we've never had to deal with before. Number one, I guess, was the floods, where we've had issues with mud and water, losing a neighbor (or) a friend (or) a family member and a member, too. In the long run, it was a tough year, but every morning, the sun comes up and the cattle get fed, just like we all get fed."
Two prestigious awards will be given out at the banquet, Cattleman of the Year and Business of the Year. Although Hellbusch said he wants to keep the secret of who exactly will be walking away with these awards, he noted that both are prestigious.
"It's a pretty high honor," Hellbusch said. "They're given a plaque and they get their name published in our program for the following year too. You've stuck through it through thick and thin, you've seen a lot of changes come around and it's a thanks and congratulations for making it through it all (and) for making it this far."
Ed Klug, a member of the Cattlemen, said that having the banquet was a way for people to promote the cattle and livestock industries and to celebrate the year's accomplishments in those areas.
"No. 1, it's a way to promote cattle and livestock industry," Klug said. "It's a social event (and) it's to honor our local affiliates and members."
There will also be a representative from the Nebraska Cattlemen that will come in and talk about the organization's many statewide initiatives at the Capitol in Lincoln. As the Cattlemen say goodbye to 2019, they hope that 2020 can be more productive and provide some happier times after a tumultuous year.
"It's just something that we have to keep doing," Hellbusch said. "You just have to get past it and keep moving on. You look back and try to learn something from it (and) that's just what we're thinking 2019 was about. You like to have high hopes and hopefully, the next year is always better (and) hopefully, we'll keep improving from it, learn from the year and go ahead."
The business news you need
With a weekly newsletter looking back at local history.