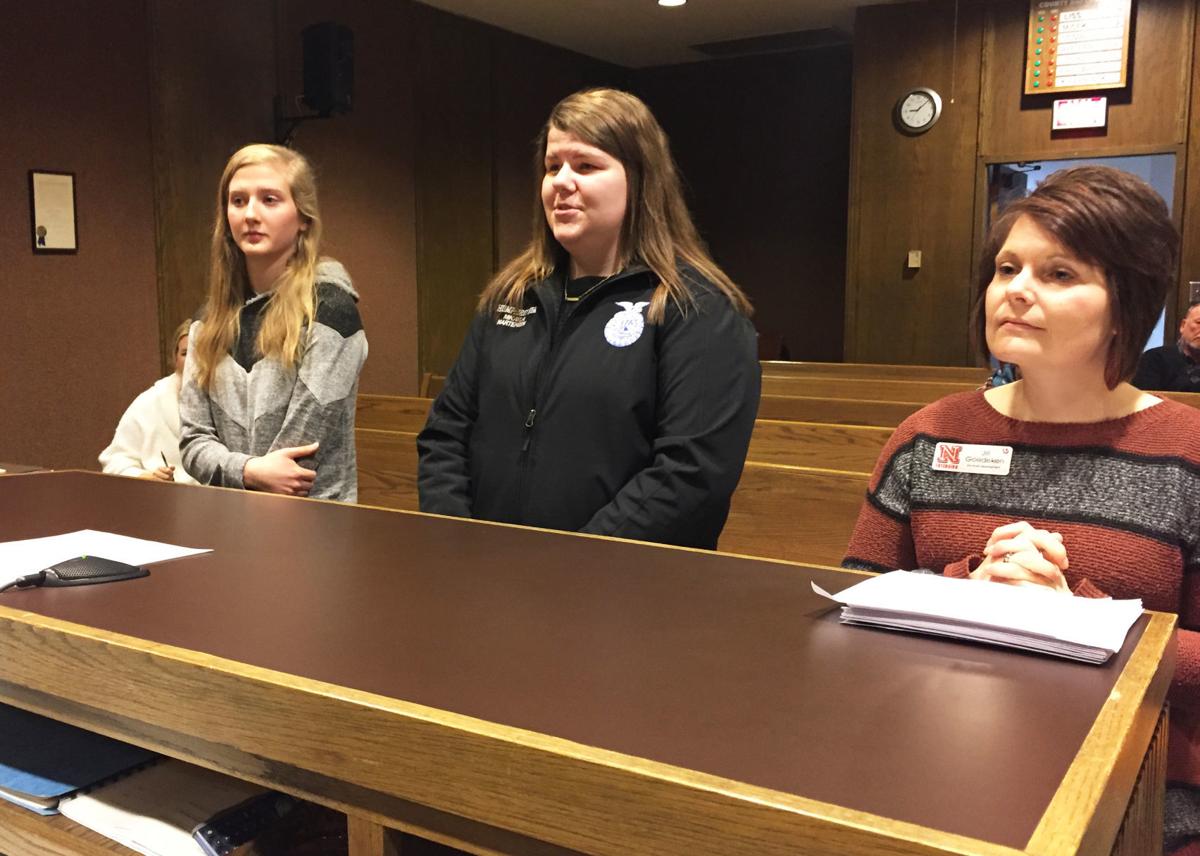 For the team behind Platte County's 4-H program, the month of February is an exciting time with work starting for static and livestock projects that will be rolled out once the weather begins to warm and enrollment beginning for 4-H programs and clubs across the area.
All of this work means that it's time to look back on the impact that 4-H has on the youth of the area, and those responsible for putting all of the events on agree. During the Feb. 4 meeting of the Platte County Board of Supervisors, Jill Goedeken, 4-H youth development/extension educator for Nebraska Extension, presented the board with a proclamation proclaiming February to be 4-H month in Platte County. It passed, easily and unanimously, just like numerous others across the state of Nebraska during this busy month.
So why February? Why a month associated with cold temperatures and freezing ground? Well, Goedeken and her team are pretty busy during this time of year. Like the smallest seed, the growth of a year of 4-H has to start somewhere.
"It's an opportunity to capitalize on when most youth are enrolling in 4-H," Goedeken said. "It's just a really active time for our program, especially in Platte County, where we're doing a lot of school programs, our 4-H community clubs are getting started for the new year and there's just a lot happening."
February has proven to be a good month for Goedeken and Platte County 4-H to remind people about what they do and the impact that they have. For instance, earlier this month, 4-H held its beef weigh-in, where more than 250 heads of cattle were weighed as part of the organization's market beef project. They also had two 4-H members, Mikayla Martensen and Kiersten Preister, talk about their work with 4-H outside of school, including Martensen's role in the Ag Innovators program, something that is supported with help from the National 4-H Council.
In addition to that, an event was held on Monday at Pizza Ranch in Columbus to help facilitate enrollment in various 4-H programs and clubs. The month of February is used by 4-H as a way to explain the various programs that they offer, from their traditional livestock and agricultural programs to some new ideas like robotics and shooting sports.
"When we think about 4-H, there's a lot of assumptions about the program and what all is included," Goedeken said. "Ultimately, it's important to know that 4-H has evolved with other opportunities over the course of time. The good thing about 4-H is that there are hundreds of things that 4-H'ers can do through the program and some of the things that are a little bit newer are different to when their parents went through 4-H."
As for 2020, Goedeken said she expects this year to be a strong one as she continues to build and mold the next generation of workers and leaders through the many 4-H activities and programs. Notably, 4-H will have involvement in the Cattlemen's Ball, with the group slated to help out with the planning of the festivities.
"We have high expectations for 2020," Goedeken said. "Locally, we're excited that the Cattlemen's Ball is coming (it is planned for June), with the goal of having our 4-H'ers understand that they're part of a bigger world, and (with) having them experience some community service in a unique way, we plan to have them involved in the Cattlemen's Ball in terms of helping them with the prep work. We're hoping to capitalize on that as a unique experience coming to the city and try to involve the 4-H'ers as much as we can."
The business news you need
With a weekly newsletter looking back at local history.