COLUMBUS — Matt Allsman has made a career out of transforming people's appearances.
The owner of Eternal Tattoo and Body Piercing has operated the 33rd Avenue business for seven years and decided 2018 is the time for a different kind of transformation.
His shop is getting a new look and location, just three blocks north at 1617 33rd Ave.
"The building was built in 1901 originally," he said. "I think it's had about three or four renovations to it, but it has a lot of cool character to make a cool tattoo shop. You can see the original house beams from where they added on and on. It's a cool piece of history and it's just been sitting empty, so I wanted to change that."
The new location doesn't offer more space than the current tattoo shop, but there are other advantages.
"The parking situation isn't the best at our current location," Allsman said of the 1367 33rd Ave. property. "People have to either park next door, in the alley, or go for all kinds of rigmarole directions just to get in here. At the new place there are two parking lots, which will eliminate all those issues."
Renovations on the new building are in progress. Allsman hopes to make the move around March.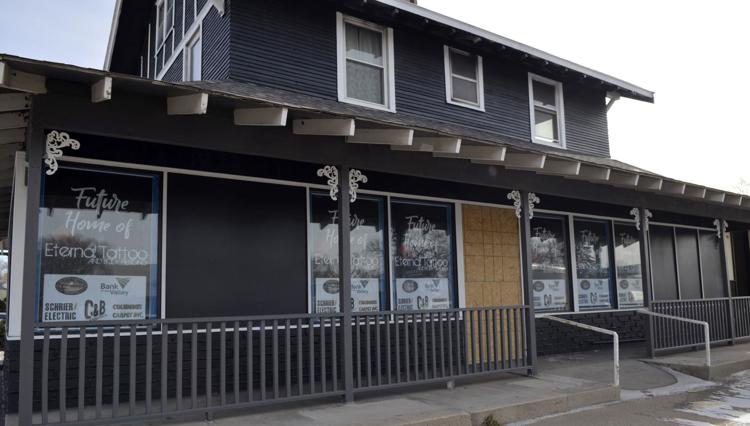 The services Eternal Tattoo and Body Piercing offers will remain the same. This includes a new venture Allsman's wife Katy started in July with Eternal Cosmetology.
"We do microblading, which is a hand-tool technique for eyebrows that builds them into a shape. We also do permanent eyeliner and are looking to start lip-tinting very soon. I'm also looking to expand the cosmetology part to repair facial blemishes and even reconstruction of areolas for breast cancer survivors," she said.
The inspiration for tattooing came from Allsman's father, Ken, who also owned a shop in Columbus.
"Dad had White Dragon out by Subway for a long time," Allsman said. "He taught me how to tattoo and built this business into what it is today along with my uncle, Mike. Dad moved to Florida a while back and tattooed until he died. He was a good dude."
The legacy Ken started has continued through Eternal Tattoo and Body Piercing. Allsman travels the country to tattoo clients in several states.
"I'm licensed in each of those states, which comes with the territory," he said. "When I travel to tattoo it's basically just to network. I get to learn about all the newest tools, different aftercare techniques, and I get to meet a lot of new people with each trip. It's just like a work conference for anybody else, except I tattoo the whole time I'm somewhere else."
When he isn't traveling the country, out-of-staters and clients from across Nebraska come to him.
"I had a client from out east who flew in for a two-day session," Allsman said. "He could have gotten ink done anywhere out there, but he chose to come see us. Looking back from where we were to where we are now, it's a huge privilege to have someone like that come from all over the country just to have us tattoo them."
The business, which also has locations in Fremont and Omaha, has earned numerous awards and been featured in a number of magazines.
Allsman said the success Eternal Tattoo and Body Piercing enjoys can be attributed to the quality work done by his artists.
"I have some of the best artists in the state tattooing here," he said. "All of them, whether they're in Columbus, Fremont or Omaha, are equally talented in many different ways. We also run each shop like a big family. That's how I see these guys."