RISING CITY — During Wednesday's tour at Tuls Dairy, controller Brett Rusher explained to the Columbus Area Chamber of Commerce group that dairy owner Todd Tuls has been doing this a while.
And he's developed his own system for running a clean, efficient dairy farm during that time. In some ways, they do things a little differently than other dairy operations.
Between Tuls Dairy, which holds approximately 6,000 head near Rising City, and Double Dutch Dairy near Shelby, which has approximately 4,500 head, Tuls is probably the biggest dairy farmer in Nebraska. He also has locations in Wisconsin and Kansas.
The ag tour group watched Wednesday as cows filed into the parlor, each taking a stall. The workers, who keep the place running 24 hours a day, 365 days a year, cleaned their udders, attached milking machines and cleaned up after the cows had been milked.
Rusher said you can spot the newbies, but the animals learn fast.
"It's amazing how quickly they learn," he said. "Cows love routine."
The facility milks 180 cows at a time and each cow is milked three times a day. The process takes about 12 minutes each time.
Like many diaries, a lot of the monitoring and recordkeeping is automated. The cows' tags are read by the milking machine, which tracks how much milk they produce.
The Rising City dairy produces about 60,000 gallons of milk a day, which gets trucked to Omaha, Iowa, South Dakota and Kansas.
A growing trend among dairies is upgrading to fully automated milking, with robots doing all the cleaning, attaching and detaching. Rusher said Tuls Dairy is not replacing the 60 workers, 80 percent of whom are Latino, with robots.
"(Tuls) likes that the workers see the udders and know what's happening," Rusher said.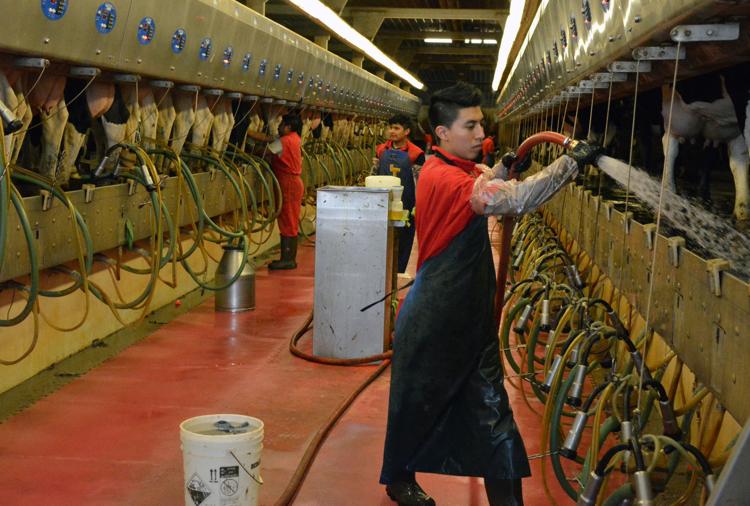 Most cows go through three milking cycles, but Rusher said they currently have some on their seventh or eighth lactation.
"As long as they're in high production, we'll keep them," he said. "If they're producing milk, producing calves, we're not going to get rid of them."
Once they're done being milked, the cows return to the 1,200-feet-long barns that are ventilated along the length of the unit, not cross-ventilated like most barns. The barns are also built on a gentle slope that peaks at the center, so water and waste drains out the far ends.
That runoff is separated into solid or liquid waste, which is then available to farmers, sometimes in exchange for silage.
The cows' bedding is sand, which exfoliates udders, improves traction along the alleys and isn't as conducive to bacteria growth as other bedding materials. It also gives the animals a little extra cushioning for the last 18 inches they fall when they're lying down.
Pyramids of sand are lined up beyond the barns. When the sand is cleaned or filtered out of wastewater, it's left in a pile for the sun and rain to filter through before the material goes back in the barns.
At the calving facility, Tuls is conducting an experiment. Until two months ago, 90 percent of the cows were Holsteins that were briefly cross-bred with Jerseys years ago.
But looking out at the 3,000 calf pens lined up in neat rows now, some animals stand out because of their reddish-brown color.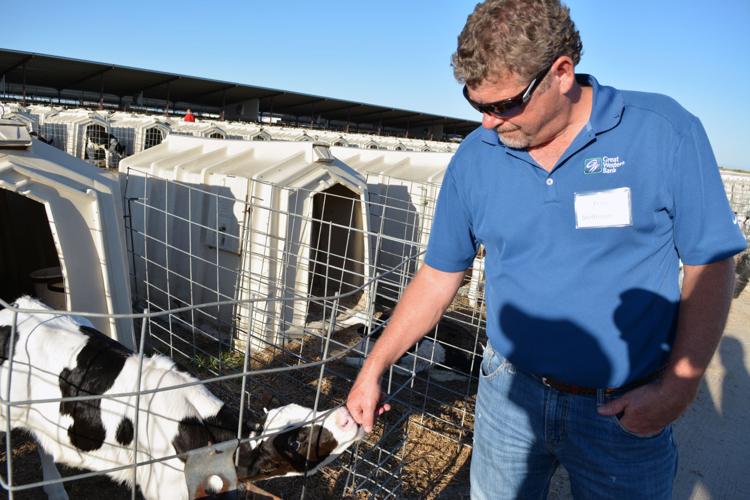 The dairy is cross-breeding its Holsteins with Montbéliarde and Swedish Red breeds that are more common in Europe. Montbéliarde, or Monty cattle, are known for producing milk with higher levels of protein and butterfat, making it a better choice for cheese-making.
Two months ago, Tuls Dairy began inseminating the Holsteins with Monty samples, and when those offspring reach reproduction age, they will be inseminated with Swedish Red. Those will be cross-bred with Holsteins, and the cycle continues.
Rusher said it could be years before they're able to measure the results, but they're optimistic.