COLUMBUS — Holly Faulkner and Ellen Robinson have been winging it on Fridays at Fair Park Grille, starting a popular chicken wing night that has taken off with customers who can pick from 50 different flavors.
Customer traffic at the Platte County Agricultural Park restaurant used to be slow on Friday nights, but that changed six weeks ago when the women launched Friday Night Wings.
"When many people think of Ag Park, they only think of horse racing. That's difficult to overcome," said Faulkner, who cooks the wings and dreams up the variety of flavors.
"Now we blow them out of the house," added Robinson, who co-manages Fair Park Grille with Faulkner and doubles as a server.
Every Friday, the restaurant serves 80 to 100 pounds of wings, bones in or out, from 4-9 p.m. Each serving includes nine to 11 wings. Every third Friday, the restaurant's fare includes frog legs and mountain oysters.
Friday nights have been a sellout since the menu change, with customers gobbling down flavored wings ranging from jalapeno-garlic and mango-habanero to candied apple and maple bacon bourbon.
"One guy has come in every Friday and eaten Cover Me in Peanut Butter flavor (wings rolled in warm, creamy peanut butter). People like it," Robinson said.
"It changed after that first Friday night. Columbus is a community that loves its chicken wings," said Faulkner.
The menu of wing flavors promises to stimulate the taste buds of any diner.
There's the Parmesan garlic, a blend of Parmesan cheese and fresh ground garlic; the Red Headed Dorothy, locally produced, slightly sweet Dorothy Lynch dressing introduced to Sriracha hot sauce; or salt and vinegar wings bathed in a salt and vinegar marinade.
The popularity of salt and vinegar with customers surprised Robinson, who has more of an appetite for ranch dressing and hickory-smoked barbecue sauce.
"Salt and vinegar has been popular with both adults and children," Robinson said.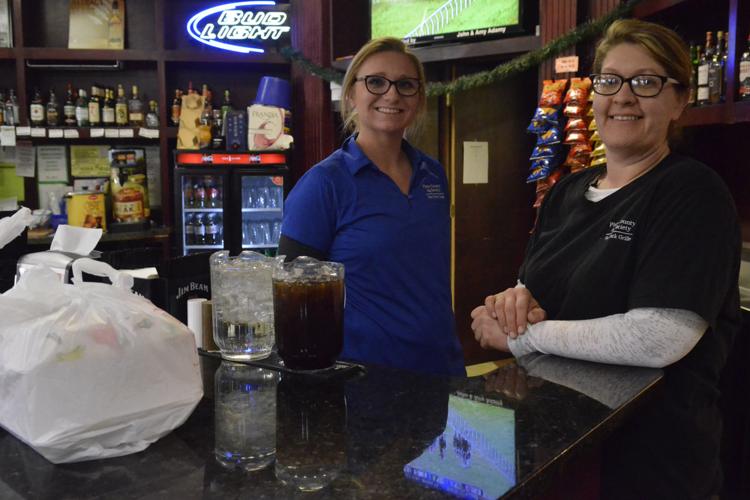 The restaurant's customers also like heat, sweet and a hint of liquor with their wings.
Dotting the menu are flavors such as Buffalo Supreme, the restaurant's hottest buffalo sauce cooled by blue cheese dressing; Tequila Makes the Clothes Come Off, margarita flavoring, tequila, lime juice and agave nectar; and the Boom Boom Room, a fiery mix of sweet and spicy.
"Tequila Makes the Clothes Come Off is my favorite," said Faulkner.
"Decisions can be hard to make," said Robinson, who waits patiently for customers to make their choices from the dozens of options.
If customers want, they can order wings naked (without sauce) and share several different flavors among a group.
All of Faulkner's flavorful experiments haven't reached the menu stage.
She was looking for a combination of sweet and heat when she combined blackberry brandy with Sriracha hot sauce. It didn't make the cut.
"I've made some nasty flavors," admitted Faulkner, who planned on naming that concoction The Flu Shot.
"It wound up in the garbage disposal," she said.
The restaurant, also known for its selection of burgers, isn't only about wings.
A duck dinner featuring dumplings, vegetables, a potato and sauerkraut is planned for next Friday and an all-you-can-eat brunch buffet is served every Sunday from 9 a.m. to 1 p.m.
"I grew up on duck and dumplings," said Faulkner. "I like to do something different."
The restaurant also features homemade pies — apple on Monday, pecan on Tuesday, banana crème on Wednesday, lemon buttermilk on Thursday, chocolate on Friday, sour cream and raisin on Saturday and coconut crème on Sunday.