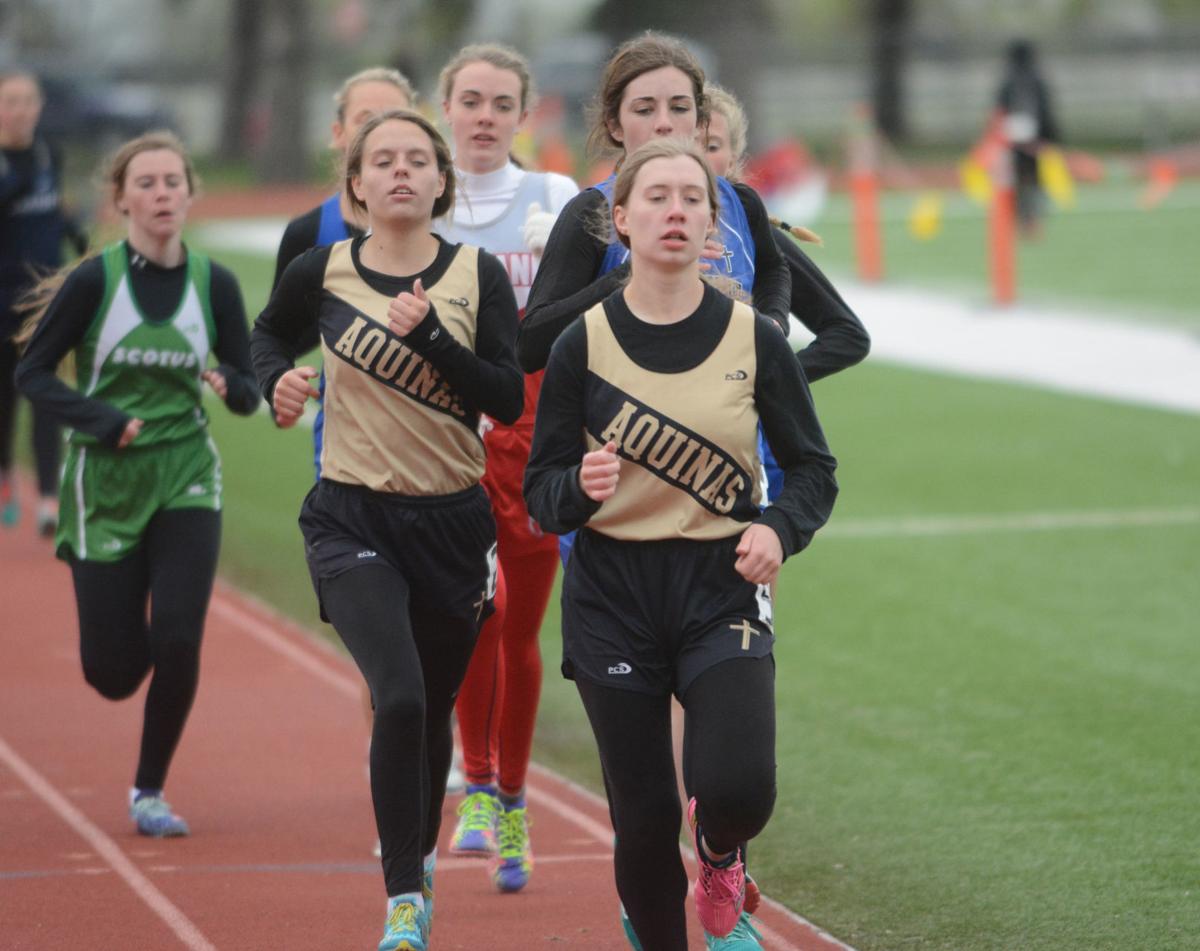 Aquinas girls track and field continued its hot streak on May 2 winning the Fremont Bergan Invite. 
The Monarch girls won six gold medals, seven silvers and five bronze for a total of 179 points - 49 more than runners-up Wahoo Neumann.
"Our last regular season meet of the year resulted in 31 season- best performances, most of which were also career bests, by our girls team who won the team championship," said girls head coach Tony Smith in comments sent to the Banner-Press.
"It was a beautiful day, and our girls took advantage of it with how they competed and performed. It was a total team effort that will set us up well for our tough district meet at Utica Centennial on Thursday."
Ella Hilger took first place in the 200 and 400 meters while also helping the 400 relay to first place. 
Larissa Sellers won the 100 and placed third in the 100 hurdles. She also anchored the 400 relay. 
Vanessa Bohuslavsky won the 1600 beating out teammate Allie Frasher by eight seconds. Frasher won the 3200 earlier in the day by over half a minute. 
Sierra Meysenburg and Dulcie Archuleta finished fourth and fifth in the 100, respectively. Archuleta also took fourth in the 200. 
Natalie Semin added a point with her sixth-place finish in the 400. Kate Slama also finished sixth in the 3200. 
Semin took fifth in the long jump and second in the triple jump. 
Macey Thege finished third in the triple while Madisen Jelinek placed fourth. 
Trista Birkel took fifth in the 300 hurdles.  
Alli Hartman and Aubrey Novacek both cleared 4 feet, 3 inches in the high jump for second and third, respectively. 
Gabrielle Oborny took home a silver in the pole vault and Ivy Schmid finished fourth. 
Kloe Ruth won a silver in the shot put and discus while teammate Isabel Coufal took third in shot and fourth in discus. 
The boys were also at the meet, settling for second with 116 points to 134 for champions Wahoo Neumann. 
"It was a nice last meet before districts," said boys head coach Ron Mimick. "We had 20 personal bests and a good runner-up finish versus good competition. Matt Duke's 14-foot vault is top notch."
Payton Davis placed first in the 1600 running 4:41.09 beating out second place by an impressive 14 seconds. 
Kyle Napier also won a gold medal, his coming in the high jump after he cleared 5-10. 
Duke's 14-foot mark was 18 inches above second place. 
Be the first to know
Get local news delivered to your inbox!