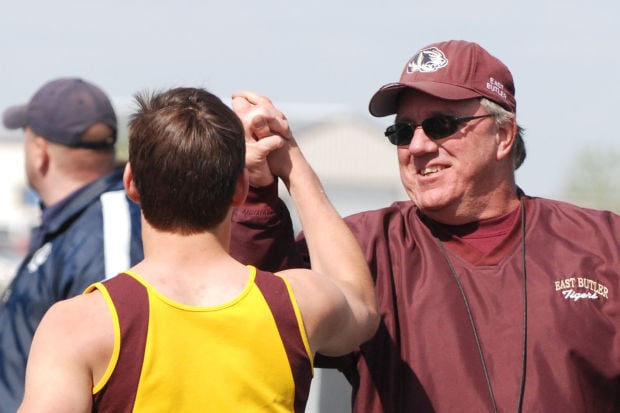 After a combined 112 years serving the East Butler Public Schools District, Dave Struebing, Doug McGee and Diane Svoboda have finally stepped away from their roles for retirement.
Struebing, who had been the activities director at East Butler since 2002, worked in the district for 40 years in several different positions.
"I was just at a point where I was able to do the retirement and I have some other things that I'm going to be doing, so I look forward to a change. You get to a point where your grandchildren are growing and getting into activities and you need to be a part of their lives. I very much look forward to that also," he said.
He now plans on going to work for the University of Nebraska as part of its event staff.
In addition to being the activities director, Struebing coached many sports during his tenure, including football, track, junior high basketball and junior high wrestling.
You have free articles remaining.
"No. 1, (East Butler) was an excellent place to raise our three children," he said. "I had a great deal of fun coaching the various sports that I had the opportunity to coach and later on in my career, I very much enjoyed being the activities director. I guess priority wise, you're in this business because you love kids. I encountered a significant number of kids that really gave me a lot of joy. (There were) A lot of very supportive, very good families to work with, too."
Struebing also taught during points of his career. He taught elementary physical education, high school health and history - all at different points.
"Every teacher at every school loves their kid," he said. "When something special happens you get to share in the joy too. I guess the only thing left to say is I think it's not extremely rare, but it is somewhat rare that a teacher can spend almost their entire career at one school. I was very blessed to be in the East Butler district for 40 years. I couldn't have asked for anything better for my family and my wife and I."
McGee, who was a computers teacher, retired after 45 years.
Svoboda, a reading instructor, retired after 17 years.
Neither McGee nor Svoboda could be reached for comment at the time of The Banner-Press' print deadline.