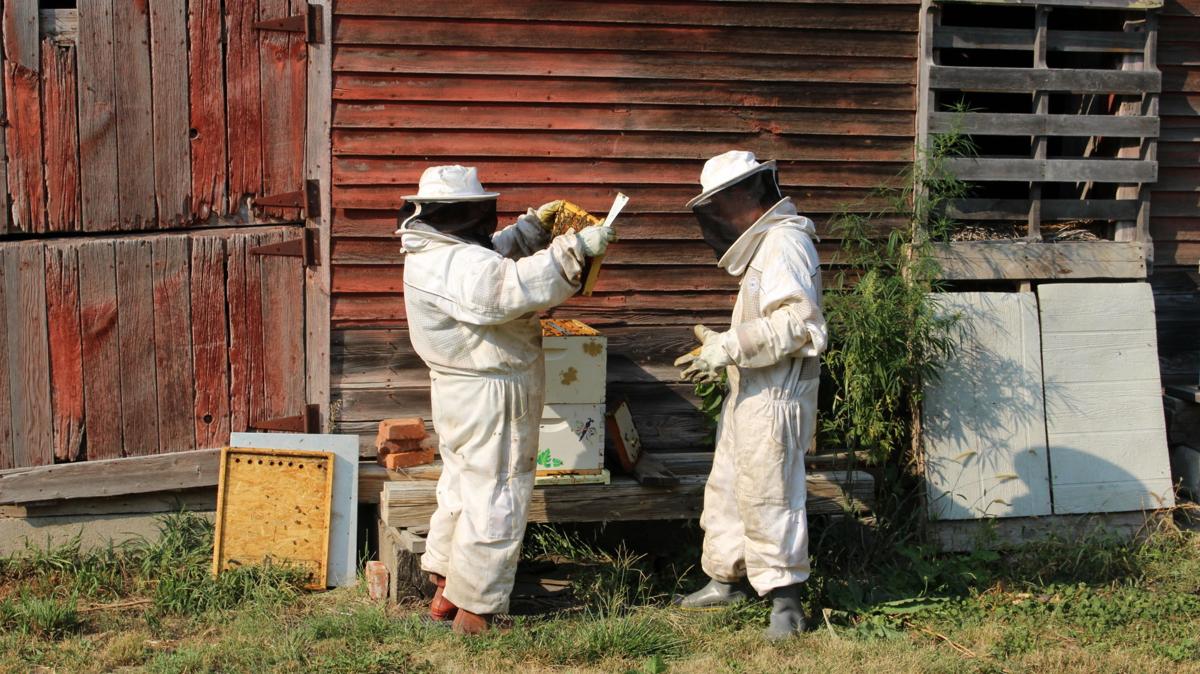 Those who have ever thought about beekeeping but have yet to pursue it can learn more about the field during a webinar set for Sept. 24.
Funded by a grant from the University of Nebraska – Lincoln Bee Lab, the Center for Rural Affairs and Nebraska Extension, the webinar will be led by Brainard resident Kirstin Bailey.
"It's like the first step in your beekeeping adventure," Bailey said. "Within the class, we give you that idea of what it entails. We talk about management, we talk about the equipment you're going to need. I'm very upfront with how much it costs."
Bailey, who is a senior project associate at the Center for Rural Affairs and sits on the extension board for Butler County, does five of these classes a year, though the COVID-19 pandemic has thrown this astray. This will be the first online class she's done; however, she doesn't expect too much of a change as it's the same information. Attendees just won't be able to touch her equipment.
The goal behind the webinar, she said, is for people to discover if beekeeping is right for them.
"It's important to get people started on the right foot," Bailey said. "I know a few people who have gotten into beekeeping and they realized too late that they didn't like bees. You have to really want to do it and you have to like to do it."
It will be held from 6-8 p.m. Sept. 24.; a Zoom link will be provided upon registration. To register, email kirstinb@cfra.org or melissa.bartels@unl.edu, or call the Butler County Extension office at 402-367-7410.
The webinar will also be offered simultaneously in Spanish and is to be offered in Polk and Colfax counties as well.
More producers are looking to diversify in the agriculture field, noted Melissa Bartels, extension educator for Butler and Polk counties.
"Bees play a huge part in pollinating our crops … there are more people looking to plant cover crops so that ground isn't bare during the winter; it has a living root throughout the winter," Bartels said. "That plays into soil health and making sure our soils are fertile for years to come."
Bailey still lives on the farm she grew up on located near Brainard.
"We used to be a diversified vegetable farm. When we decided to transition to fruit, we decided to utilize cover crops," Bailey said, adding that she made a blend of bee-friendly cover crops consisting of clover, flower and vetch.
"I kind of thought about it, how you would think about putting cattle out on pasture. I thought, 'What could I put out there that will also provide food.' We also have an orchid, so it's important to have bees here as early as we can."
Bailey has a total of 12 hives: Four near her home, a couple on the other side of Brainard and the remaining ones in Bruno and Martell.
"I enjoy the fact that every time you look in a hive, there's something different going on. It's always interesting; it's never the same," Bailey said. "I like getting honey, tasting all the different honey I get. Each hive produces a different, pretty subtle, but different tasting honey. I really like to see them buzz in and out of their hives."
According to Bailey, the vast majority of a human's diet depends on bees pollinating crops. As bees are considered livestock, she said she believes it's important to provide them a space within the agricultural community.
"I don't think people understand how important bees are; they're important for alfalfa, they're important for our vegetables," Bartels noted. "We do have vegetable farms in Butler County that that's what they make a living on; they sell produce."
There are plenty of opportunities to continue with pursuing beekeepers and Bailey is passionate about teaching others.
"If you're still into bees at the end of this class, then your next step is to find some year one classes," Bailey said.
Hannah Schrodt is the news editor of The Columbus Telegram. Reach her via email at hannah.schrodt@ lee.net.
Be the first to know
Get local news delivered to your inbox!