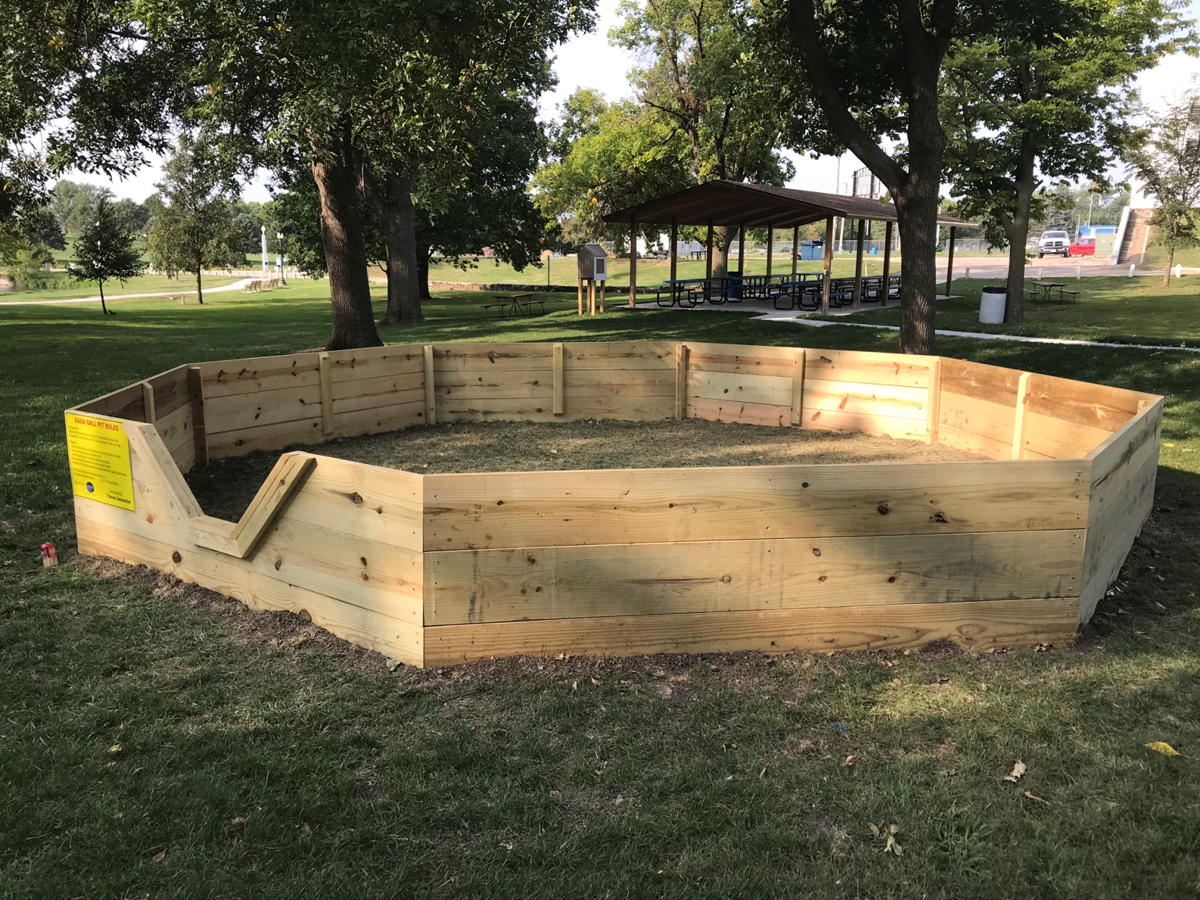 Ga-ga ball is a game similar to dodgeball and, thanks to a recently-constructed wooden ga-ga ball pit in the David City Park, it made its official debut in the area.
The construction of the ga-ga ball pit was sponsored by the Friends of David City community group. It wound up costing the group approximately $1,000, member Deb Dinkelman said.
"I went down there last night and there was a bunch of kids playing there. It was just so fun to watch them! But it's being used, definitely," Dinkelman said.
Dinkelman said she was inspired to take the project on for David City Park after being introduced to ga-ga ball while spending time with her grandkids.
"I was at a campground by Gretna and my grandkids saw it there and they were like, 'Oh my gosh, it's ga-ga ball,' and they were just so excited about it. That's what the idea stemmed from," Dinkelman said.
Players hit a dodgeball toward each other with their hands. If the ball makes contact with another player below the knee, that player is out of the game. If the ball leaves the pit, the last player to touch it is out. People can play as individuals, on teams or in one-on-one matches.
Players should bring a ball to play when utilizing the pit.
Although it's sturdily-built, the ga-ga ball pit is not an inherently permanent structure. Members of the City of David City Council expressed concern at their Aug. 12 meeting that, if the popularity of ga-ga ball fades, the pit will be taking up space that could be used for something else.
The ga-ga ball pit is located in the grass along Kansas Street directly east of the Municipal Auditorium.
Tony Novak of T Novak Construction, Inc., said it was assembled by a team of five workers.
"We did it last week one day. It just took a day," Novak said.
In other Friends of David City news, the group has a fundraising event coming up in October.
"We're having a poker run on Oct. 3. That is not just for motorcycles, any vehicles can go on the poker run," Dinkelman said. "There will a route that they have to follow and then their final destination will be back in David City. They build a poker hand on the way and the best poker hand will win a prize."
All the proceeds from that event will go toward the Jaycee Park Playground Project, Dinkelman noted.
The project is an undertaking by Friends of David City to refurbish elements of the Jaycee Park, 1255 N. 9th St. in David City. The group hopes to pay for some playground equipment for toddlers and new ground cover, in addition to getting the existing equipment in compliance with ADA accessibility standards.
The group hopes to raise $50,000 for the playground project by next spring.
Toward that end, Friends of David City is also holding its last Music in the Park event of the year on Oct. 11. Dinkelman said the Ukuladies, a group of women ukulele players, are expected to perform.
Be the first to know
Get local news delivered to your inbox!