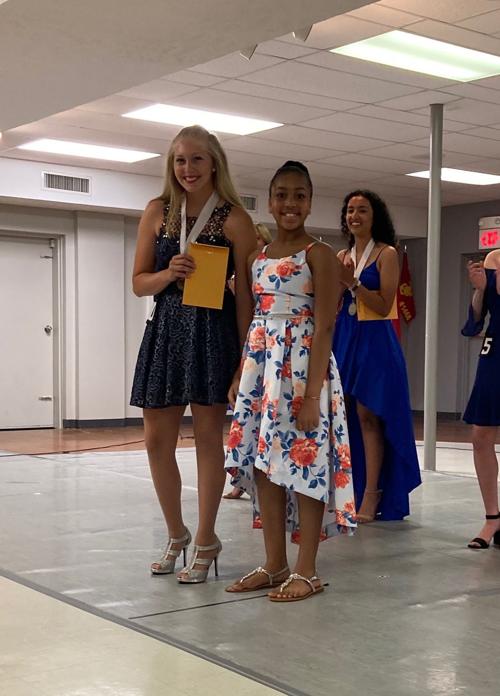 Shelby-Rising City High School student Haley Hanak recently received a $350 scholarship from Distinguished Young Women of Nebraska.
Nebraska applicants like Hanak went through two rounds of the competitive scholarship selection process. On July 12, Hanak was awarded the second-place interview scholarship for the State of Nebraska.
Hanak, 17, said she heard about the Distinguished Young Women scholarship opportunity through the EducationQuest Foundation, a nonprofit scholarship and college information resource for high school upperclassmen. She said she applied for the program in December.
In January, Distinguished Young Women held four at-large events – two in Omaha, one in Lincoln and one in Broken Bone – to narrow down the applicants to 10 finalists. Hanak attended one of the at-large events in Omaha.
"It was a more laid-back version of the competition we went to for state. There was just me and one other girl that was at it. We had a couple hours to get ready, to learn the dance routine and prepare for stuff," Hanak said.
At each level of competition, girls are judged on five categories – the dance routine comprises one of these, which is the aerobic fitness portion.
"The five elements are scholastics, which is 25% of the scoring; and a personal interview, which is 25%. Then the other portion is made up of a talent, which is 20%; aerobic fitness, which is 15%; and then an element we call self-expression, but it's basically public speaking, is the other 15%," Distinguished Young Women Chairman Stacey Fletcher said.
From the at-large events, 10 finalists were selected to compete at the state level. Hanak said she found out in March that she had been selected as a finalist. The state competition was held July 12 at the Gretna American Legion Post 216.
"It's a three-day thing. We have to stay with a host family overnight. After we woke up in the morning our host family drove us to Gretna," Hanak said.
Hanak's hosts were Steve and Sue Venteicher. Hanak said their daughters had participated in the program in the past.
At the Gretna American Legion, Hanak said the girls practiced the dance routine and did a dress rehearsal of the program before their families arrived to watch the real thing.
"For the self-expression, we do a walk to display for the judges our outfits and stuff. And then they gave us a question we had to answer," Hanak said.
The question, she said, was what piece of breaking news has been overlooked recently. Hanak said she talked about the problem of distracted driving in Polk County, of which she is a native.
"At our local bus barn, they recently put up a car that the fire department used the Jaws of Life on. I was saying there's been a great increase of crashes in our area due to distracted driving. That's why they put that car there, with a sign that says 'If you drive distracted, this could be you,'" Hanak said.
Each girl had 90 seconds to perform for the talent portion. Hanak said she did a reading of "Domestic Situation" by Ernest Hilbert.
In the end, a $6,050 cash award was given to Jessica Brown of Bennington, who was named the Distinguished Young Woman of Nebraska for 2021. First and second-place awards were given for the interview and academics categories. There was also one award each for self-expression, fitness and talent.
Distinguished Young Women is based out of Mobile, Alabama. The program is in its 64th year. Fletcher said it was started to compensate for the lack of college scholarships for young women.
"These girls are all going into their senior year. We're really looking for a young lady who embodies what it means to be 17- or 18-years-old. And who also truly excels in the classroom, is a strong student, and at the same time does well when it comes to public speaking, sharing her ideas, sharing her opinions," Fletcher said.
Be the first to know
Get local news delivered to your inbox!