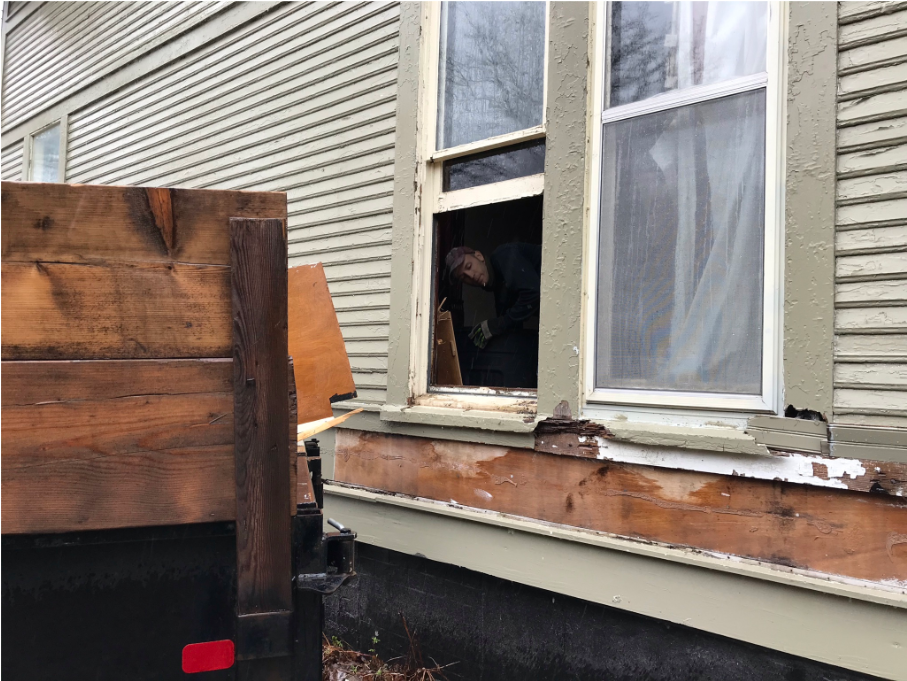 Dylan Tegtmeier has a lot of work ahead of him, but on April 8 he began the work of renovating the Chauncey S. Taylor House, 714 N. Fourth St. in David City, for its next owners.
After Cathy and Jeff Klug cleaned the condemned house over the summer in 2020, the City of David City imposed some deed restrictions on the property.
"Anybody who owns the property can't demolish it because the City went through a lot to keep this house standing and we don't want someone to buy it and just demolish it," City Administrator Clayton Keller said. "...And they have to maintain the property in good or better condition at all times."
Keller said that basically means keeping it livable, waterproof and not deferring any major maintenance.
The City put the property up for bid twice before awarding it to Tegtmeier.
Keller said there was a lot of informal interest in the property, but in the end, Tegtmeier's was the only formal bid for the house. Tegtmeier has a passion for flipping houses, and he plans to turn the dilapidated building back into a home.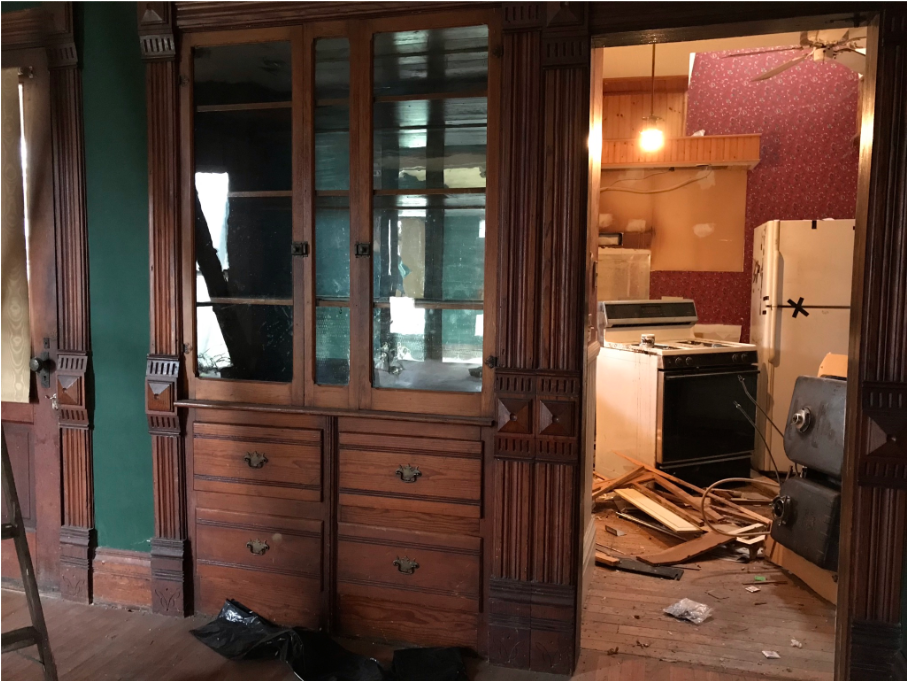 "I would say the framing and structural seem sound," Tegtmeier said.
But there is still a lot of work to do.
"When it comes down to it, it's just a warm fuzzy feeling and a job well done. There are a few other perks to it, but that's basically what it comes down to," Keller said. "...They can't enforce a certain standard of maintenance."
And that's probably a good thing because, according to the National Park Service's Technical Preservation Services, restoration means depicting a property at a "particular period of time in its history, while removing evidence of other periods." In other words, no modern utilities or appliances.
"There are some historical aspects that are outdated and no longer our standard of living," Keller said. "...While (Tegtmeier) is going to try his best to keep the historical integrity of the building, he's going to modernize a few things to make it a great place to live."
The kitchen and bathrooms need renovating, the bedrooms will need new carpet and fresh paint and Tegtmeier said he expects to replace quite a bit of drywall.
Tegtmeier is also having the roof done, and the double-hung windows throughout the house will need to be replaced, although he hopes to keep all of the stained glass pieces intact.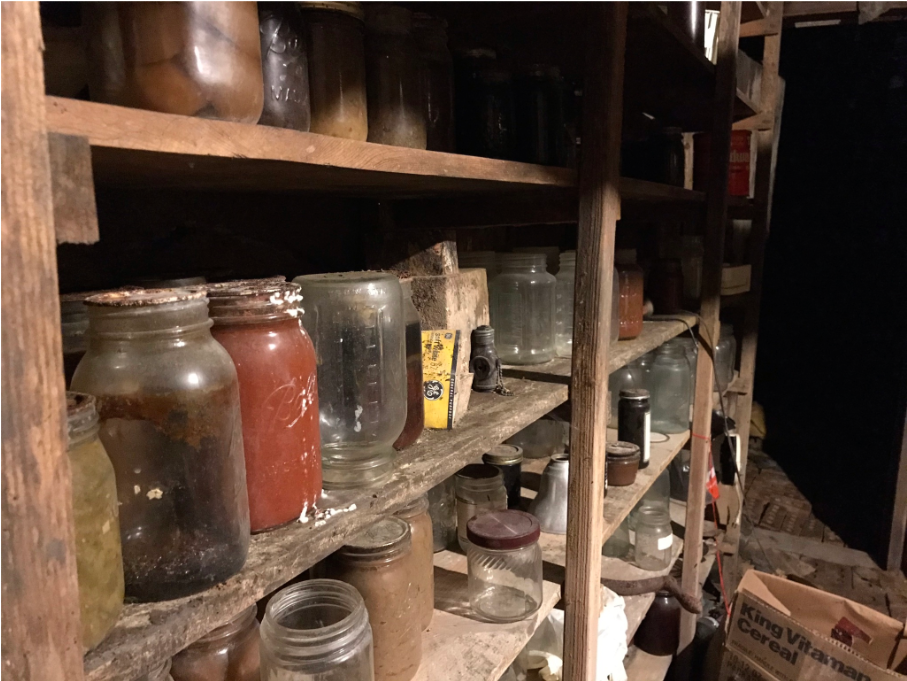 "All of the trim and all of the fireplace mantles will be left here," Tegtmeier said.
The original hardwood floors are covered up by laminate wood flooring, some of which has bubbled up. The floor in one room has sunk down, probably due to the pool table that sat there for several years.
"I'm going to have to jack it up and I'm going to see if I can patch those back down and then we'll just refinish this floor," Tegtmeier said.
It's enough to overwhelm anybody, and Tegtmeier admits that he does get overwhelmed sometimes.
"There is a lot to look at. But you just can't give up," Tegtmeier said.
Tegtmeier said he grew up comfortable doing renovation work because his mother was always fixing up his childhood home.
"That's really all it takes to get into this, is confidence and an attitude of never giving up," Tegtmeier said.
And, of course, Tegtmeier won't be doing all of the work alone. He said he usually hires out drywall, countertops, roofing, heating, ventilating and air conditioning, carpets and, if necessary, plumbing and electrical.
Perhaps the hardest part will be removing the boiler in the basement which, while original to the house, is ancient by modern standards.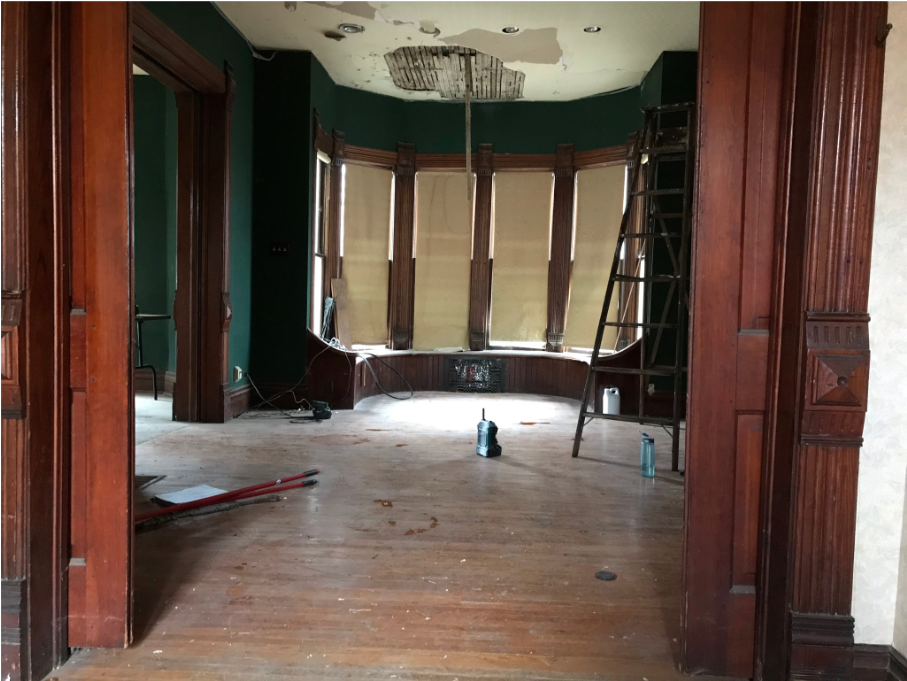 Making upgrades to bring the house into the 21st century won't be a break from tradition for the home, either. Built in 1888, the Chauncey S. Taylor House has never been maintained to historical standard. It has been a piece of living history that has changed with the times.
When people remember the house being beautiful, they are probably remembering it as it was during the 1980s and 1990s while the violinmaker David Weibe and his now ex-wife Lynn Marcus lived there. Weibe and Marcus moved into the property in the mid-1970s when the house was almost a century old.
The house was in rough shape when they got it, Marcus said, although not as bad as it is now. However, Marcus said, it did need a lot of work.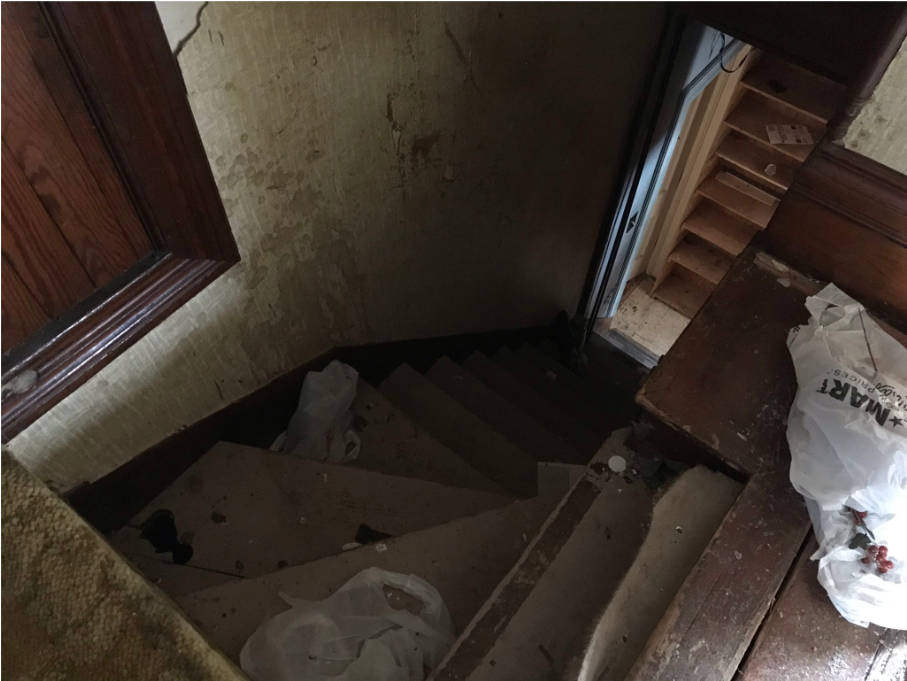 Marcus remembers starting with the front porch. Over time, she and Weibie addressed other parts of the house, outfitting the roof and exterior walls with hand-crafted shingles and siding, bricking up the basement's dirt floor and adding insulation.
"There was frost on the inside walls the first winter we were in the house," Marcus said.
They also built the garage/workshop/machine room.
Weibe and Marcus were also responsible for adding the house to the historic register in 1982, but even then it had some modern upgrades.
"We were not restoring it to historical standard because we wanted contemporary wiring and lighting and all that. But what we did was we gave it dignity. We brought it from the 19th century into the 20th century but kept its charm," Marcus said.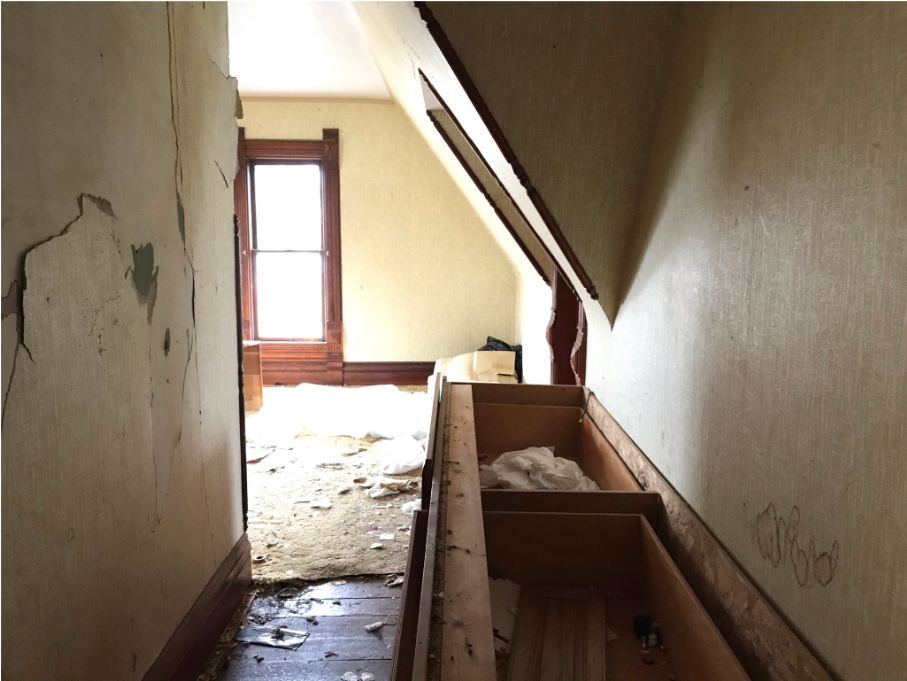 Although the house is named for its first resident, jeweler Chauncey S. Taylor, some people may know it better as the Richard Zeilinger House.
Once, when Marcus and Weibe lived in the house, they were visited by Margaret Sabata, whose maiden name was Zeilinger.
"She was an old lady when I lived there, but she grew up in that house. After Chauncey Taylor sold the house, it went to her family," Marcus said.
"We had (Sabata) over and she closed her eyes and she walked around the kitchen. And she said, 'OK, this is where the tall cupboards and the pulldown cupboard was," Marcus said. "...She was out in what was the dining room and she said, 'There was a cob stove that sat right here.'"
Of course, the cob stove was long gone by the time of Sabata's visit, which itself took place 20 or 30 years ago.
Marcus said she has since lived in and done work on other houses of similar age.
"An old Victorian house is a little like the Golden Gate Bridge," Marcus said. 
You start at one end and work your way across, Marcus said. As soon as you've reached the other side, it's time to start all over again.