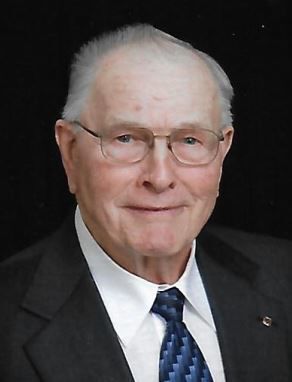 Donald Dean Dolezal
July 2, 1933 – April 26, 2021
Donald Dean Dolezal, of rural Brainard, passed away on April 26, 2021, at Southlake Village in Lincoln, Nebraska, with his family at his side.
A Knights of Columbus Rosary was held on Friday, April 30, 2021, at Holy Trinity Catholic Church in Brainard. A funeral mass was held on Saturday, May 1, 2021, at Holy Trinity Catholic Church with the Rev. Steven Snitily as celebrant. Burial was in Holy Trinity Cemetery in Brainard.
He was born on July 2, 1933, on a farm about 1 mile south of his current home, the son of Charles and Rose (Kominek) Dolezal. He grew up in the Brainard and Dwight area where he enjoyed hunting, fishing and farming. Don attended rural grade school and graduated as valedictorian of Dwight High School Class of 1951.
After graduation, Don worked at the Mead Ordinance Plant canning bazooka rockets. He also assisted his parents with farming.
Don married the love of his life, Margaret Trojan, on May 3, 1955, in Assumption Catholic Church in Dwight. They enjoyed living on the same farmstead their entire married life. Don and Margaret had three children, Doug, Donna and Monica. They would have been married 66 years on May 3 and had known each other for 71 years. Don loved being a farmer, dairy and livestock producer. When he started no-till farming, he was featured in Successful Farming.
In July 1996, Don fulfilled a lifelong dream of flying a B-17 bomber when Doug and he were able to fly "Aluminum Overcast" when it was in Lincoln. In 1998, Don, Margaret and Doug went to the Czech Republic and were able to visit the village where Don's dad was originally from.
Don loved his animals and had three through the years that were very special to him. "Daisy" the border collie who was his sidekick and driving partner. He couldn't get the door open fast enough on the pickup or truck for her. "Bullits" the lamb who use to love to ride in the cab of the pickup with Don and Daisy. Bullits would always "baa" when someone would walk by the pickup when it was parked by the COOP in Brainard. And lately his cat "Problem" who loved to lay on Don's lap when he was sitting in the garage or outside.
Many of Don and Margaret's activities centered around Holy Trinity Catholic Church in Brainard, their children and the Brainard community. He was a member of the Holy Trinity Choir for 70 years. Don was an Acolyte, and he and Margaret were Eucharistic Ministers and Rosary leaders for over 25 years. He was a 3rd degree Knights of Columbus member of Council 8889 Holy Trinity Parish and a 4th degree Knights of Columbus member of Assembly 3301 David City. Don was also a former member of the Brainard Municipal Band.
For 30 years, he worked as a reporter and a committee member for the Butler County FSA. Don was a member of the Brainard Rural Fire District 10 Board for 48 years, serving as Secretary/Treasurer for most of his tenure. He also served on the Oak Creek Township Board. A yearly joy of Don's was serving as Santa Claus for the elementary students of East Butler Public Schools and the elderly in the community. Don served as a school board member for the East Butler Public Schools for four years. He served as president of the Nebraska FFA Alumni and was awarded the Outstanding National FFA Alumni Award in 1984. Don was always willing to visit or help anyone. He loved speaking and listening to Czech music. Any Czech food made his day, particularly jatrnice or Margaret's rosettes.
He is survived by his wife, Margaret; children, Dr. Doug (Kathleen) Dolezal of Lincoln and Monica (Kurt) Bruning of Norfolk; grandchildren, Kaitlin (Grey) McCoy of Lincoln, Theresa (Robert) Frohling of Lincoln, David Orr of Lincoln and Charles Miller of Lincoln; great-grandchildren, Sara, Silvia and Abram Ahmed; sister-in-law, Lucille (Malousek) Trojan; and numerous nieces and nephews, family members and friends.
Don was preceded in death by his parents, Charles and Rose (Kominek) Dolezal; father-in-law and mother-in-law, Rudolph and Mary (Zitek) Trojan; brother, PFC Ernest L. Dolezal who was killed in Korea; sister and brother-in-law, Lillian (Dolezal) and Joseph Skolnik; sister-in-law and brother-in-law, Martha (Trojan) and Rudy Rejda; brother-in-law, Francis Trojan; daughter and son-in-law, Donna (Dolezal) and David Orr; and granddaughter, Martha (Orr) Ahmed.