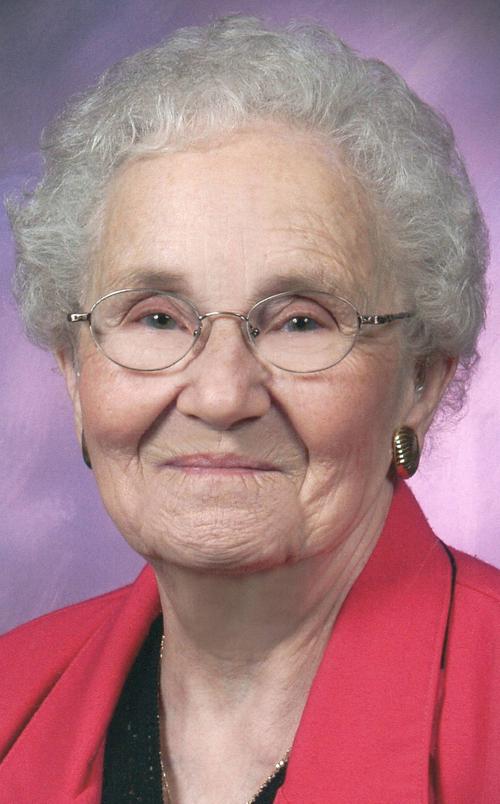 Lucille V. Dubs
April 15, 1921-December 24, 2019
Lucille V. Dubs, 98, of David City, formerly of Norfolk, passed away on Tuesday, Dec. 24, 2019, at david place in David City.
Memorial services will be at 10:30 a.m. on Tuesday, Dec. 31, at Mt. Olive Lutheran Church in Norfolk. Rev. Robert Wiest will officiate. Visitation with family will be one hour prior to service at the church. She will be buried at a later date in the Wilde family plot in Freeman.
Lucille Vivian (Wilde) Dubs was called to her heavenly home into the loving arms of her Lord at age 98 years, eight months, nine days. Lucille was born April 15, 1921, to William and Lydia (Schaefer) Wilde in Freeman, South Dakota. She was baptized and confirmed at St. Paul's Lutheran Church in Freeman, and attended St. Paul's Parochial School through eighth grade
Lucille then entered Freeman High School where she sang in musical groups and served as an accompanist, performed in school plays, and was a class officer for four years. She graduated in 1939. After graduation, Lucille attended Freeman Junior College for one year, qualifying her to teach elementary school. She taught for four years in South Dakota rural schools.
On July 24, 1945, Lucille married Elton Raymond Dubs at St. Paul's Lutheran Church. Their marriage was blessed with children William and Deborah. Elton was first ordained and installed as a Lutheran minister in North Dakota. Pastor Dubs and Lucille also served parishes in Tyndall and Leola in South Dakota, and Bloomfield and Tilden in Nebraska.
Lucille was actively involved in many church organizations in these parishes, including Ladies Aid, Altar Guild, and Lutheran Women's Missionary League (LWML), and was a church organist and choir member. Pastor and Lucille shared 38 years of ministry and marriage before Elton's passing in July 1983.
That fall, Lucille moved to Norfolk, into the house she and Elton had purchased for their retirement. She became a member of Mount Olive Lutheran Church, joining the choir and numerous service organizations. For 17 years, she also volunteered regularly at Faith Regional Hospital. In 2006, she moved to The Meadows, where she lived until May 2017. Lucille then resided at david place in David City.
Throughout her life, Lucille adored young people. When Bill and Debbie were in high school, Lucille started taking care of several kids (or "adopted children," as she called them), while their parents worked. After the arrival of grandchildren Jodi, Jason, Jessica, Jedidiah, Jordan and Joshua, (her "six Js"), she visited David City and Clay Center frequently. As the grandkids grew up, she made countless trips to their sports and musical activities. They brought tremendous love and joy to her life.
Lucille was an avid sports fan, particularly enjoying Husker football and volleyball and Chicago Cubs baseball. She could be counted on to keep precise statistics at every sporting event.
She enjoyed cooking for her family, especially German-South Dakota specialty recipes such as dumplings, Fleischkuechle, Kuchen, and peppernuts. Her pantry was always well-stocked with canned fruits and vegetables, many from the large gardens she kept.
She was also known for sending letters and cards in her distinctive handwriting. Throughout the year, she stayed connected with her family with brief notes that usually included newspaper clippings, articles she thought would be of interest to her loved ones. Every holiday season, she sent out—and received—over 100 Christmas cards.
She is survived by son, Bill and wife Judy of David City; daughter, Deb and husband Paul Schmoldt of Clay Center; granddaughter, Jodi and husband Jon Feauto, and their twin sons Joel and Jackson of Lincoln; grandson, Jason of New York; granddaughter, Jessica and husband Ryan Jasperson, and their children Harper, Hadley, and Huxton of Pine Island, Minnesota; grandson, Jed and wife Sarah Schmoldt, and their children Brooklyn, Savannah and Tristan of Kearney; granddaughter, Jordan and husband Dustin Ehlers, and their children Braden and Brynleigh of Gothenburg; grandson, Josh Schmoldt of Omaha; sister-in-law, Marty Wilde; nieces, nephews, and cousins; and many friends. Lucille was the last living aunt in the Wilde and Dubs families.
Lucille was preceded in death by her husband; her parents; sisters, Wilma and Lavon; and brother, Levi
To plant a tree in memory of Lucille Dubs as a living tribute, please visit Tribute Store.
Obituaries Newsletter
Sign up to get the most recent local obituaries delivered to your inbox.