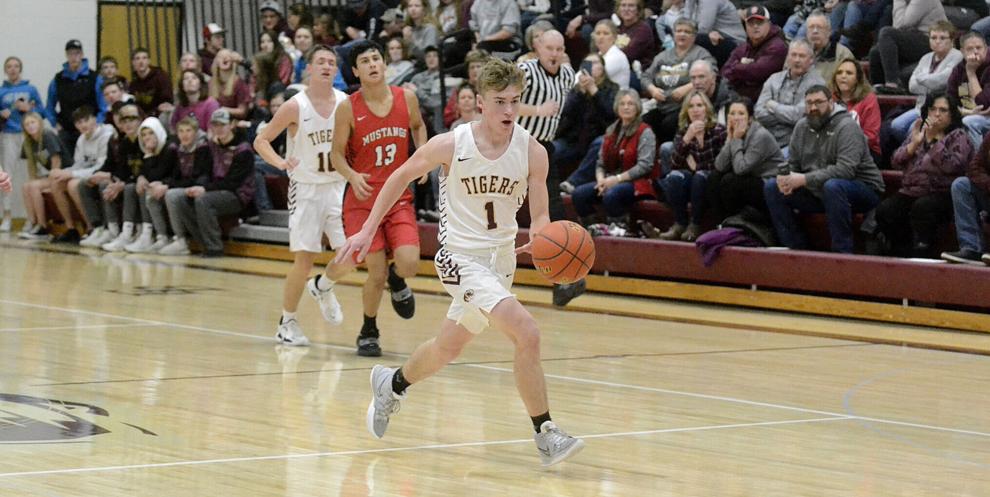 The boys' basketball teams of East Butler, David City and Shelby-Rising City all took part in multiple games last week with East Butler splitting their two games. David City and Shelby-Rising City each going 1-2 on the week.
The Scouts started the week picking up a 66-41 win against visiting Raymond Central on Jan. 10.
On Jan. 12, David City would play in a tight matchup against Cross County with the Cougars claiming a 51-48 win.
David City would drop its second game of the week Saturday in a 60-38 win for Fillmore Central.
The David City Scouts fell to 6-6 overall after Saturday's loss. The Scouts also played Shelby-Rising City Tuesday (after Banner-Press deadline).
David City's next game is scheduled for Friday against Milford.
The Tigers won on Jan. 12, over Dorchester following a 65-31 loss to Nebraska Lutheran on Jan. 10.
Against Dorchester, the Tigers won 49-35 thanks to a big first half for East Butler.
The Tigers held a 34-13 lead heading into the second half. Dorchester would make a slight comeback outscoring the Tigers 22-15 in the second half but East Butler's lead was enough to hold on for a Tiger win.
Ryan Sullivan and Alex Pierce led the Tigers in the win as each was double figures scoring. Sullivan finished with a team-high 17 and Pierce added 14 in the win.
In the Tigers' first game of the week, Nebraska Lutheran was able to pick up a 34-point win to end the Tigers' two-game win streak.
East Butler moved to 6-7 on the year after splitting the week's matchups. The Tigers also played Giltner Tuesday and will be back on the floor today against Meridian.
The Huskies started the week falling at home to Centennial before beating Hampton. Shelby-Rising City would close the week with a loss to Nebraska Lutheran.
The Huskies fell by 31 on Saturday in an 82-51 Nebraska Lutheran win.
In the Huskies' lone win of the week over Hampton, Shelby-Rising City won their fifth game of the year in a 50-39 win.
Against Centennial, the Broncos won by 21 over the Huskies 48-27.
The Huskies sat at 5-8 after the three games with Dorchester next on the schedule today at home. The Huskies also played David City Tuesday.