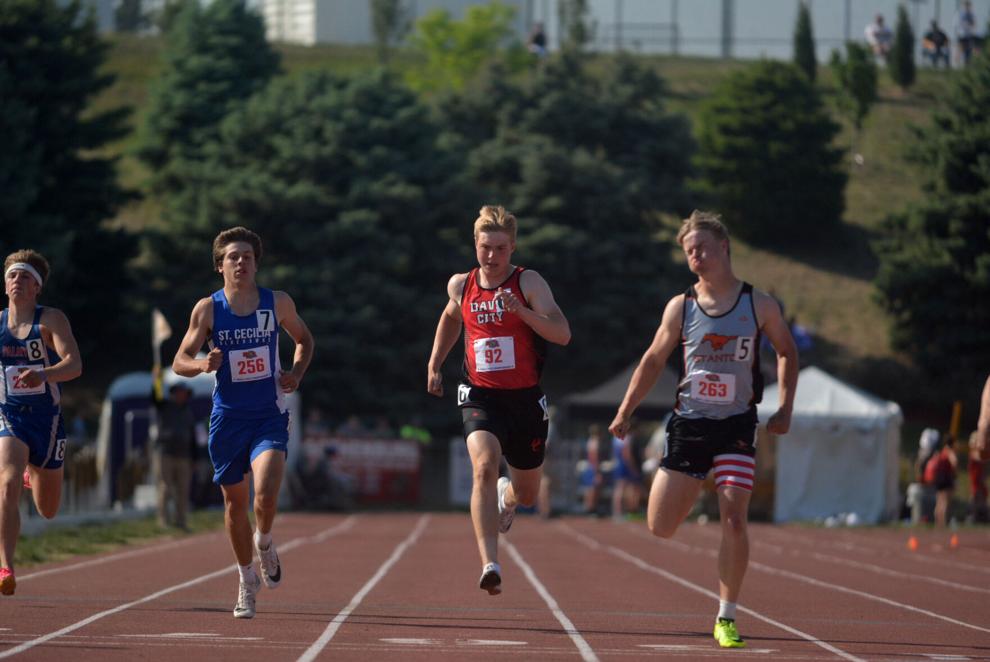 OMAHA - David City seniors Caden Denker and Avery Couch and freshman Kambri Andel claimed medals at the NSAA Class C State Track and Field Championships at Burke Stadium in Omaha.
Denker secured medals in the 100 and 200-meter dash runs while Couch returned to the podium in the triple jump. In her first state meet, Andel medaled in the long jump. Senior Barrett Andel competed in the pole vault during his first trip to Burke.
Denker, a runner-up in the 200 a year ago, eyed the top spot on the podium Saturday. The senior entered the finals with the fourth-fastest prelims time of 22.46 seconds.
In the finals, Denker sprinted to a time of 22.82 seconds for fourth. Hi-Line's Ryker Evans won the state title in the event with a time of 22.05 seconds.
Earlier in the day, Denker placed eighth in the 100 with a time of 11.44 seconds. He finished 0.32 seconds back of runner-up Evans. Pender's Brody Krusemark crossed the line in first at 11.06 seconds.
"This state meet did not go the way I wanted it to go, but I came out of it healthy," Denker said. "It was another opportunity to compete. I'm OK with it."
Denker said he felt pretty good in the 100 prelims, setting a PR in that race on Friday. He added that there was a lot of competition in the 200.
He finished his career with six track and field medals in three appearances.
"It didn't end the way I wanted it to, but this is not the end for me. I am going on to run in college and I know I'm capable of something greater than I did (Saturday)," Denker said. "I look back at the past four years and I enjoyed the past four years. I have nothing to complain about. I went to state every year that I could. I got two medals every year that I could. I'm proud of what I've done."
The senior finished his illustrious high school playing career as the school's all-time leading scorer in boys basketball as he led the Scouts to their most wins in a decade.
This season, the David City boys track and field team won three meets.
"Leaving this program and leaving it better than the way I found it is something I'm proud of," Denker said. "These next few years of athletes that I've grown to know over ... I know David City is going to be a lot greater than it's been because the way my senior class has left it."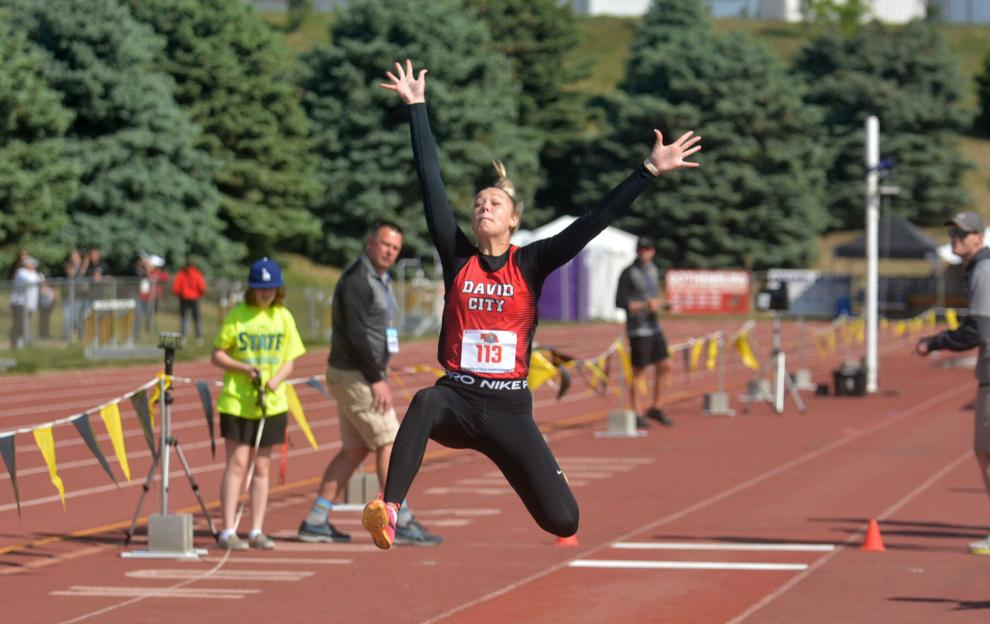 Couch missed the triple jump finals by one place last year finishing in 10th. Despite only jumping for the fourth time this season because of injuries, the senior returned to the podium.
Couch recorded a mark of 35 feet, 2.25 inches to catapult her into the finals.
"It feels pretty good. This year started pretty rough for me because I got an injury and honestly I didn't think I would make it this far having doubts with how everything would turn out," Couch said. "I jumped to my best ability and I'm super honored to jump with these girls because they're all so amazing. I was just glad to make it to the finals."
That mark came on Couch's third and final jump of the second flight. She opened the meet with marks of 34-4.5 and 34-1.5.
"Coach told me she was proud of me no matter what. I can be jumping 28 (feet) or I can be jumping 38, she will always be there for me. I had to tell myself that it doesn't matter what anyone's thinking in the stands," Couch said. "It only matters what you think of yourself. I told myself at the end of the day you made it here. I should be proud of how far I've come being able to come from this injury. I'm going to run down this runaway and give it hell."
Couch secured her second medal in the event after winning bronze as a sophomore in 2021. She finishes her track and field career with five medals in three trips to Burke.
"David City has treated me very well. I had a different coach my freshman and sophomore year, but then I just got coach (Lauren) Theiler and she's amazing. I really adore her very much. She's young, but she gave us some great advice. She just coaches me, but I don't see her as a coach. I see her as like my family," Couch said. "My freshman year I didn't do it because of COVID, but coming in as a sophomore was super intimidating but honestly I let it fuel me. I tried to hype myself up a little bit being like you're here for a reason. People here are super encouraging and it's just great to be back."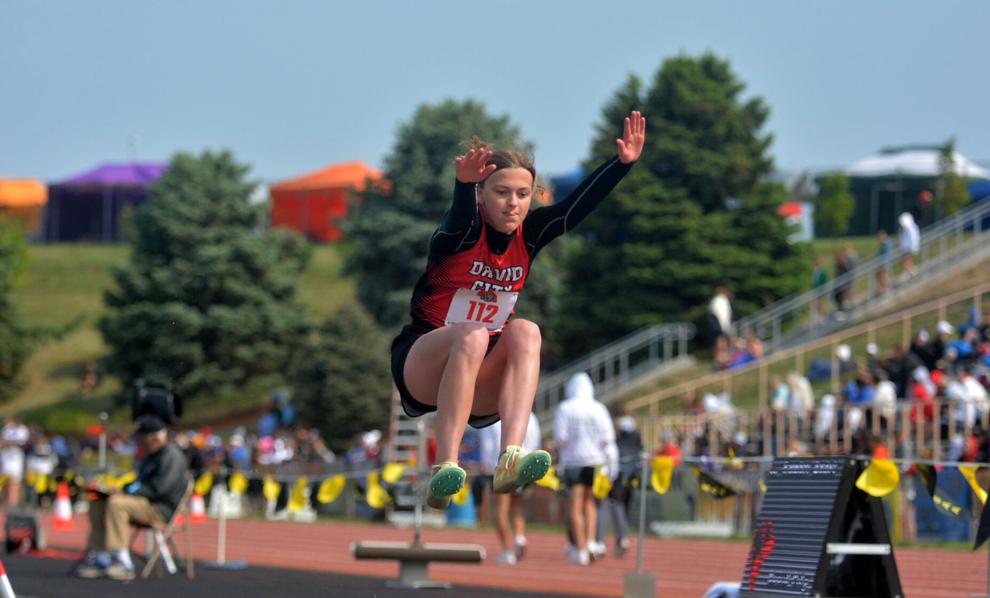 Kambri was the lone underclassman representing David City in Omaha. She competed in three events, earning a medal in the long jump.
On Friday, the freshman snuck into the finals in eighth with a mark of 16-6.5. In the finals, Kambri surpassed that mark with a jump of 16-10 with that mark holding for eighth place.
"I definitely think I could've done better, but I'm satisfied with how I came in. I came in with confidence and I think I did OK," Kambri said. "Making finals as a freshman is definitely a big confidence boost. I think moving forward I know what I have to do to improve and I know I can do better."
On the track, Kambri missed the finals in the 100 and 200 placing 11th in both prelim races. Kambri ran the 100 in 12.8 seconds, missing the finals by 0.14 seconds. In the 200, she clocked in at 26.65 seconds with the cutoff for finals at 26.48 seconds.
"I think I ran my hardest," Kambri said. "Competing against all these girls is really an amazing experience. I gave it my all."
The freshman completed a strong first high school season. She reflected on the year as she enters the offseason.
"It's an amazing experience being able to compete against all these people. It's crazy to see how much competition there is," she said. "I just need to know that it's OK not to get gold or whatever and just going out and competing is the best I can do."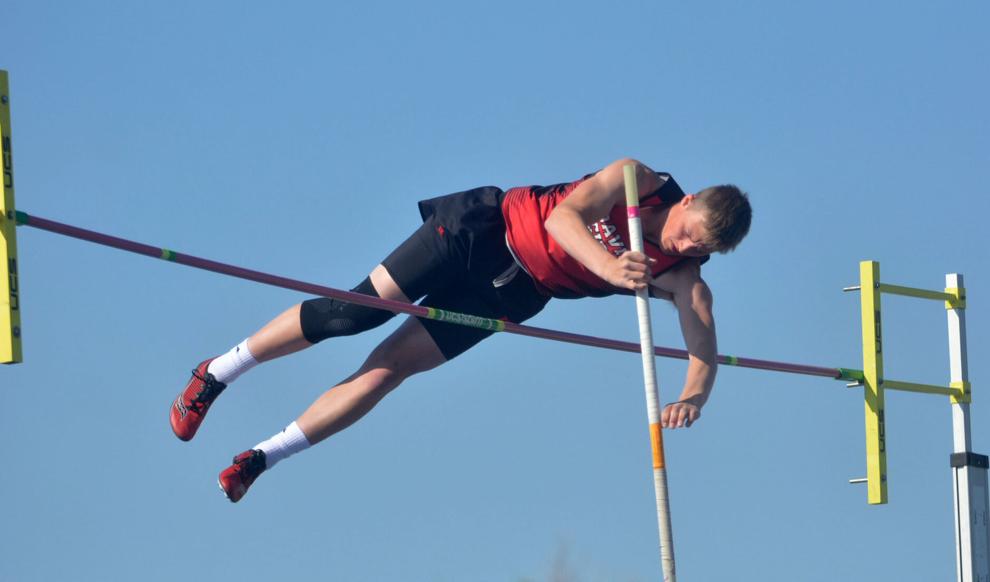 Competing alongside Kambri was her older brother Barrett. The senior qualified for the state track and field meet for the first time as he took part in the pole vault.
Barrett cleared the opening height at 11-6 on his second attempt but failed to cleanly get over the bar at 12 feet. He finished the meet in 17th.
"I thought I did decent. I cleared a height and that was kind of my goal just to get in there and see what I can do. I was just excited to get down here," Barrett said. "It's pretty cool. It's really awesome to see all the people in the stands and hear them cheering for you when you're going. It was an awesome experience."
Barrett described what it was like competing side-by-side with Kambri at state.
"It's pretty cool," Barrett said. "Sometimes I don't know if she likes me the most, but it's cool to get down here and experience it with her (Kambri) and to see her get a medal."
Barrett finishes his career at David City as an All-State football player along with being a state medalist in wrestling in February.
"Just competing at David City, it's been an amazing environment and the fans, all the support from the coaches," Barrett said. "It's a great place and I recommend to anybody who was looking to do sports."
Sam Ficarro is a sports reporter with The Banner-Press. Reach him via email at DVDsports@lee.net.