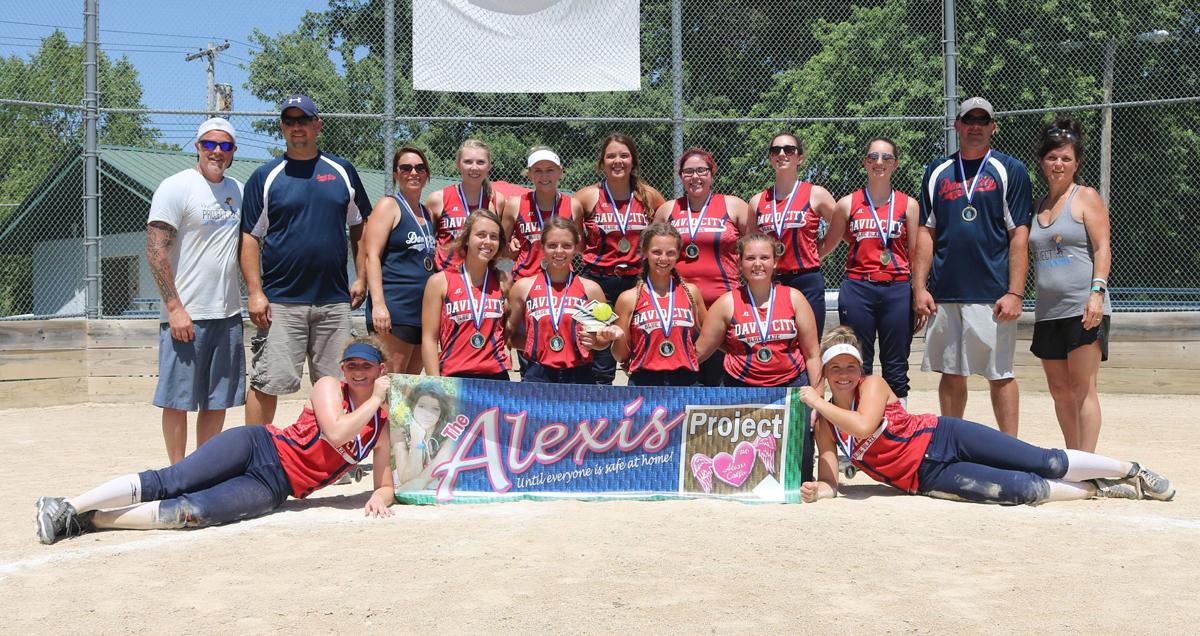 David City Blue Blaze 18 and Under softball wrapped up its tournament season with a championship in the Alexis Softball Tournament held in Palmyra.
The tournament was originally scheduled for the weekend before until rain forced a postponement then a reconfiguration of the bracket. Initially, 12 teams were scheduled to play but only five were able to attend when the tournament was moved.
David City was one of those five, going a perfect 3-0 and winning the tournament title.
"We did come in as favorites. We had won this tournament last year," said coach Jill Kobza. "We had felt we would be a really solid team coming into the season and have had a lot of success."
DAVID CITY 13, PALMYRA 7: Palmyra scored four runs in its first at bat and took a first-inning lead, 4-2 before the Blue Blaze took the lead for good with a four-run second inning.
David City went on to explode for seven runs in the third then hold off Palmyra the rest of the way.
Vanessa Bohuslavsky was 3 for 3 with two doubles and three RBIs while Sierra Meysenburg also went 3 for 3 with three runs driven in.
The third-inning rally started with a walk to Isabel Coufal followed by a single from Kaylee Miller and a bases-clearing double from Bohuslavsky to make it 8-6.
Bridget Sisco then followed with a single that started a run of four straight singles. Meysenburg, Valerie Bohuslavsky and Darien Krenk each singled as well. David City sent 11 hitters to the plate and piled up six hits and two walks in the frame.
DAVID CITY 12, SOUTHERN STORM 3: The Blue Blaze endured another tough start when Southern held a 3-1 lead after the first inning then Vanessa Bohuslavsky locked it down in the circle and shut the Storm out the rest of the way.
After David City went scoreless in the second, the Blue Blaze posted four runs in the third and four each in the fourth and the fifth to run away with the victory. Bohuslavsky was 3 for 4 with three runs driven in while Sisco was a perfect 4 for 4 and had four RBIs.
Bohuslavsky started the third-inning rally with a one-out double followed by a Sisco single, error by the pitcher, Valerie Bohuslavsky single and Krenk double. 
David City sent eight to the plate in the fourth including a Coufal one-out walk to set things in motion followed by an error at first, Vanessa Bohuslavsky single, Sisco single and Meysenburg walk.
You have free articles remaining.
Jayci Roh started the fifth-inning rally with a leadoff single, Coufal reached on a one-out error, Vanessa Bohuslavsky drove in both with a double and Sisco doubled in the next at bat. Meysenburg brought her in with a single.
DAVID CITY 3, SYRACUSE 0: In a battle that was decided in the circle, it was Vanessa Bohuslavsky for David City that proved to be the difference. She gave up six hits but also pitched out of jams in the second, third, fourth and six innings.
At the plate she went 2 for 4 while Meysenburg was 3 for 3 and Sisco went 2 for 3 with two RBIs.
David City scored its three runs in the fourth starting with a hit-by-pitch to Roh. Macy Kobza singled, Coufal walked then Miller drove in a run on a fielder's choice to third. Valerie Bohuslavsky singled then Sisco singled driving in two and making it 3-0.
Bohuslavsky faced a bases-loaded two-out situation in the second but ended the threat with a pop up to the circle.
There were two on and one down in the third when she forced a fielder's choice then a line drive to short.
The first two hitters reached in the fourth, and the bases were loaded again with two outs before another inning-ending liner to short.
"The key to the success from the weekend was even if we start off a game a little rocky the team all knows they can come back huge," coach Kobza said. "Our hitting has been outstanding and we have a lot of speed when we get on base.
"And to have Vanessa Bohuslavsky in the circle keeps the runs scored against us to a minimum. She has been pitching really well inducing a lot of pop ups and infield grounders."
The tournament is hosted in honor of Alexis Calfee, a Bennett, Nebraska native who was killed by a drunk driver, along with her boyfriend, in September of 2011.
Alexis and Chris Oberg were on their way back to college in Wayne after an afternoon of shopping and dinner in Sioux City, Iowa, when a vehicle driven by a six-time convicted drunk driver veered into Oberg's lane and struck the motorcycle carrying the young couple.
Alexis' parents, Todd and Jaimi, launched the Alexis Project to share their story and the consequences of drunk driving to schools, colleges, victim impact panels and companies.
Money raised has been used to provide scholarships at Wayne State College and Palmyra High School.
Nate Tenopir is the sports editor of The Banner-Press. Reach him via email at DVDsports@lee.net.