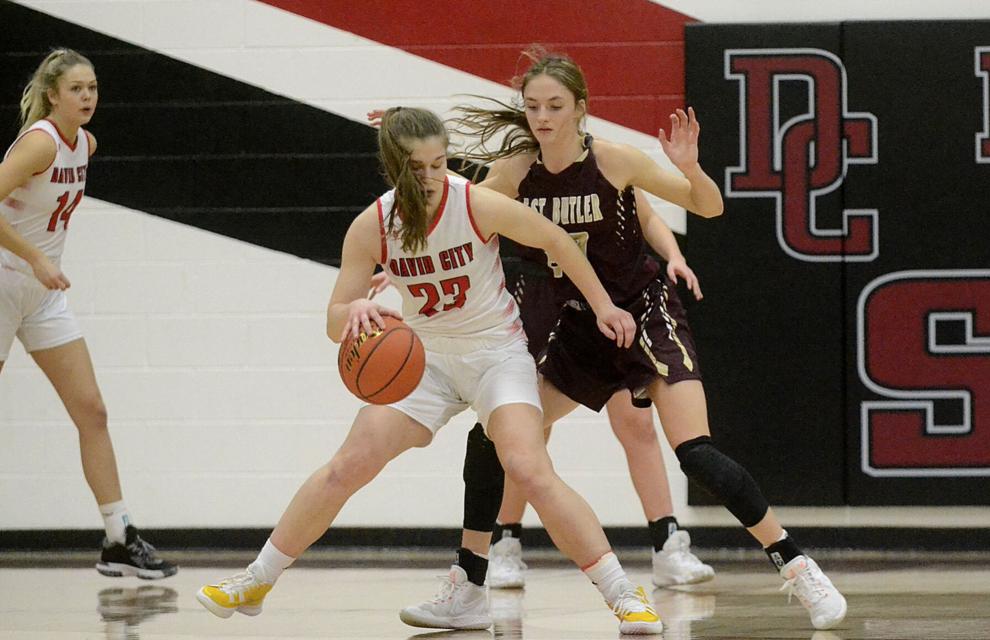 For the first time in more than a generation, David City girls basketball is listed in the state ratings. The 10th-ranked Scouts entered last week as one of three remaining undefeated teams. As of the start of this week, they're the last one standing in Class C-1 and one of six remaining undefeated teams in the state.
On Jan. 4, the Scouts defeated East Butler 48-41. On Friday, they earned a road win at Twin River. David City returned home Friday to face Milford.
East Butler bounced back Thursday from its defeat at David City with a road win over Lincoln College View 41-36.
David City 48, East Butler 41: David City head coach Sam Schlautman described the East Butler game on Jan. 4 as a somewhat ugly performance and a wakeup call.
East Butler has had trouble hitting shots consistently this season, but in the first half the Tigers matched the Scouts shot for shot in what was a 24-24 tie at intermission.
East Butler junior Kate Rathjen set a career-high in the first half with 13 points.
David City led 35-31 entering the fourth. It only allowed two points over the final eight minutes. Emily Johnson hit a three and Megan Jahde scored five points to seal the victory.
For the game, Neely Behrns led all scorers with 18 points. Rathjen's 13 paced the Tigers, and Madison DeWitt finished in double-figures with 11.
Schlautman described the luxury of having three seniors, Behrns, Johnson and Eickmeier, able to close out tight games.
"That's one nice thing is when we do need to make a switch defensively, it's nice we can lean on those girls and trust that they know what they're doing because they've been through it for four years," he said.
Tigers head coach James Kriz was pleased with his team's performance against an opponent that is emerging as a state tournament contender.
"I knew we had a chance if we came in here... we shot the ball really well in the first half and played great defense most of that game. Girls worked really hard," Kriz said. "They did everything we needed to do to win except hit a few shots in the second half, so very pleased with the overall effort."
Kriz hopes it's a momentum builder for the second half of the season. The Tigers opened the year with several injuries, but have started to hit their stride over the past couple weeks.
"I think we're gaining confidence in this," he said. "I'm excited for the next 10, 12 games to see what's going to come because I think if we play basketball like that, we can win a few games down the stretch here."
For Schlautman and David City, it's unchartered territory to be ranked. While he's excited that the Scouts are gaining some attention, it's a balancing act for him and his team.
"We still got work to do. I know the girls are excited to see that because it's been, I don't know, 30 years since that happened for David City basketball, so obviously that's great," Schlautman said. "I hope they enjoy it, but I know that they're going to keep being motivated and to keep on going."
David City 53, Twin River 39: David City defeated Twin River Friday behind a big third quarter. The Scouts led 23-22 at halftime then won the third 17-6 to create the necessary cushion to win.
The David City seniors combined for 46 of the team's 53 points. Johnson, Behrns and Glodowski posted a total of 37 points and 20 rebounds. Meagan Jahde, a freshman, recorded seven points, seven rebound and four assists.
Schlautman said the team got into some foul trouble and the bench stepped up. He liked the way the team started the game offensively as Twin River attempted to neutralize Behrns and Johnson.
"We put on a press in the second half that resulted in some turnovers and some easy buckets. Emily Glodowski and Lydia Ockander ran the floor well for some easy layups," Schlautman said. "The girls battled through some adversity and it was a hard-fought win."
David City 40, Milford 36: Twenty-four hours later David City was engaged in a battle with the Eagles. Milford knocked down a three-pointer right before the end of the first half and took a five-point lead into the break.
At halftime, the Scouts talked about finishing defensive possessions with rebounds and how to approach Milford's switching defense.
David City entered the fourth with a one-point advantage on a Behrns three-pointer. In the final period, Behrns and Johnson knocked down key free throws to seal the comeback win.
Behrns tied her career-high with 23 points on 6 of 12 shooting. She also made nine of her 10 free throw attempts.
David City entered Tuesday's game against Raymond Central at 11-0.
Sam Ficarro is a sports reporter with The Banner-Press. Reach him via email at DVDsports@lee.net.