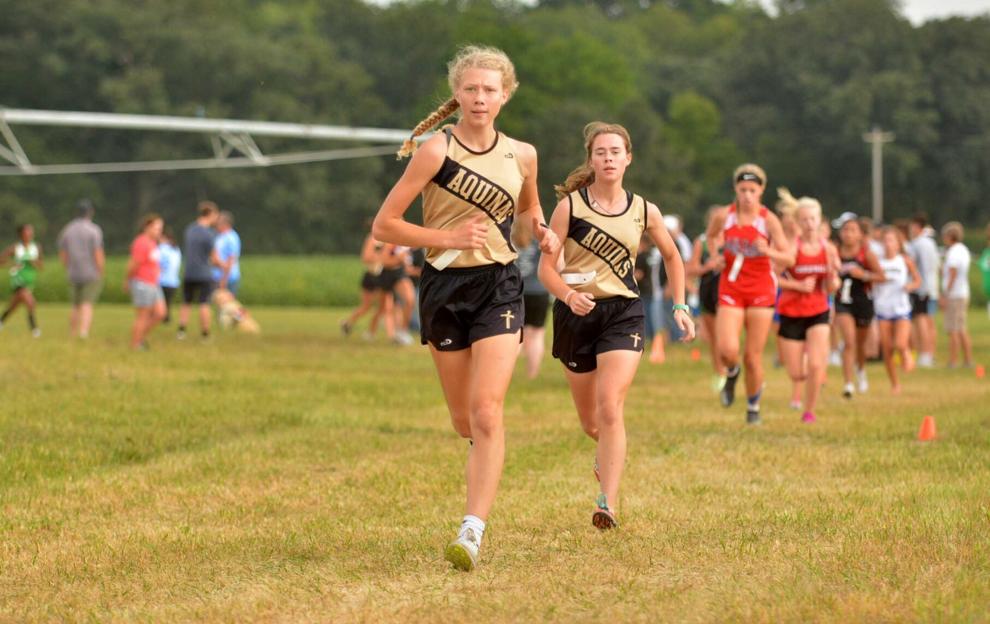 COLUMBUS - Aquinas Catholic junior Gianna Frasher and sophomore Miriam Frasher raced to a gold and silver medal, respectively, at Thursday's Scotus Invite at Lutjelusche Course in Columbus.
Gianna was the first runner across the finish line at 21 minutes, 30 seconds. Miriam crossed the finish at 22:15.
"I thought I could have done a little bit better," Miriam said. "I was kind of farther behind my sister than I thought I could have bee, but all in all, I think I did pretty good."
Miriam claimed her third silver medal of the season and second consecutive in four meets this season. She said the season has been going pretty well.
With a varsity season under her belt, Miriam explained how she's approached this season differently.
"I started practicing training in the summer sooner. That's helped a lot with my sister," Miriam said. "We push each other a lot. I'm confident in the season that we're going to do pretty good."
On Thursday, Miriam said going through the second hill, which runners have to climb up twice before running to the finish line, is the toughest part of the course. The sophomore described what she's focused on improving heading into the second half of the season.
"I'm focusing on enduring the pain because I'm always scared it's going to hurt. I'm like, 'Oh my gosh, I don't want it to hurt so bad,'" Miriam said. "I'm just like, 'OK, I got this.' I have to endure it to keep doing good."
The Monarch girls won their third meet of the season and second in a row. They ended the meet with 19 points, finishing 28 points ahead of Scotus Central Catholic.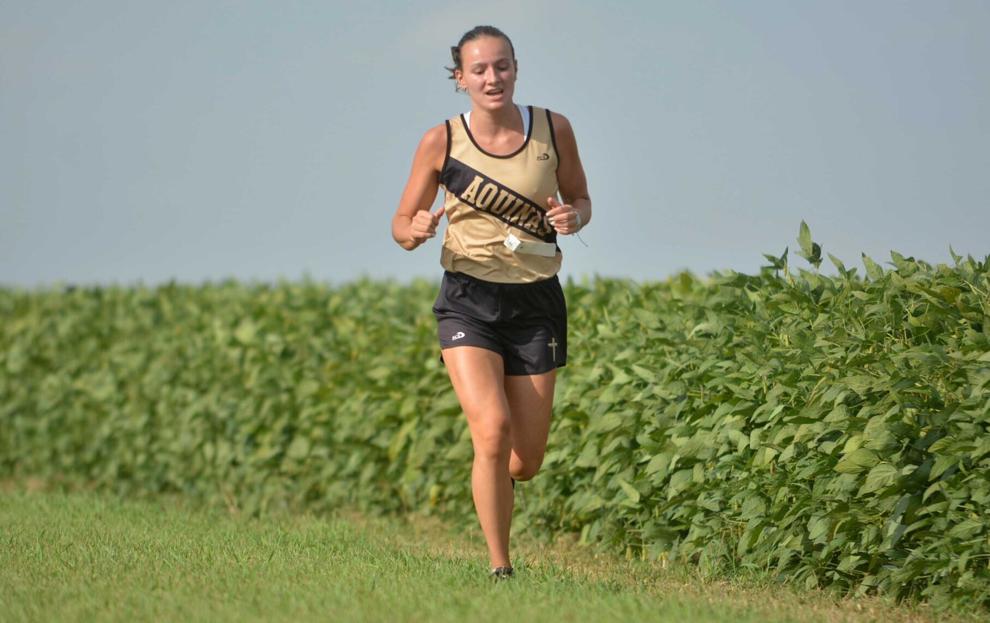 Jocelyn Stara secured her second top-10 finish of the season with a ninth-place time of 24:02. Freshman Lydia Meysenburg placed 13th at 24:32 and sophomore Alexa Matulka ended in 20th with a mark of 26:18.
In the boys race, Aquinas finished eighth as a team. Timothy Duke posted the fastest time on the Monarchs with a mark of 20:31. Isaiah Coufal and Matthew Storm placed 35th and 36th, respectively.
"Our girls really ran well and was reflective of their strong practices the last week," Monarchs head coach John Svec said. "The boys made great improvements individually and as a team. We are where need to be at this midpoint, but must stay focused and hungry to get better."
The David City boys finished the Scotus Invite in ninth place. Keaton Kloke and Stanley Allen finished side-by-side in 31st and 32nd, respectively. Kloke edged out Allen by two seconds with a mark of 20:56. Neil Olson ended the race in 38th.
Jazmine Palencia, Ava Neujahr and Ashley Villalba were the only three Scout girls to compete. Palencia posted a time of 30:20, good for 41st. Neujahr's time was 31:59 and Villalba crossed the line at 33:16.
East Butler at Yutan Invite
The Tigers competed at the Yutan Invite on Sept. 12 at Walnut Grove Park in Omaha.
Reese Kozisek left with her fourth medal in four meets this season. The junior completed the race in 14th place with a mark of 23:58.66. Malorie Spatz ended the meet in 21st with a time of 25:20.36.
Nevayla Hilton and Haley Sebranek crossed the finish in 28th and 29th, respectively.
Lane Bohac was the first East Butler boy to complete the race with a time of 20:05.97, good for 24th. Carson Borgman and Dakoda Schneider ended the dat in 41st and 42nd, respectively.
"I felt we had a good effort from everyone and every one of our runners had a season-best time. The encouraging thing was that the gap to our next group of runners was the closest it has been all season," Tigers head coach Dale Nielsen said. "Most of our returning runners improved their times from this meet last season. Some of the younger runners did so by large margins. I am pleased with the progress we have shown this seasons so far."
Sam Ficarro is a sports reporter with The Banner-Press. Reach him via email at DVDsports@lee.net.