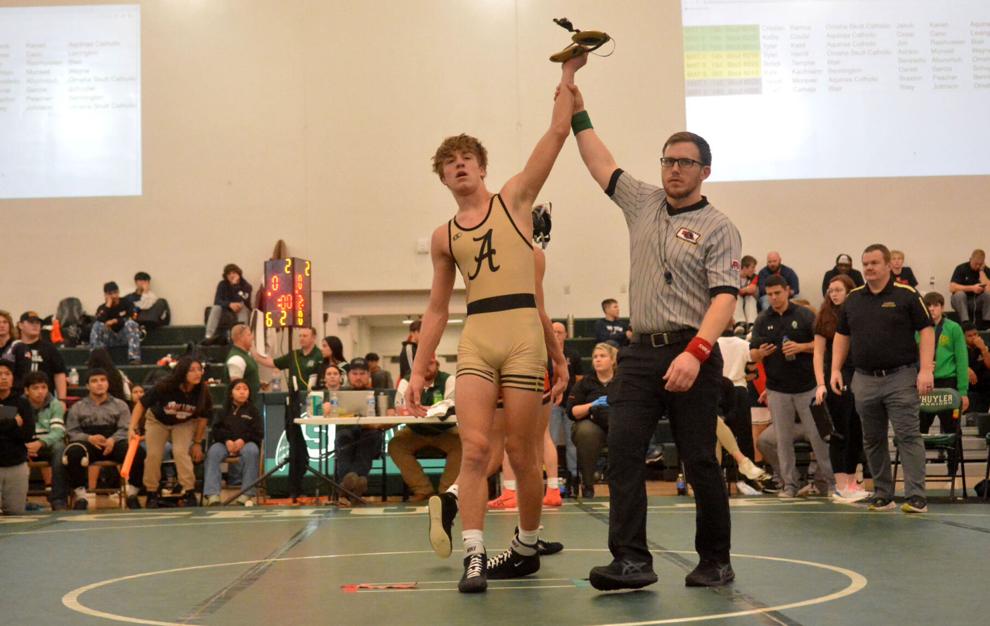 SCHUYLER - Aquinas Catholic sophomore Kelby Coufal collected his fourth gold medal of the season at Saturday's Schuyler Invite.
In one of the toughest meets in Nebraska featuring some of the top teams in Class B, the Monarchs medaled nine wrestlers. Along with Coufal's gold, Grady Romshek and Calib Svoboda earned silver medals.
Jacob Moravec and Josiah Brezina took home bronze medals. Zander and Jakob Kavan finished in fourth place and Colin Hough and Tyler Kastl reached the podium in sixth.
As a team, Aquinas scored 151 points, good for fifth. Blair won the meet with 190.5 points and Omaha Skutt Catholic was the runner-up with 189 points.
"Some guys really stepped up. A few of them got caught up in the bracket a little bit. For the most part, we wrestled really well," Monarchs head coach Roy Emory said. "Some of our guys towards the end were kind of wearing down. We're not used to that high level for a whole day. Usually, our semis and finals type matches are tough, but from the get-go, it was tough (today)."
Coufal won all four matches on Saturday to be crowned the 145-pound champion. He pinned Aurora's Elijah Perez in 3 minutes, 17 seconds to open the day.
In the quarterfinals, the sophomore recorded a 10-0 major decision against Blair's Atticus Dick. Coufal tallied three takedowns, a three-point nearfall and an escape.
The sophomore defeated Skutt's Tyler Harrill 7-5 in the semifinals. Coufal trailed 2-1 after one period but took the lead on an escape and a takedown in the second period. Coufal put the match out of reach with a three-point nearfall in period three.
In the final, he defeated Lexington's Cesar Cano 1-0 on a second-period escape.
"It was a tough meet. Wrestling Tyler Harrill I think that was probably one of my toughest matches. He's a really good freshman," Coufal said. "Tough match against Cesar Cano. Everybody in the bracket was tough. Just a good day overall for everyone I would say."
Coufal improved to 27-1. His only defeat came in the first meet of the season on Dec. 3 in Bennington, a 9-8 loss against Boys Town's Phillip Carstens. Emory said Coufal is more athletic and confident this season.
"I would say I've had a pretty good season so far," Coufal said. "Just being able to shoot, not be afraid to shoot anymore. Just being confident overall."
Romshek (24-2) won two matches in Schuyler with a pin of Lexington's Garrett Kaiser in the quarterfinals and a win via medical forfeit in the semifinals. The senior lost to Blair's Hudson Loges in the 106 final by fall at 1:26.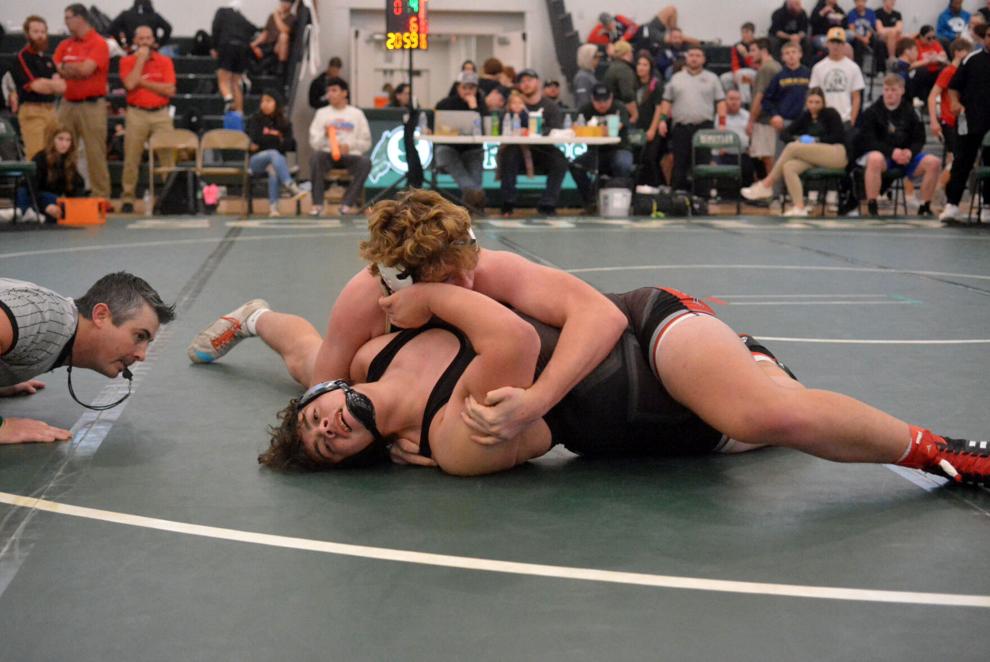 Svoboda (18-4) reached the 220 final with a fall at 4:17 against Scottsbluff's Trenton Jenkins and a forfeit in the semis. Lakeview's Landon Ternus pinned the sophomore at 1:08 to claim the top spot on the podium.
For the first time this season, Moravec (26-1) failed to win a gold medal. He earned bronze at 152 with three wins in four matches.
The junior recorded a fall at 1:16 against Lexington's Landon Johnson to open the day. Brock Templar of Blair handed Moravec his first defeat of the season with a 6-3 decision.
Moravec led 3-2 after one period following a takedown and an escape, but a Templar reversal and two-point nearfall in the second period was enough for him to ride out the rest of the match.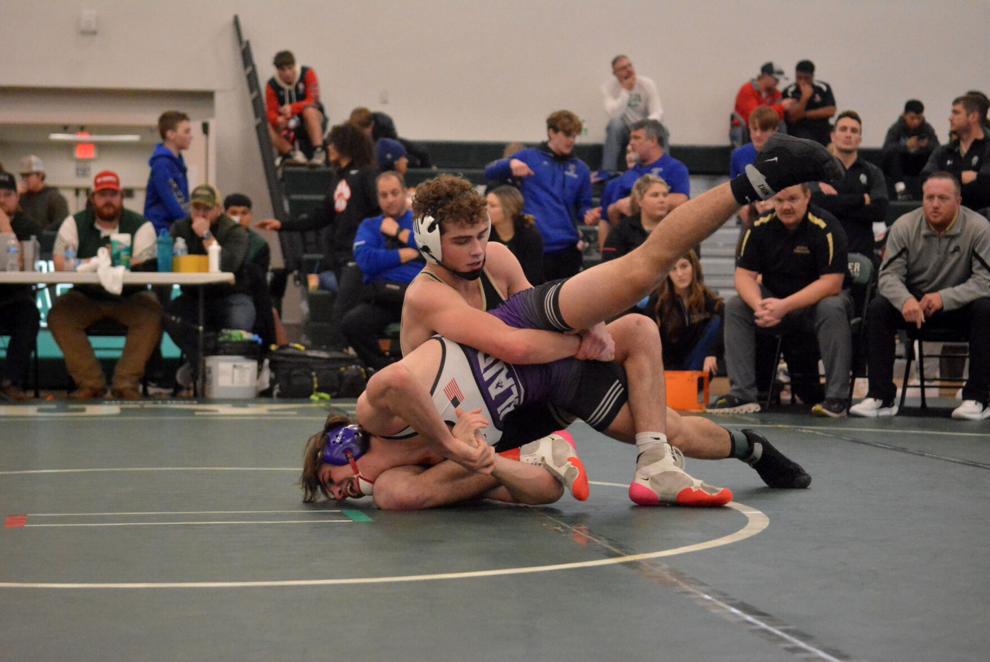 Moravec bounced back with a 9-4 win over Lakeview's Miguel Cullum. He scored a three-point nearfall, a takedown, a reversal and two escapes. In the third-place match, Moravec defeated Bennington's Braxton Peacher 3-2 on a second-period escape and a third-period reversal.
Brezina (23-2) placed third at 285 going 3-1. He opened the meet with a fall at 2:50 against Bennington's Kale Kaufmann. After a 7-3 defeat in the semifinals, the junior pinned Schuyler's Daniel Garcia in 33 seconds to reach the third-place match.
Brezina shut out Lexington's Luis Castellanos 5-0 on a reversal and a three-point nearfall to end the day with a win.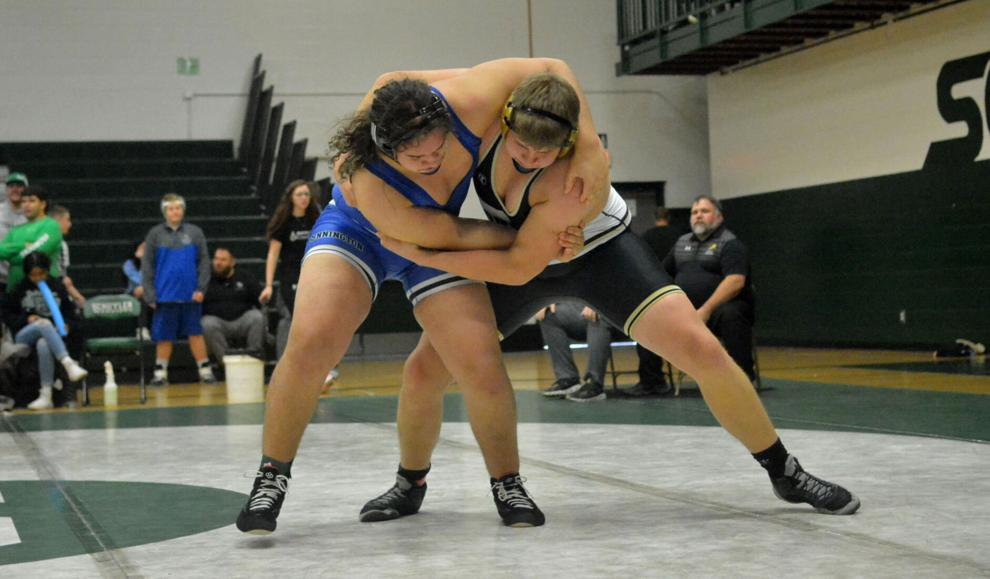 Jakob (27-3) went 3-2 at Schuyler. The junior won his first two matches, an 18-2 tech fall against Fairbury's Carter Johnson and a 3-2 win over Lexington's Jackson Konrad. Jakob broke a 2-2 tie in the third on an escape with 1:18 remaining in the match.
Connor Whiteley of Scottsbluff defeated Jakob 2-0 in the 138 semifinals on a first-period takedown. Jakob bounced back with a 9-4 win over Blair's Jesse Loges in the consolation semifinals, outscoring Jesse 8-2 in the final two periods.
Skutt's Cristian Ramos bested Jakob 10-1 in the third-place match. On the day, Jakob recorded six takedowns, three two-point nearfalls, two three-point nearfalls, five escapes and one reversal.
Zander (22-5) overcame a quarterfinal defeat to win three straight matches en route to a medal. The senior pinned Wayne's Zachary McManigal at 2:31. In the next round, Zander defeated Schuyler's Trey Svatora by a 7-4 decision on three escapes and two takedowns.
It took overtime for Zander to defeat Malcolm's Zane Zoucha in the consolation semifinals. Zander trailed 2-0 entering the third, but he took the lead on an escape and takedown. A penalty point was awarded to Zoucha forcing overtime. Zander took down Zoucha to seal the sudden victory.
In the 126 third-place match, Zander lost 6-0 to Skutt's Nikolas Rotella.
Emory said competing in a tough meet like the one Saturday will benefit the Monarchs.
"That's why we come here. This kind of competition gets you ready for the end of the year," he said. "It's good to go find losses sometimes. You don't like to lose matches, but in the long run, it makes you better."
Aquinas will compete at Fillmore Central Thursday in its final dual of the regular season. After that, the Monarchs will head to Grand Island Central Catholic for the Centennial Conference meet on Saturday.
Emory said the tough competition on Saturday highlights the stuff they need to work on that maybe they were getting away with.
"I thought we had a really good tournament. Won a lot of big matches, wrestled some other kids tough," Emory said. "Didn't really have any letdowns. It was a good day."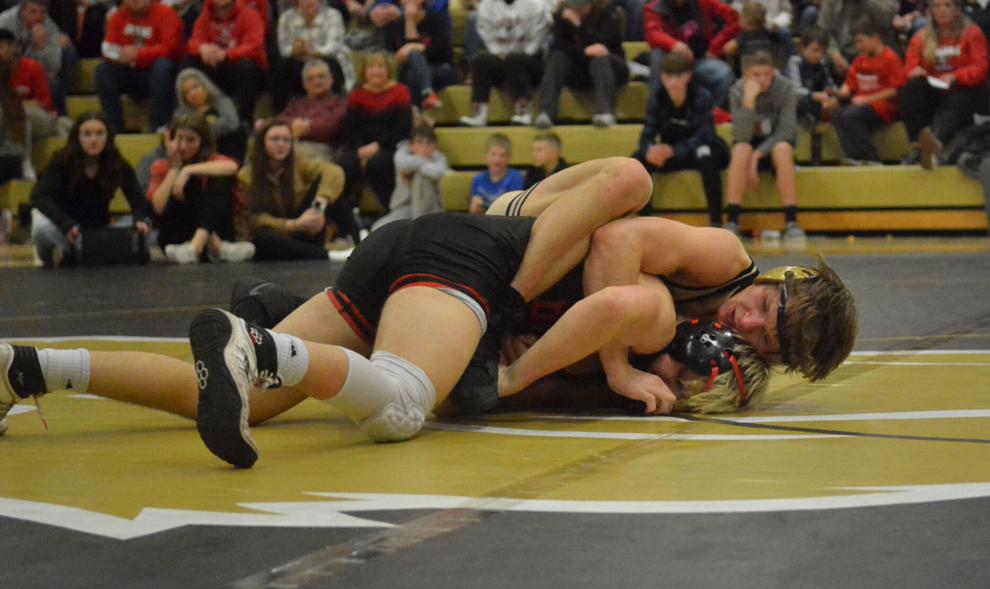 For the fourth straight year, the Monarchs defeated David City and East Butler in the Butler County triangular.
On Thursday, Aquinas opened the triangular with a 59-12 win over the Tigers. It ended the night with a 52-21 victory against the Scouts to improve to 9-1.
Moravec, Brady Junck, Brezina, Romshek and Trent Mefford recorded falls against East Butler. In that dual, Jakob and Coufal won by major decision and Zander earned a 3-2 decision victory. The Monarchs won three matches by forfeit.
In the final dual of the night, Hough, Moravec, Sam Hilger and Brezina recorded falls against David City. Coufal posted a major decision win of 18-6 and Zander and Jakob earned decision wins. Aquinas also won three matches by forfeit.
Sam Ficarro is a sports reporter with The Banner-Press. Reach him via email at DVDsports@lee.net.