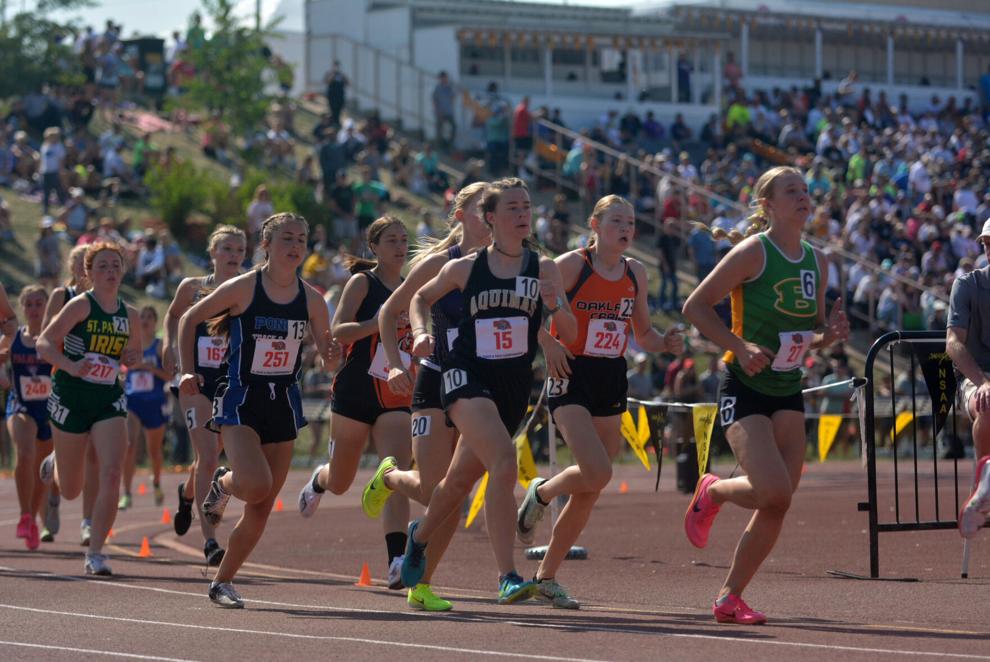 OMAHA - Aquinas Catholic collected nine medals at the NSAA Class C State Track and Field Championships at Burke Stadium in Omaha.
The Monarch girls earned seven of those medals, including bronze medals from junior Gianna Frasher and the 400-meter relay. As a team, they placed ninth in Class C with 28 points.
Bryant Stouffer and Garett Novacek earned their first state medals in the 100-meter dash and the high jump, respectively.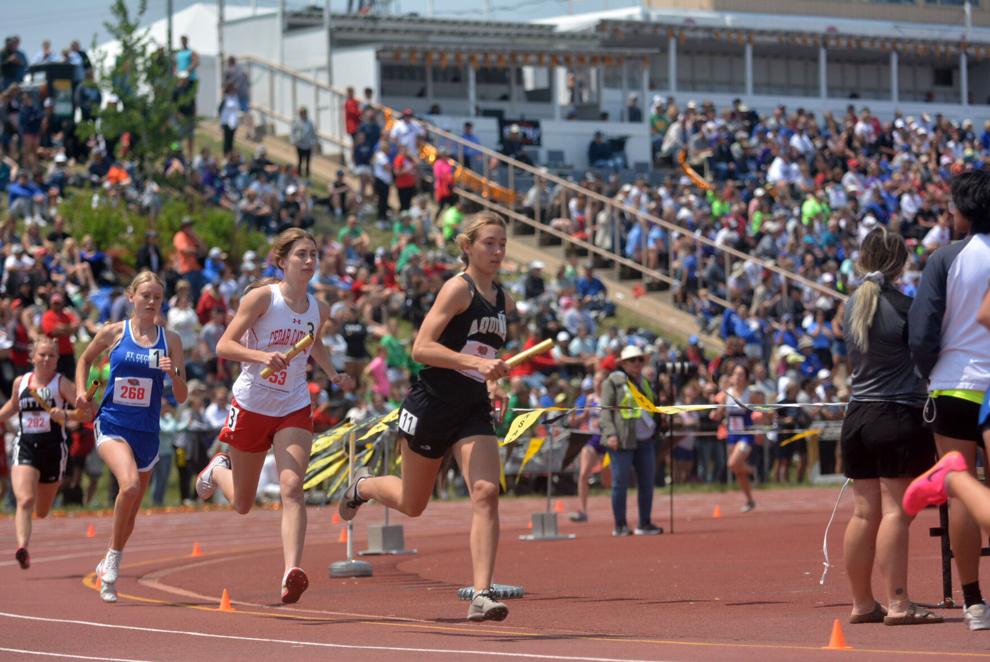 Frasher competed in three races, opening the state meet Friday in the 3200 relay. Alongside Miriam Frasher, Lizzie Roh and Bianca Romshek for the second straight year, they placed fifth with a time of 10 minutes, 13.1 seconds.
It's the second state medal for the quartet after taking home bronze last year.
"From where it started to where it ended, it was really good, Romshek said. "We weren't supposed to place, so we had nothing to lose so just go out and give it out all."
Miriam and Romshek ran the first two legs of the relay and they maintained seventh place with splits of 2:31.31 and 2:35.78, respectively. Roh moved the Monarchs into sixth with a split of 2:40.93 before handing the baton to Gianna.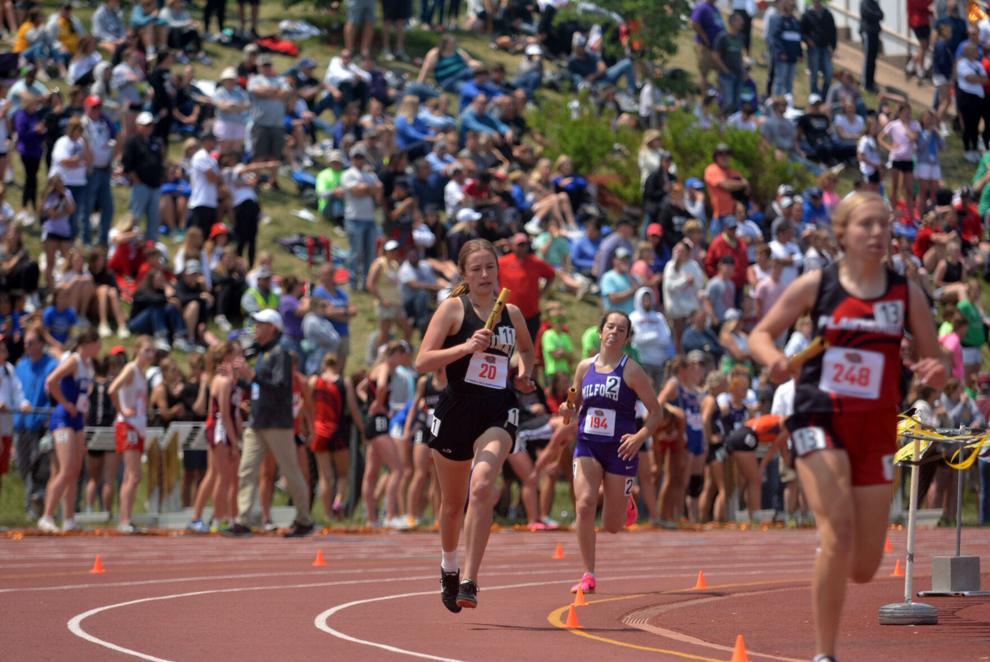 Running the anchor leg, Gianna posted a split of 2:25.07 to move Aquinas up one spot into fifth.
"I started off the year with an injury, so just to get here and do as well as I did I think is just a big accomplishment," Roh said.
Later in the day, Gianna competed in the 3200. The junior started the race in 16th place and was sitting outside of the medal positions in 10th entering the final lap of the race.
That's when she turned on the afterburners, posting the fastest eighth-lap split of 1:12.82 to move up five spots and into fifth. Gianna clocked in at 11:44.9, finishing just 0.19 seconds back of third.
"It's pretty crazy. I doubt myself a lot and I really wanted to prove myself that I can do good (Friday) and on that last lap, I was in 10th place and I'm like I'm not walking away without a medal. I just took off and got fifth," Gianna said. "I was just like this is my last lap. What the heck do I have left and I just took off. I literally don't remember it that much. It was just kind of sprinting the whole thing."
On Saturday, Gianna completed her state meet in the 1600. She claimed bronze in the event with a time of 5:21.75.
Just like in the two mile, Gianna steadily climbed up the ranks. The junior was 10th after lap one, eighth at the halfway point and sixth with one lap remaining. On the final lap, Gianna gained three positions with a 1:17.55 split.
After failing to qualify for an individual race last year, Gianna said she was proud of herself to compete in three events as she heads into her senior season.
"It is pretty awesome. A lot of self-growth and self-confidence that I'm growing in and that's what I need to really work on," Gianna said. "That's one of my biggest struggles is self-confidence, so being able to come this year and make it to state and do well is pretty awesome and I hope I can carry that into next year and do even better."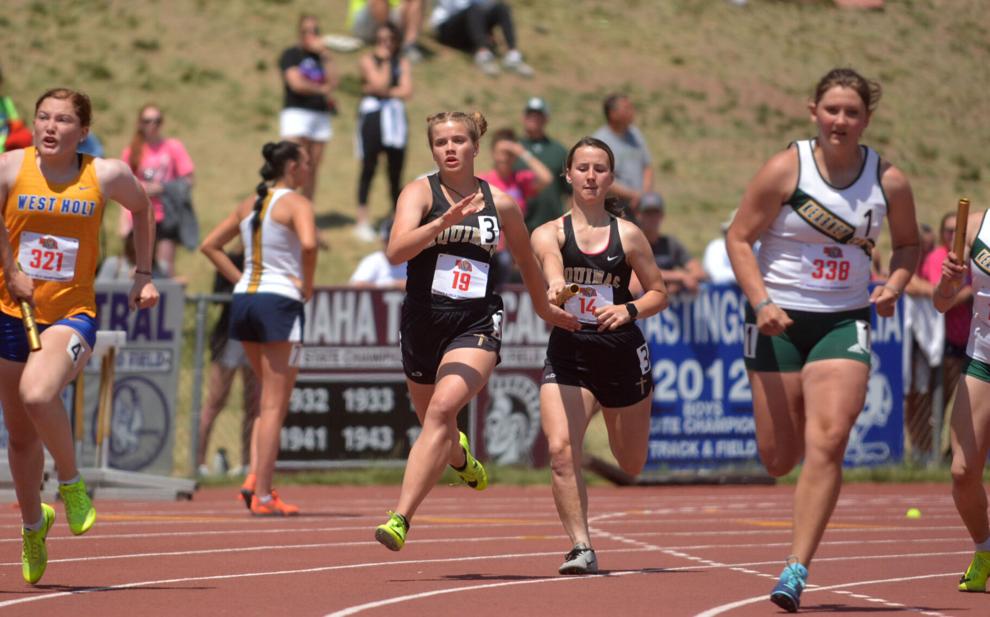 The Monarch girls 400 relay team of seniors Jocelyn Stara, Ava Hilger and Veronica Reimers and freshman Lilly Collins competed at state for the first time on Saturday.
Last year, the team was disqualified at districts due to an exchange mishap. After redeeming themselves at districts this year, they made the most of their opportunity taking home bronze with a time of 50.41 seconds.
"We're just really excited," Hilger said. "At the beginning of the season, we didn't really know how it was going to go. We came here and got third, so it's pretty crazy. It's exciting."
Reimers anchored the final leg of the relay, receiving the baton exchange from Collins.
"It's so rewarding. We were so excited," Reimers said. "After that last handoff, me and Lilly (Collins) we're like, 'Yes, we got it.' It's amazing and we have a great coach."
West Holt won the state title with a time of 49.68 seconds. Norfolk Catholic finished as the state runner-up with a time of 50.3 seconds.
Stara, a two-time state qualifier in cross country, ended her career in Omaha as a state track and field medalist.
"It's amazing. It's quite a bittersweet moment," Stara said. "It's where all of us want to end the year, but this is the end of mine and Roni's (Reimers) career so it's bittersweet but now it's cloud nine."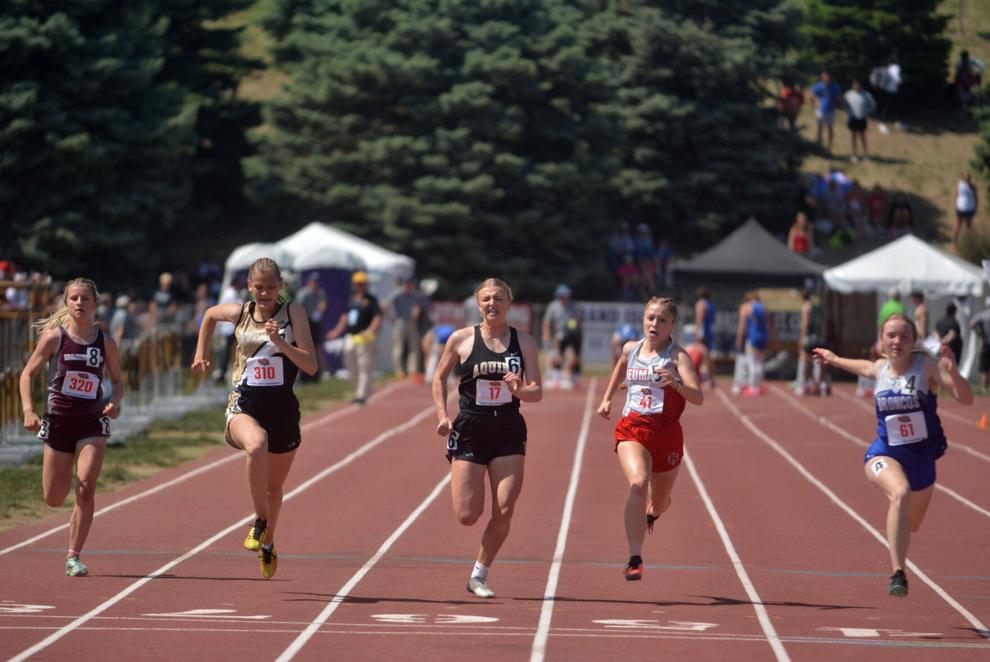 Hilger eyed a return trip to the 100 finals after a disappointing eighth-place finish last year. The senior, seeded No. 10 for prelims, recorded the fifth-fastest time at 12.55 seconds to secure a second medal in the event.
On Saturday, Hilger placed sixth with a time of 12.87 seconds.
"I feel like I did pretty good. I think all the girls ran a little bit slower just because of the heat, but it's awesome," Hilger said. "Last year was really just a good learning experience. Coming this year, I'm just so much more confident. I just felt better myself and know how to handle myself better. It showed."
After overcoming an injury-riddled sophomore season, Hilger finishes as a three-time state medalist in two trips to Burke.
"It was just amazing. The track program was great," Hilger said. "It's a family environment. It's awesome to be a part of. It's going to be hard leaving this team."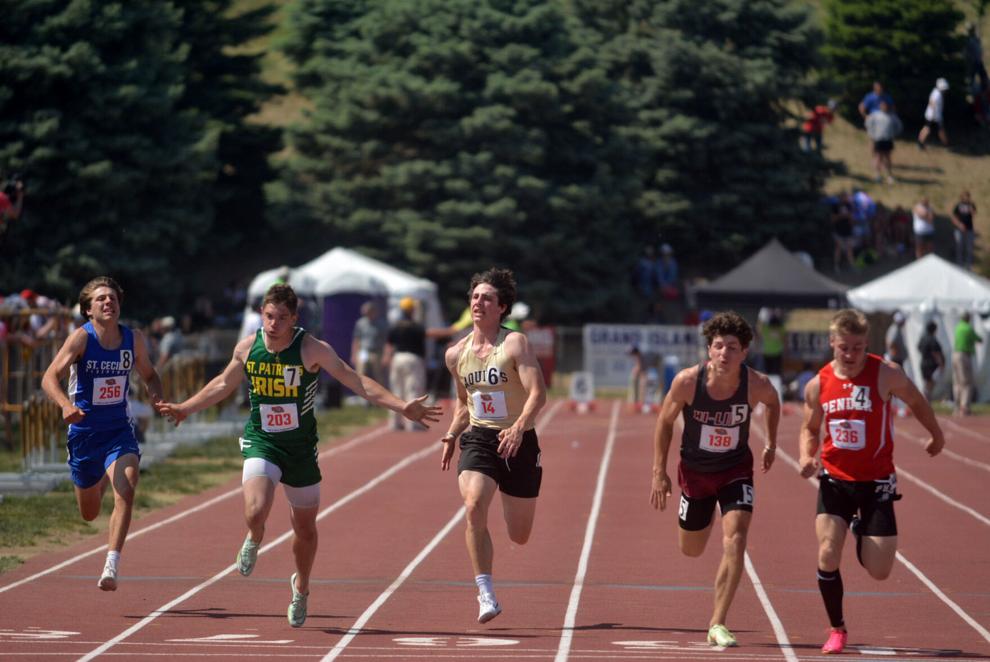 Stouffer led the Aquinas boys with a medal in the 100. After running in the 200 prelims last year, the sophomore booked his first ticket into the finals after placing fourth in the 100 prelims with a time of 10.81 seconds.
Stouffer posted a finals time of 11.32 seconds, good for fifth. Pender's Brody Krusemark won gold at 11.06 seconds as Stouffer was just 0.2 seconds back of silver.
"I felt like I started a little bit slow, but made it up," Stouffer said. "I started off in eighth and since I'm in eighth, just gives you more adrenaline."
In the 200 prelims this year, Stouffer placed 12th with a time of 23.31 seconds. Last year, he recorded a time of 23.67 seconds.
"It feels good to finally get a medal. A lot of improvement from last season and a strong finish," Stouffer said. "I definitely want to improve my 200 and just the time in general and just get a little bit faster in the 100."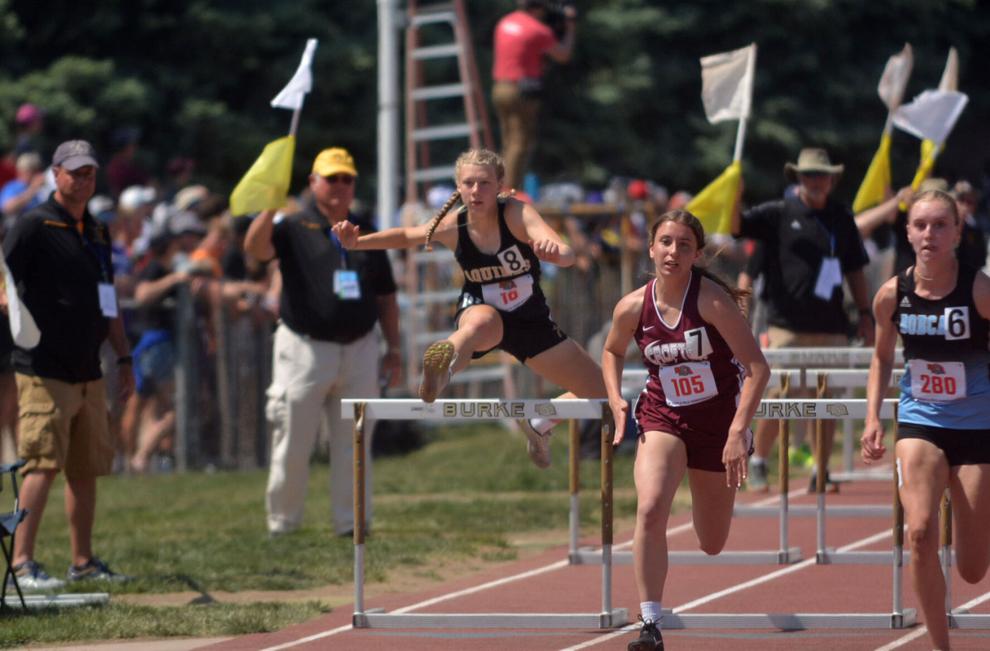 Miriam, after running in the 300 hurdles last year, ran in both hurdle races along with her participation in the 3200 relay. The sophomore reached the 100 finals with a time of 16.75 seconds and the 300 hurdles with a time of 47.39 seconds.
In the 300 finals, Miriam placed fifth with a time of 47.31 seconds. She placed eighth in the 100 finals with a time of 16.75 seconds. 
"4-by-8, I did way better than we thought as a team. We were supposed to be 11th and to come out in fifth was just like last year. 300 hurdles, I barely made it," Miriam said. "Same as the 100s. I did a lot better in the finals in 300 too from lane one to being fifth place. 100 hurdles, I didn't do as well as I thought. I tripped over one of the hurdles. That's kind of a bummer but bounced back and did good in the 300. I'm pretty happy with what I did." 
This year was the first time Miriam ran the 100 hurdles. She described what the transition was like and her growth in that event.
"First time I tried doing 100 hurdles, I three-stepped them so I was like, 'OK we have something here.' I kept trying," Miriam said. "PR'd in almost every single race I did and then my best was like 15.6. I didn't PR (Saturday) or (Friday), but pretty happy. First year placing at state."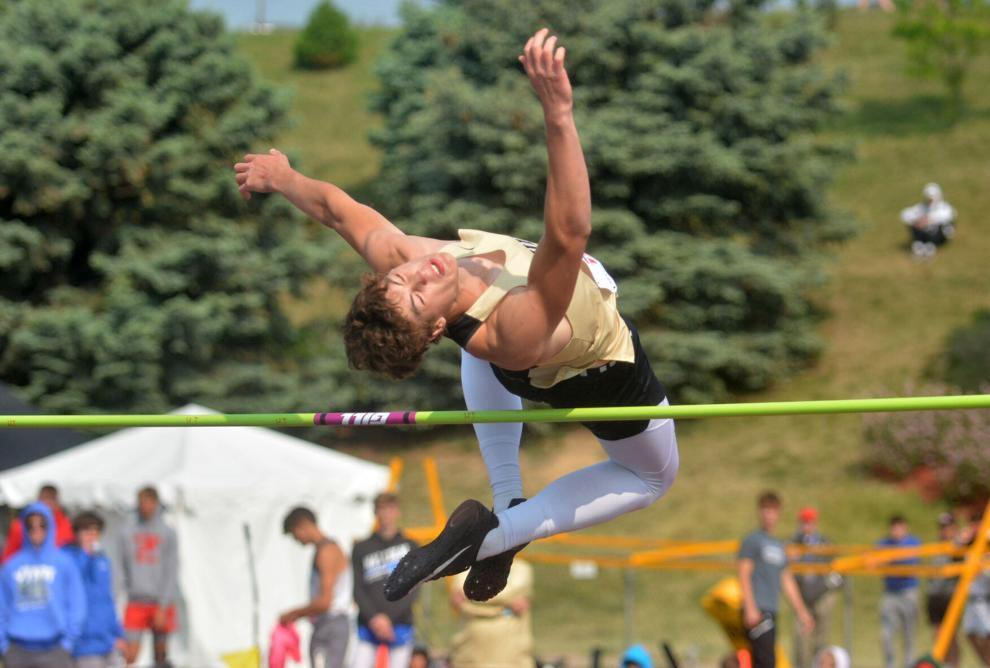 Novacek captured a state medal in his debut at Burke Stadium. The sophomore claimed the final spot on the podium with an eighth-place high jump height of 6-2.
"It feels great. It's amazing," Novacek said. "It's just surreal. Feels a lot bigger than what it is."
The sophomore was nearly eliminated at 6 feet, but he managed to clear the bar on his third and final attempt. He cleared 6-2 on the first attempt, propelling him to a medal over Malcolm's Drew Johnson after he failed once at 6-2.
"5-10, I just felt like that was an easier height for me but it was kind of weird starting at that because that's usually one of my last jumps," Novacek said. "6-foot, I was a little queasy about that. I missed that twice, but finally got that and 6-2 was adrenaline basically."
Novacek set a PR at districts clearing 6-3 to earn the final automatic qualifying spot for state. The sophomore ended the season with his two best marks of the season.
"It's a great season," he said. "(At) districts I PR'd in both of my events, so I'm very happy with that."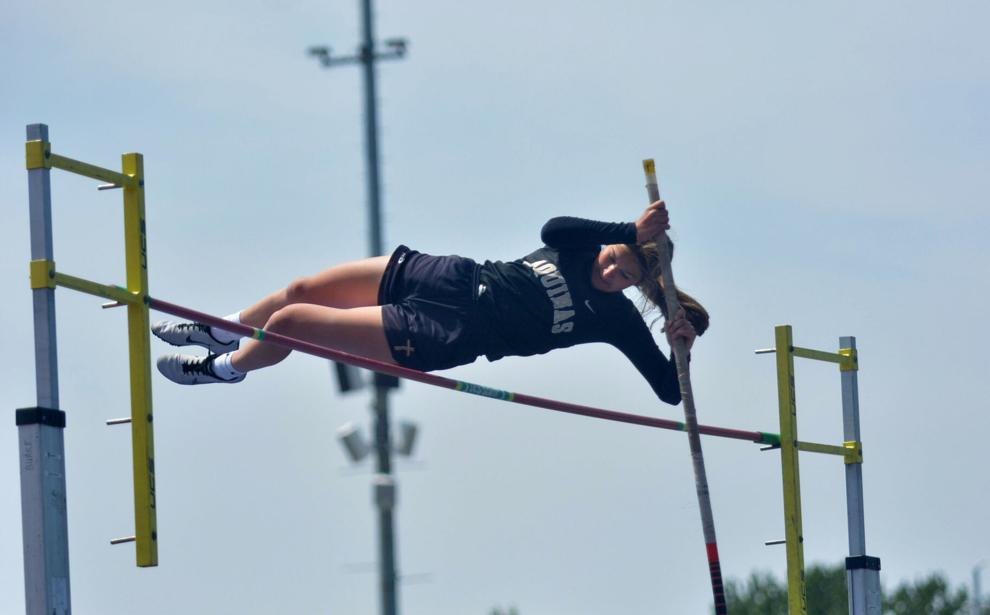 Sydni Svoboda, fresh off winning a district title, fell one spot short of a medal in the pole vault. The freshman placed ninth with a height of 9 feet.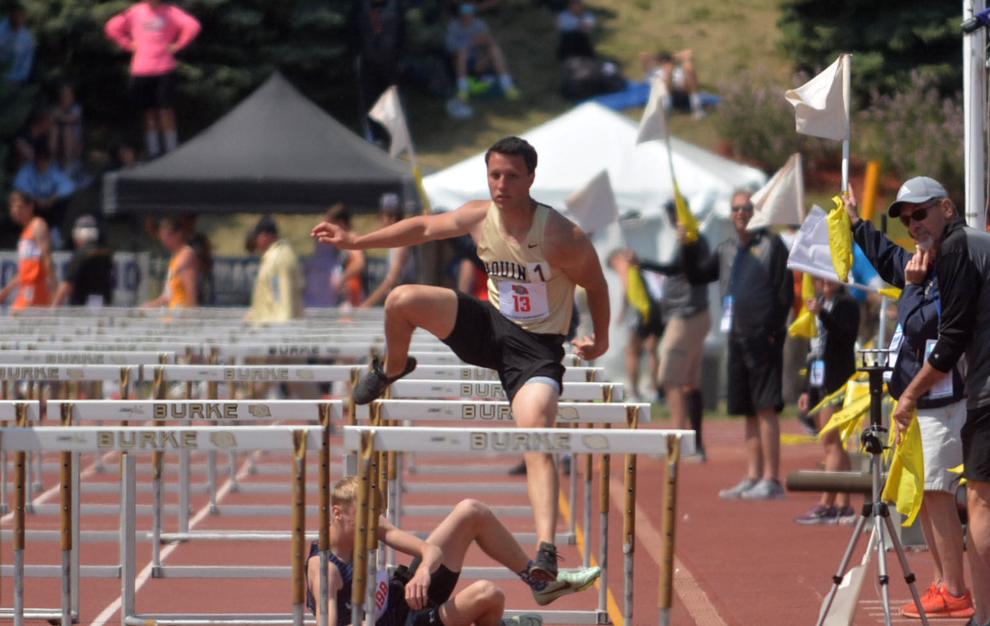 Lucas Sellers capped his high school athletic career with his first appearance in Omaha. The senior ran in the 110 hurdles and placed 19th with a time of 16.98 seconds.
Sam Ficarro is a sports reporter with The Banner-Press. Reach him via email at DVDsports@lee.net.