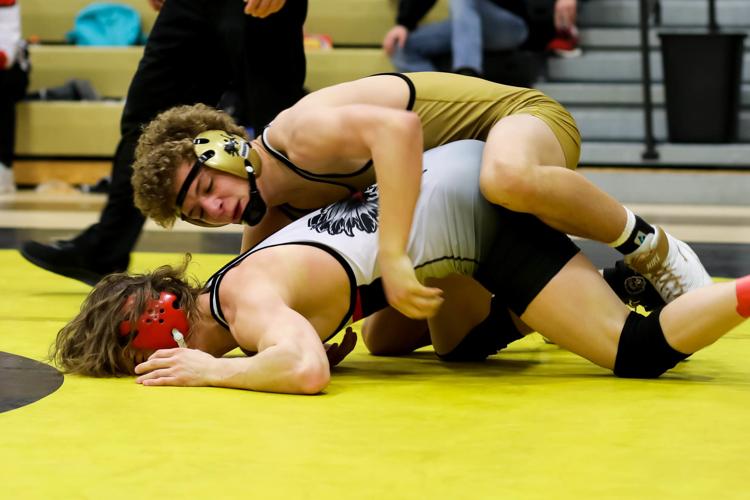 Aquinas wrestling enjoyed yet another successful season while making history in the 2020 season. The Monarchs sent 12 wrestlers to Omaha two weeks after winning the state dual championship for the first time in program history.
Aquinas says goodbye to only three graduates, returns four medalists, including a state runner-up, and has designs on more big things this upcoming winter.
However, this offseason proved challenging to get mat time as it did for many teams, but co-head coach Roy Emory tried to provide as many opportunities as he could for his team. 
The Monarchs started their lifting program in early June where they focused on improving from an athletic standpoint. 
"(We) focused on getting stronger and more explosive since that was all we were allowed to do," Emory said. 
It wasn't until July 6 that Aquinas finally stepped foot on the mat for its team camp. Since then, some traveled to Doane for a competition camp.
Work will soon transition to football for most as the calendar flips to August. Emory will continue to hold open mats but understands the attendance will dip.
It was a short time period to make assessments, but the Aquinas coach said he was pleased by what he saw.
"Because we did not have as much time this summer we focused on what was most important," Emory said. "We worked on some areas we needed to improve, and since we did not have as many competitive camps, we had a couple of days where we just let them go and had a real competitive room.
"So far, I have been very impressed. They have worked hard to make themselves better athletes which will help with their wrestling."  
Last year, Aquinas was especially deadly in duals. With many returning wrestlers, the Monarchs hope to be just as competitive this season. 
The Monarchs finished the season 12-0 and took the Class C crown in Kearney.
Regular season victories included wins over Boone Central, Amherst, Wood River, Broken Bow, Raymond Central, Gibbon, David City, East Butler and Columbus Scotus. 
Aquinas will face many of the same teams in the upcoming season, including rival and reigning state tournament champ David City.
The Monarchs also have the Wood River Duals on its schedule for Jan. 2 and will see some of the top teams in the state. 
In the state dual tournament, Aquinas defeated Raymond Central in the quarterfinals, Logan View in the semifinals and Valentine in the championship. 
Aquinas also finished fourth in the individual state wrestling tournament as  behind only, David City, Ord and Valentine. Two weeks later, five of the 12 that went to Omaha ended up on the medal podium. Christopher Nickolite was a runner-up who will return for next year. He suffered a loss to four-time champion Gage Krolikowski. 
Incoming junior Hunter Vandenberg placed third at 120 pounds, senior Zach Zitek finished third at 126, junior Nickolite was runner up at 138 pounds, senior Schrad placed sixth at 145 and graduate Owen Schramm finished fifth at 285. 
Peter Huguenin is a sports reporter for The Banner-Press. Reach him via email at DVDSports@lee.net
Be the first to know
Get local news delivered to your inbox!