Aquinas football defeated Shelby-Rising City for the second week in a row, on Nov. 1, this time with much more on the line.
Though it was a much closer affair than a week earlier when the Monarchs led by four touchdowns at halftime en route to a 35-point win, Aquinas kept SRC off the scoreboard and took advantage of a bevy of Husky turnovers for a 27-0 victory.
The rematch was scoreless through the first quarter of play before the Monarchs scored all their points in the second and third. Aquinas didn't capitalize on every SRC turnover, but all those empty possessions doused Husky hopes.
"It kind of went how I thought it would," Aquinas head coach Ron Mimick. "Last week our punt return scored a touchdown and set up another short field. I figured we wouldn't get those this week.
"They were a little better moving the ball this week in terms of getting first downs. It went about how I thought it would because we're a little better up front than they are and we're a little more consistent in what we do. They played hard, but I thought we played good."
According to Mimick, playing the same team two times in a row presents a unique set of challenges, mental more so than physical. Additionally, as somewhat of a rival due to the proximity of the two schools, and the result the week before, Aquinas had to match the intensity of SRC.
"I told our kids that if that was us after we lost to North Bend, 'What would we be like the next week?'" Mimick said. "We would be very focused, very determined to turn around the outcome and that's what we saw today in Shelby. They came back at us hard. You knew they would."
After a scoreless first quarter, Aquinas took a 14-0 lead in the second quarter with two rushing touchdowns from Caden Kozisek.
Caleb Thege and Kozisek both scored rushing touchdowns in the third quarter. A missed extra point was one of only a few Monarch mistakes on the night.
Another was a missed second-quarter field goal. Shelby-Rising City took that momentum and put together a drive until Kozisek intercepted a pass.
Five plays later, he ran 45-yards for a touchdown to give the Monarchs a 7-0 lead.
On the first offensive play of next drive, Kyle Napier picked off a pass, but the Monarchs went three-and-out and were forced to punt the ball.
The Huskies were driving again when Bailey Belt completed two passes of 10-plus yards before a fumble gave the ball back to the Monarchs.
Aquinas drove 38 yards in six plays using two minutes of clock and scored on a 4-yard run by Kozisek with 39 seconds left in the half.
Belt went 4 for 4 on the following drive, but the clock ran out before S-RC found any points.
Aquinas received the ball to start the second half, picked up two first downs, but eventually had to punt the ball away.
But, just two plays later, Keegan Lavicky intercepted a pass setting up a two-play, 2-yard touchdown drive capped by a Thege touchdown giving Aquinas a 21-0 lead.
The Huskies went three-and-out after three incomplete passes on the next drive, but the Monarchs fumbled on the first offensive play of the next possession.
You have free articles remaining.
Register for more free articles
Stay logged in to skip the surveys
Aquinas got the ball right back on the next play when Braden Smith picked off a pass.
Five plays later, Kozisek scored on a five-yard run to give Aquinas a 27-0 lead.
Shelby-Rising City drove down the field once again but turned the ball over on downs with just under 10 minutes left in the game. The two teams traded empty possessions before the final whistle.
Shelby-Rising City had six turnovers during the game, while Aquinas committed just the one fumble.
The loss ends the Huskies season with a mark of 6-4.
"I'm really going to miss this group of seniors," Shelby-Rising City head coach Kevin Kopecky said. "They're a great group of kids. These guys stepped up and did a really good job of making the playoffs for two years in a row.
"There's a lot to be proud of. It doesn't feel like it right now at the moment, but hats off to Aquinas."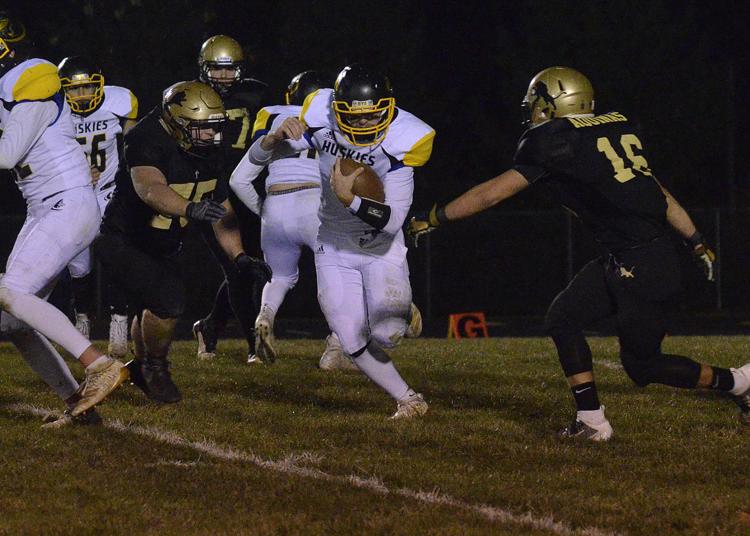 Aquinas will advance to the second round of the playoffs where the Monarchs play C-2 No. 2 St. Paul in a road game on Friday. 
St. Paul defeated Centura 36-0 in the first round. 
"St. Paul has a very talented, young football team," Mimick said. "They're going to C-1 next year and are going to be good in C-1. They're young and good. They have some really good football players."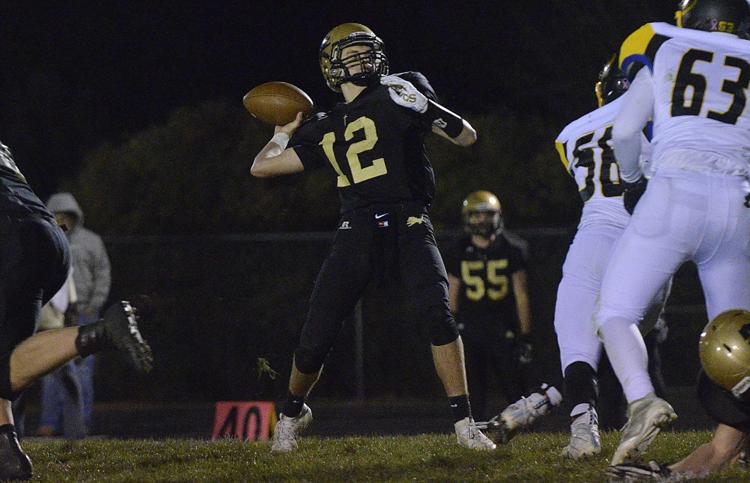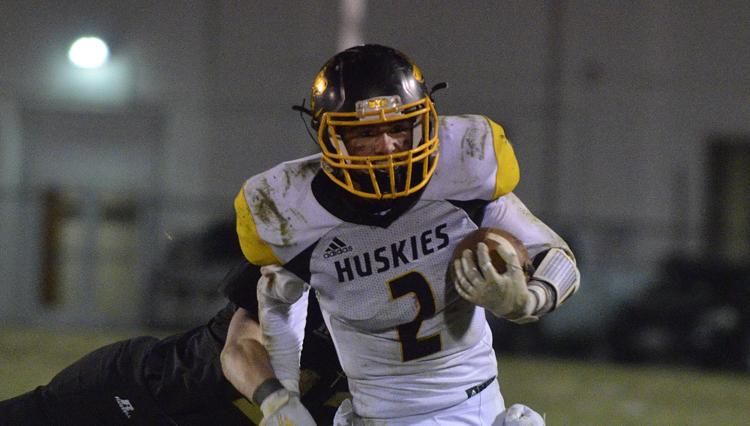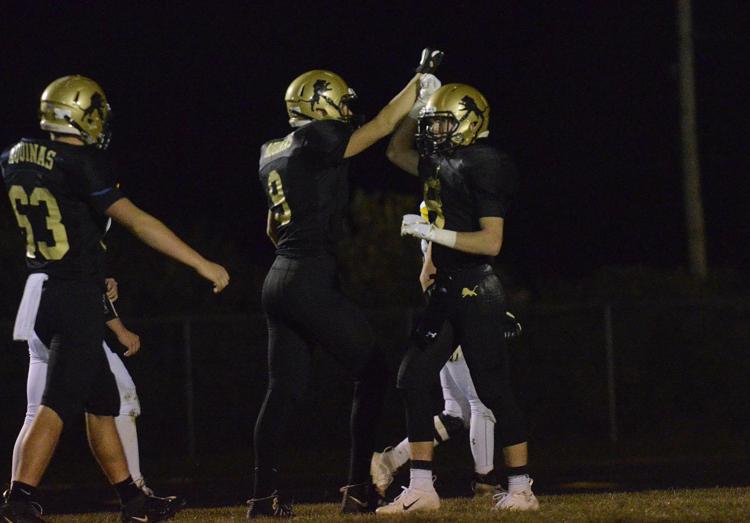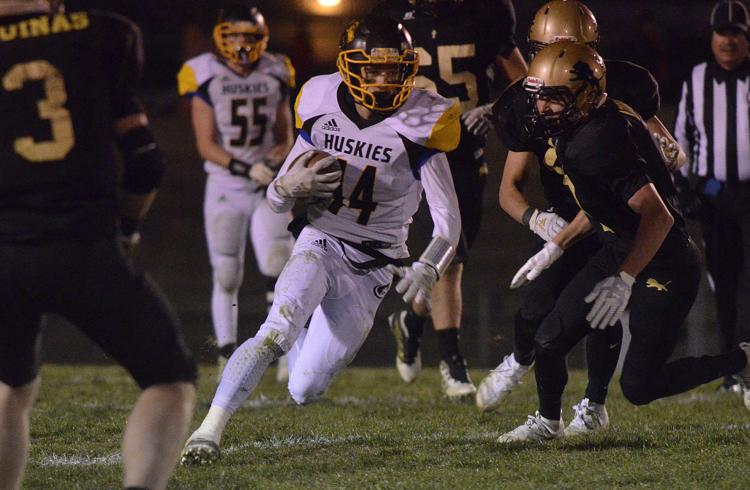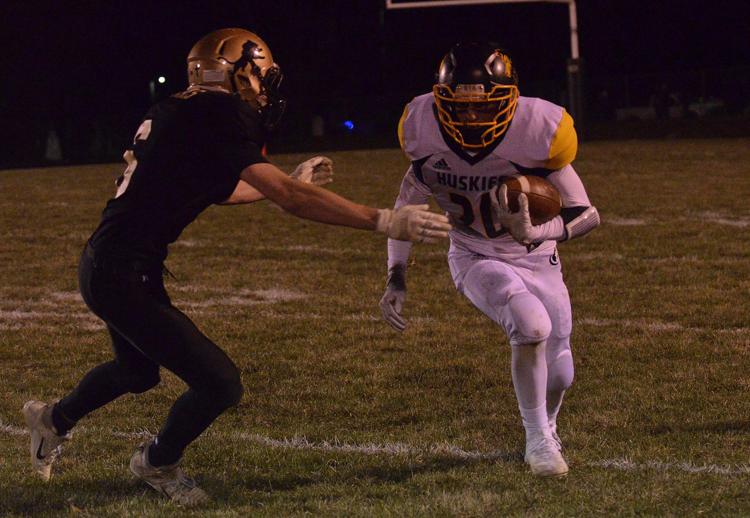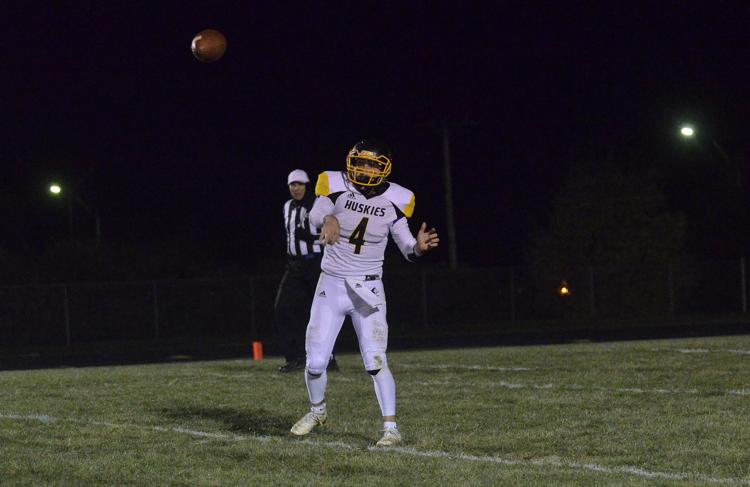 Peter Huguenin is a sports reporter for The Banner-Press. Reach him via email at DVDsports@lee.net