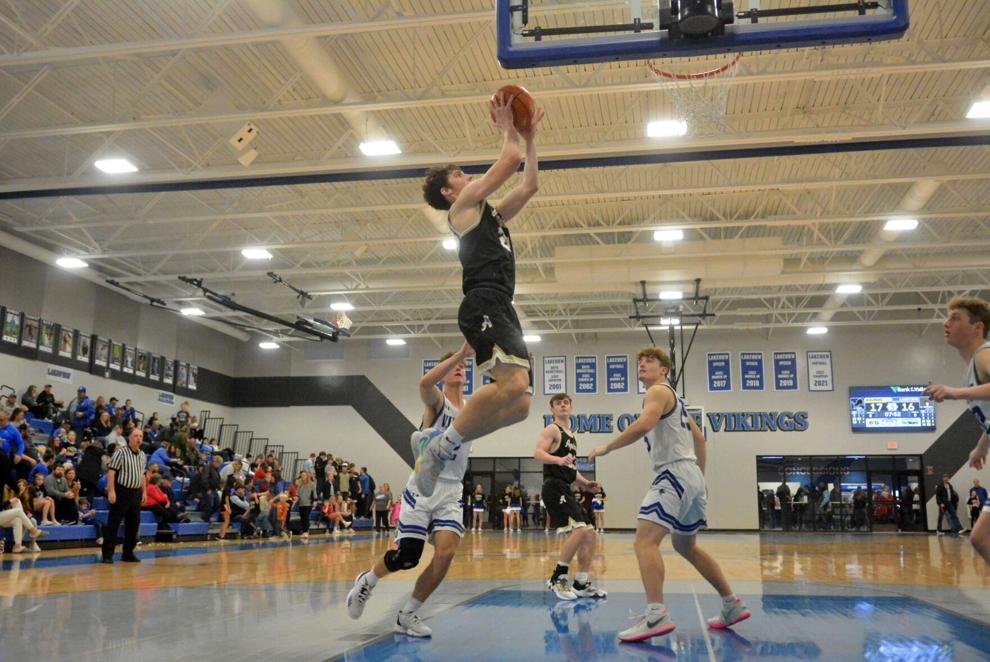 COLUMBUS - Aquinas Catholic boys basketball led by as many as eight points in the second half in Saturday's game at Lakeview.
However, the Vikings surged into the lead on timely shot-making and an effective zone defense that disrupted the Monarchs in the fourth quarter of a 44-38 defeat.
"I thought we did good. This is our third game in a week and it's going to be a tough game. They're always a really well-coached team. They always stay in the game. It was going to be a tough night for us and we knew that," Monarchs boys basketball head coach Trevor Weiss said. "In the fourth quarter, we couldn't score. We couldn't put the ball in the bucket and they were. Just kind of ran out of gas a little bit. They made more plays than we did in the fourth quarter."
After one point separated the two teams at halftime, Aquinas scored the first seven points of the third quarter to lead 24-16 with 6:37 left in the frame.
Bryant Stouffer scored an alley-oop layup, Dylan Andel knocked down a 2-point field goal and a 3-pointer following a Krae Lavicky steal.
The Monarchs restored their eight-point lead with 21.3 seconds remaining in the third following a field goal from Stouffer and a Lavicky 3-pointer.
Jacob Dawson converted an and-1 for Lakeview with 3.7 seconds left in the frame to cut the Aquinas lead to 32-27 entering the fourth.
Stouffer picked up his fourth foul with 6:31 remaining in regulation, resorting him to the bench for a large chunk of the fourth.
The Vikings switched to zone, stifling Aquinas' offense and leading to eight unanswered points and a 35-34 lead with 3:04 remaining after a Will Hrouda 3-pointer.
Lavicky scored the first points of the fourth on two free throws with 1:46 left. After a field goal from Braxton Borer, Lavicky tied the game at 37-37 with his triple of the game.
On the ensuing Lakeview possession, Max Fremarek answered with a 3-pointer to regain the lead 40-37 with 50.1 seconds remaining.
Lucas Sellers drew a foul and knocked down a free throw to trim the deficit to two with 19.1 seconds remaining.
Fremarek was fouled and miss the front end of a 1-and-1, but the Vikings grabbed the offensive rebound and was fouled into the double bonus. Fremarek redeemed himself with two free throws to make it 42-38 with 13.1 seconds left.
The Monarchs missed a 3-pointer leading to another foul. Borer sealed the win with two more free throws. In the fourth quarter, Lakeview outscored Aquinas 17-6.
"We always want to get to the rim and they kind of packed it in with their zone and we couldn't get it into the paint. We couldn't really get to the hoop very much against their zone, so we had to settle for 3-point shots and they just weren't going down," Weiss said. "Bryant (Stouffer) getting his fourth foul was huge. We had to keep him out of the game for a couple of minutes and he's one of our better players. That's just the way it is for basketball. We got to play in some adversities."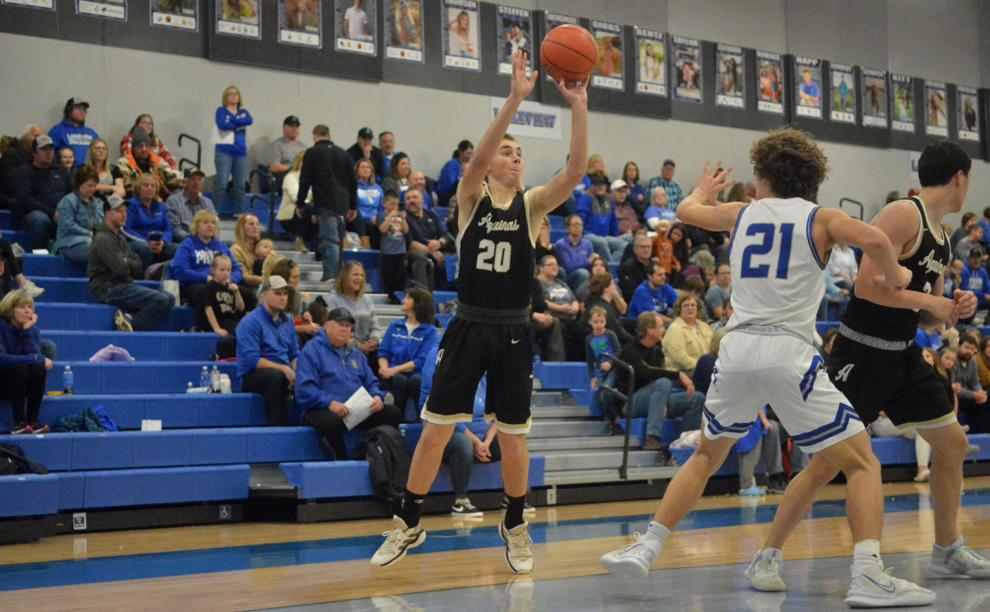 Stouffer led Aquinas with 18 points. Lavicky produced 11 points and Andel ended the game with seven points.
In three games last week, Stouffer totaled 76 points.
"He's (Stouffer) being really aggressive this year. Like I told him earlier this year, he needs to be aggressive more for us. He's doing that. If people are laying off of him, he's shooting the three over them," Weiss said. "If they aren't and they're right on him, he takes them off the dribble and goes to the hoop. He's very aggressive. He can hit free throws too, so he's been doing a great job for us being aggressive, so hopefully, he can continue to do that."
The defeat Saturday denied the Monarchs a perfect 3-0 week after wins on Jan. 10 against Twin River and Friday against Grand Island Central Catholic.
Aquinas overcame an early 18-12 deficit against the Titans, outscoring them 24-4 in the second quarter en route to a 63-47 victory.
Stouffer scored a career-high 33 points, making 12 shots and shooting 6-for-6 at the free-throw line. Garett Novacek and Kailer Pohl scored seven points each.
For the first time in seven years, the Monarchs defeated GICC. They won 54-42 Friday as they outscored the Crusaders 33-24 in the second half to pull away.
Stouffer recorded a game-high 25 points making nine 2-point field goals and seven free throws. Lavicky and Sellers ended the game in double-figures with 12 and 10 points, respectively.
Aquinas is 6-5 already surpassing its win total from last season. The Monarchs will begin a two-week stretch of Centennial Conference games Tuesday against Lincoln Lutheran.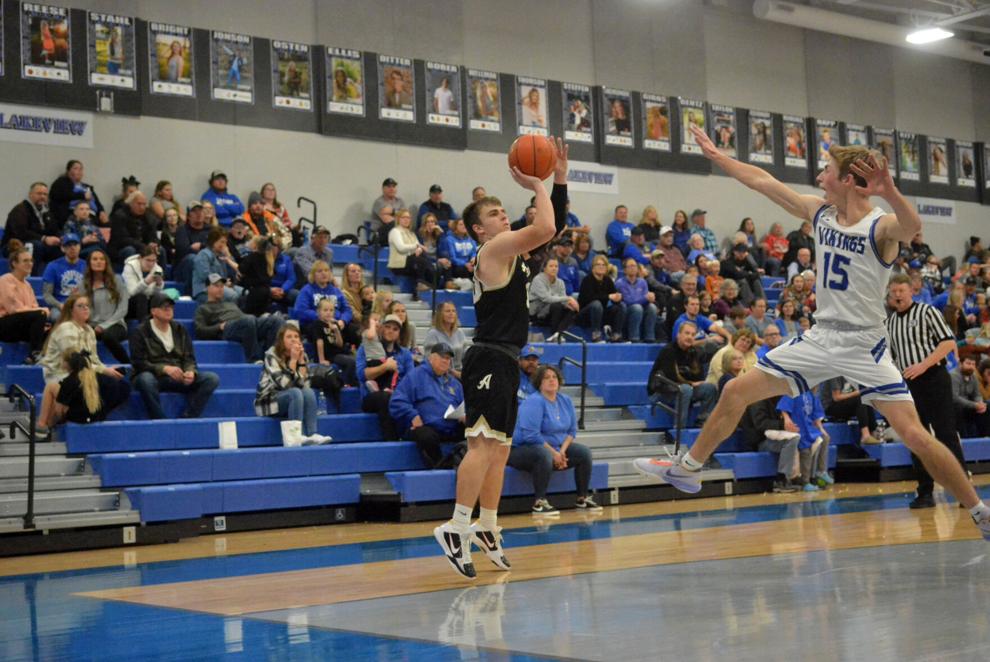 On Friday, they'll host Hastings St. Cecilia before facing Kearney Catholic on the road Saturday.
"We're doing really good things with a lot of guys that needed to step this year," Weiss said. "They didn't play last year and they're getting a lot more minutes this year and they're taking that to heart. They're really playing, doing their roles and so far this year we're doing that and that's why we're 6-5."
Aquinas dropped its second game in a row on Saturday, losing 40-28 to Lakeview. The Monarchs trailed 22-10 at halftime and couldn't cut into the deficit as both teams scored 18 points in the second half.
Aquinas shot just 24% while the Lady Vikes ended the game with a 42% field goal percentage. Madison Vandenberg led Aquinas with nine points on three 3-pointers.
Lacie Hartman knocked down two threes and ended the night with eight points and five rebounds. Bianca Romshek recorded five points and five rebounds.
"We did play hard and that's the best we've guarded Lakeview's man-to-man in the four years I've been at Aquinas. That's the best we've guarded that offense," Aquinas girls basketball head coach Nate Wall said. "Lakeview is just kind of like a machine the way they run all their stuff. I did think that we did a pretty decent job executing against a good defense. If we hit a few more shots in the lane in the first half, we're not playing from behind so much."
In the first half, Aquinas turned the ball over 11 times. Vandenberg made two threes to comprise the scoring in the first quarter. The freshman knocked down her third triple in the second quarter along with a field goal from Hartman made up all 10 Monarch first half points.
Aquinas made six shots, including four 3-pointers, but the first half deficit proved to be too much to overcome against Lakeview's defense.
On Jan. 10, the Monarchs earned their first win of the season with a 58-35 win over Twin River. They hit nine threes, including five from Vandenberg en route to a career-high 19 points.
Romshek finished the game with 14 points. Hartman and Claire Wisnieski recorded eight and six points, respectively.
"We're playing a lot faster and we're starting to be more efficient offensively," Wall said. "A lot of that has to do with the fact that we've had some freshmen and sophomores play some big roles for us. Some of them can really, really score the basketball."
On Friday, the Crusaders took down Aquinas 49-25. The Monarchs were 1-11 entering Tuesday's game against Lincoln Lutheran. They play next at Kearney Catholic on Saturday.
Sam Ficarro is a sports reporter with The Banner-Press. Reach him via email at DVDsports@lee.net.