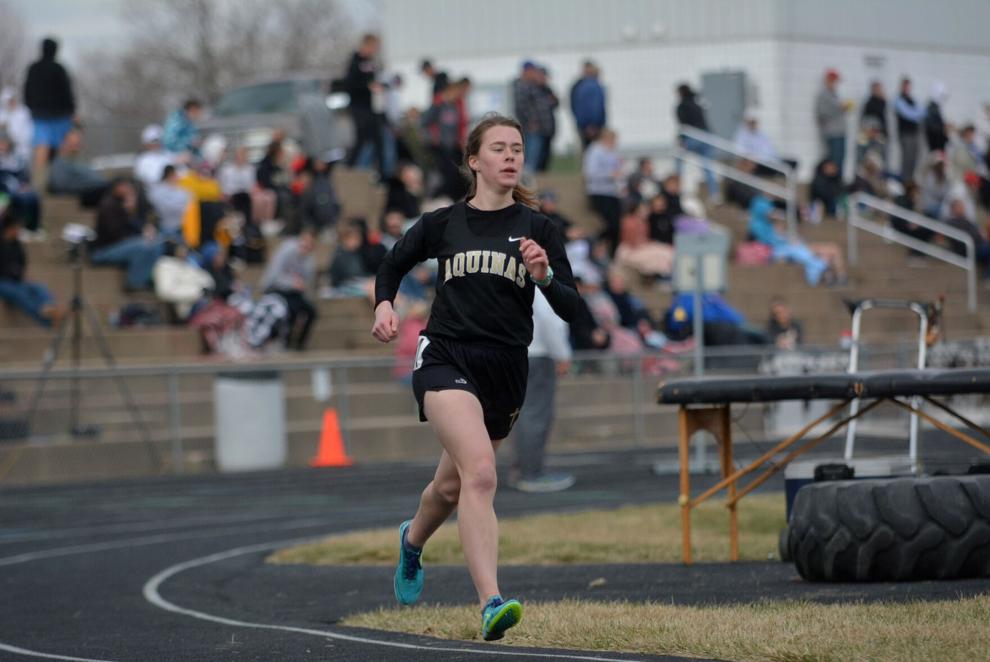 Aquinas Catholic track and field won 21 events at its home meet on April 3 to secure both team title. The Monarch girls scored 255 points, defeating runner-up Clarkson/Leigh 156 points. Aquinas boys totaled 201 points, 68 more points than runner-up Schuyler.
Gianna Frasher led the Monarchs with three gold medals. The junior won the 800, 1600 and 3200-meter runs. In the 800, Frasher posted a time of 2 minutes, 36 seconds to win by 12 seconds. She completed the 1600 in 5:36.34 and 3200 in 12:37.71.
Ava Hilger and Bryant Stouffer each collected gold medals in the 100 and 200. Hilger crossed the finish line in the 100 at 12.87 seconds and the 200 at 27.64 seconds.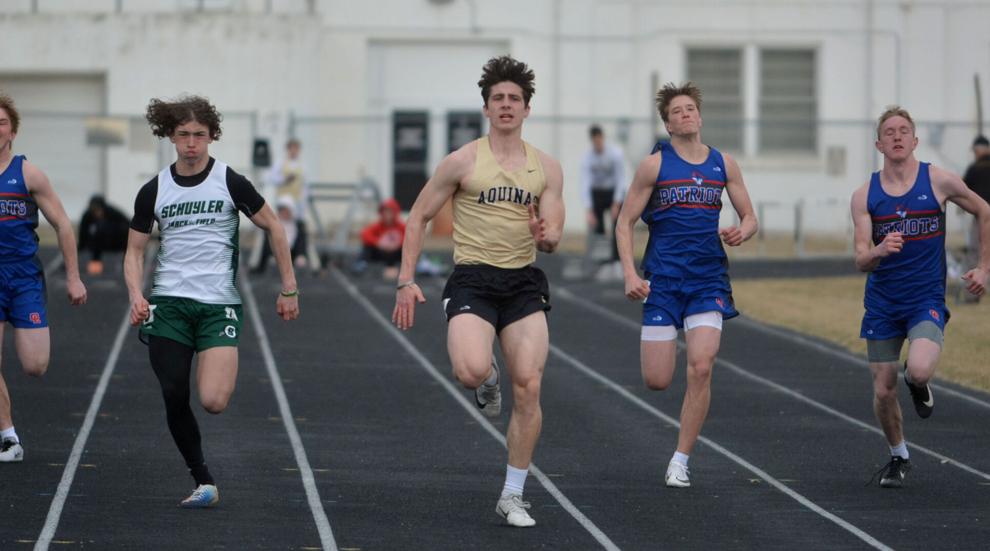 Stouffer squeaked out the 100 by 0.19 seconds for a winning time of 11.52 seconds. The sophomore completed the 200 in 24.19 seconds.
Bianca Romshek won the 400 with a time of 1:07.17 and she recorded the longest triple jump of 31 feet, 6.5 inches.
Miriam Frasher and Lucas Sellers each won a gold in a hurdles race. Miriam won the 300 hurdles with a time of 49.52 seconds. Sellers beat the pack in the 110 hurdles with a time of 16.39 seconds. Miriam also earned silver in the 100 hurdles while Sellers collected a bronze in the 300 hurdles.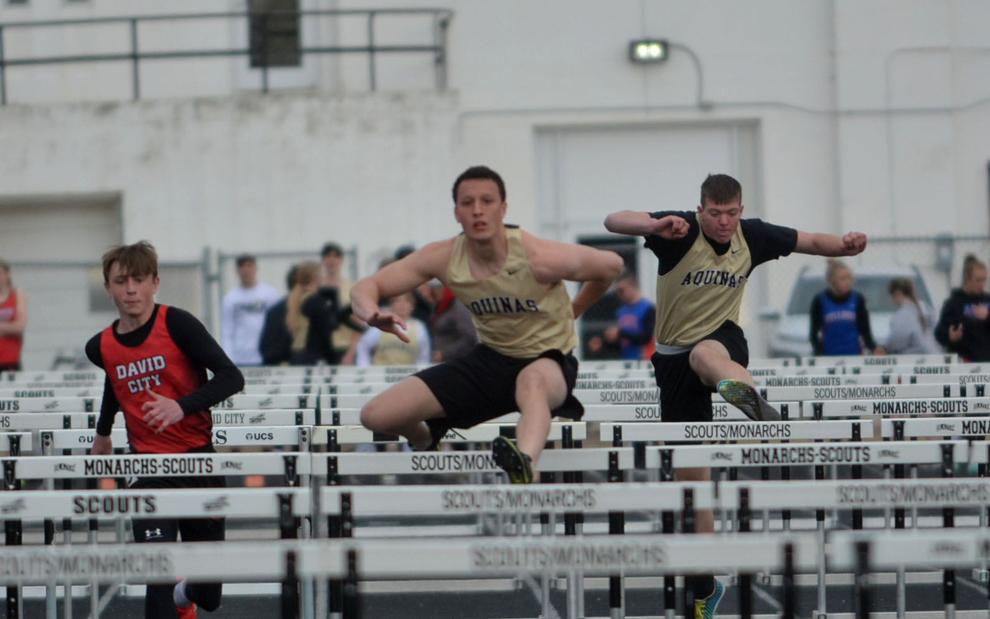 Claire Wisnieski medaled in both throwing events. The senior won the shot put with a toss of 30-5. In the discus, Jordyn Bohuslavsky and Wisnieski finished in the top two with marks of 94-7 and 85-10, respectively.
Matthew Storm won the 800 by 0.08 seconds with a time of 2:18.56. Brady Junck earned gold in the shot put with a throw of 38-0.5. In the boys shot put, four Monarchs medaled with Josiah Brezina taking home silver, Calib Svoboda winning bronze and AJ Oltmer placing sixth.
Garett Novacek and Alexa Matulka won the high jump and pole vault, respectively. Novacek cleared the bar at 5-8 while Matulka vaulted to a height of 8 feet. Behind Matulka was four Monarchs in Avery Oltmer, Lilly Collins, Bella Fontenot and Sydni Svoboda.
Of the five Aquinas relay teams, four took home gold. Jocelyn Stara, Hilger, Collins and Veronica Reimers raced to a 400 relay time of 53.23 seconds. The 1600 relay team of Romshek, Ainsley Wollmer, Reimers and Miriam posted the fastest time in the field at 4:34.18.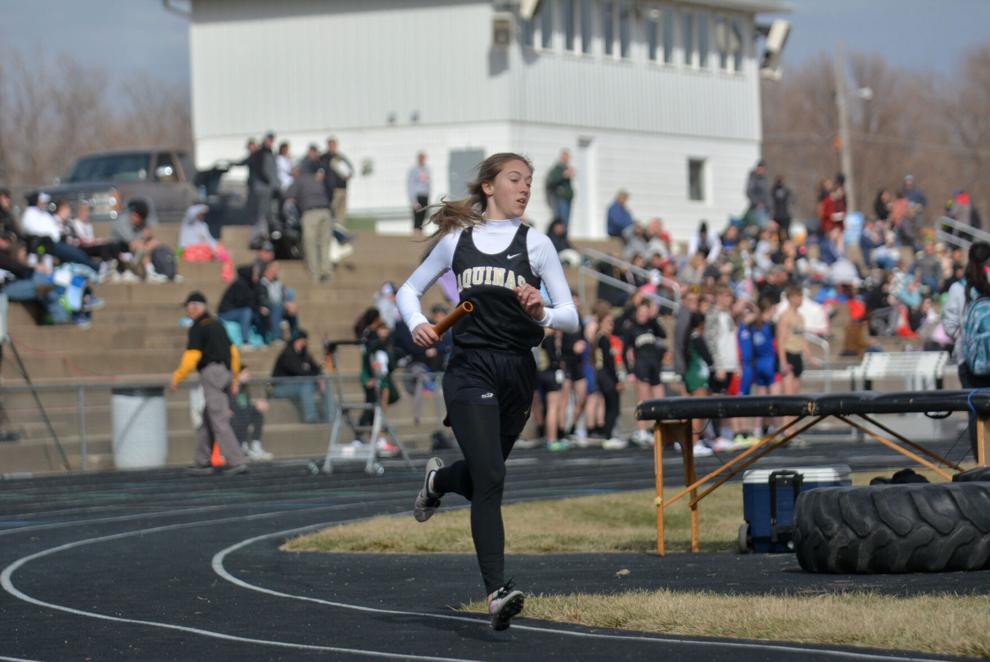 Romshek, Lizzie Roh, Lydia Meysenburg and Miriam comprised the winning 3200 relay team with a time of 11:16.25. Kurtis Baer, Sellers, Kailer Pohl and Stouffer won the 400 relay at 47.13 seconds.
The boys 1600 relay team of Stouffer, Lydon DeWispelare, Novacek and Oltmer finished as the runner-up to Schuyler with a time of 3:52.6.
Wollmer crossed the finish line of the 400 behind Romshek with a time of 1:09.02. She also placed fourth in the long jump with a mark of 13-7.5.
Meysenburg completed the 3200 in second with a time of 14:08.9. In the boys discus, Brezina and Calib finished second and third, respectively. Brezina's longest discus throw was 106-11 and Calib maxed out at 106-7.
Toni Wachal earned silver in the shot put behind Wisnieski with a mark of 29-1.5. Karmen Karpisek also medaled placing fifth after a throw of 27-7.5.
Timothy Duke took home two medals, a silver in the pole vault and a sixth-place medal in the long jump. Duke vaulted to a height of 10-6 and he recorded a long jump of 17-1.
Novacek and Garrett White took home medals along with Sellers in the 110 hurdles. Novaecek placed third at 18.08 seconds and White ended in fifth with a mark of 19.36 seconds.
Collins, Marissa Miratsky and Stara all earned medals behind Hilger in the 200. Collins finished in third at 29.23 seconds, Miratsky's 29.85 seconds was the fourth-fastest and Stara ended the race in fifth at 30.03 seconds.
Miranda Novacek brought home medals in the triple and high jump. Miranda's triple jump mark of 29-1.75 clinched her bronze and she placed fifth in the high jump at 4 feet.
Kasen Lavicky placed fourth in the 400 at 59.52 seconds. Ally Prochaska hurdled to fourth place in the 100 with a time of 18.49 seconds. Roh posted the fourth-fastest 800 time at 2:56.65.
Pohl earned two medals. The sophomore placed fourth in the high jump with a mark of 5-4 and he finished in fifth in the 300 hurdles at 49 seconds.
Josh Palik earned a pair of fifth-place medals in the 1600 and 3200. Palik's 1600 time was 5:54.97 and he finished the 3200 in 12:48.04. Finley Zook joined him on the 3200 medal stand, placing sixth with a time of 13:10.28.
DeWispelare sprinted to a time of 12.31 seconds in the 100, good for fifth. In the high jump, Luke Storm and Jackson Smaus finished fifth and sixth, respectively, with a mark of 5-4.
Luke also medaled in the pole vault with a height of 9 feet. Colin Hough placed sixth in the event with a mark of 8-6. 
Along with her pole vault medal, Sydni placed sixth in the 100 with a time of 13.77 seconds. Kurtis Baer medaled in the 200, sprinting to a sixth-place time of 25.87 seconds. Junck, to go with his shot put gold, placed sixth in the discus with a toss of 103-8.
Aquinas competed in Tuesday's Boone Central Invite. The Monarchs' next competition is Saturday at the Wisner-Pilger Invite.