Eli Larsen rushed for 169 yards, the St. Paul defense held Aquinas Catholic to 3 for 14 on third and fourth down and the Wildcats eliminated the Monarchs from the C-2 playoffs in a 25-10 final in St. Paul on Nov. 8.
The loss is the fourth straight for Aquinas in the state quarterfinals. The Monarchs last won in the second round of the playoffs during their 2015 championship season.
The Wildcat offense produced 318 yards to 170 for the Monarchs - 259 of which came on the ground. Though Aquinas averaged four yards per carry, but it was tough to find any rhythm offensively. The top Monarch running back, Zach Pandorf, had just 43 yards on 14 carries.
St. Paul led 13-3 at the half before Aquinas put together a touchdown drive and drew to within 13-10 on the first possession of the second half. The Wildcats answered right away, scored again in the fourth quarter and advanced onto the semifinals for the first time in school history.
Aquinas had two possession in the final 10 minutes of the game but turned the ball over on downs in both opportunities.
"They are just extremely talented," coach Ron Mimick said. "They have one of the best middle linebackers we've ever faced, their offensive line averages 260, their defensive line averages 270 and their three running backs are all fast. They're really talented. They're as talented of a team as we've ever faced."
The Monarch defense started the game with a three-and-out after two consecutive tackles for a loss giving the offense a chance at the first points. But after an Aquinas drive, a missed field goal kept the game scoreless early. 
Larsen then made the first big play three snaps later, breaking a 35-yard run setting up a 33-yard passing touchdown from junior Brenden Knapp to junior Tommy Wroblewski to take a 6-0 lead. 
John Prochaska gave Aquinas a short field on the next drive returning the kickoff to the 23-yard line, but the Monarchs had to settle for a field goal, closing the gap to 6-3. 
Larsen struck again on the next drive, running for 23 yards on the first play. Eight plays later, senior Jackson Seward scored from eight yards out to give the Wildcats a 13-3 lead early in the second quarter. 
Aquinas was forced to punt on its next drive after a sack caused a third-and-long, but the defense forced a fumble three plays later. A turnover on downs ruined the opportunity.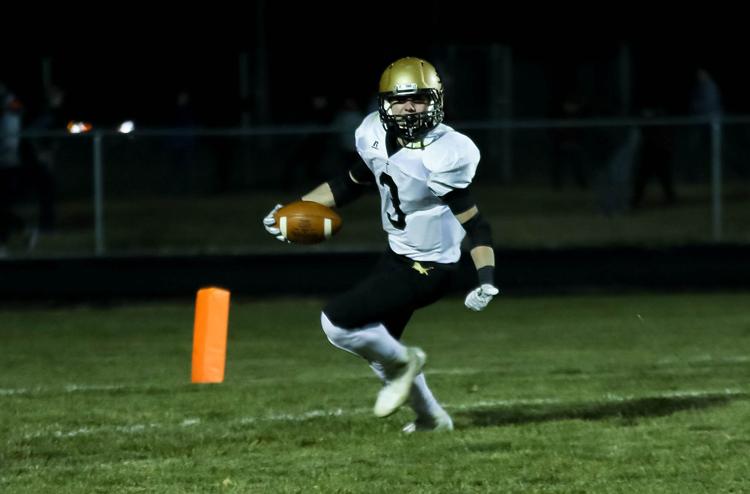 Aquinas closed to within one score early in the third quarter, going 56 yards in six plays, using just over two minutes and 30 seconds of game clock. Big plays included a 17-yard run by Zach Pandorf, a 12-yard pass from Caleb Thege to Pandorf and a 6-yard touchdown run from Kyle Napier cutting the lead to 13-10.
The Monarchs also converted a fourth down on the drive, the only one they managed on the night in four tries. 
St. Paul responded on the next possession, going 72 yards in 15 plays. 
It was a slow, methodological drive that ended when Seward scored from one yard out, extending the lead to 19-10. 
You have free articles remaining.
Register for more free articles
Stay logged in to skip the surveys
Aquinas proceeded to throw an interception two plays later, leading to a 4-yard touchdown run from Larsen to give St. Paul a 25-10 lead early in the fourth. 
Aquinas turned the ball over on downs with 7:28 left in the game on its next possession. 
Aquinas got the ball back with 3:28 left, but turned the ball over on downs four plays later.
"They have a big line, and they have some guys on that line that can move. They're not just big, heavy guys. Their linebackers run really well, and their skill players run really well," Mimick said of the Wildcats. "They're just a good football team."
This was the 28th trip to the playoffs for Aquinas in program history. 
It was also the last game for six Aquinas seniors - Braden Smith, Caden Kozisek, Pandorf, Konner Adamy, Owen Schramm and Nolan Schultz.
"When they went double tight end and ran it right at us, we had no answer," Mimick said. "Good football team that played well and played clean. They simplified things, and they just beat us. They're the better football team."
Following Pandorf and his 43 yards on the ground was Napier with 38 on 11 carries and Thege with 37 on eight. Thege was only 2 for 7 passing for 18 yards with the one interception. Pandorf had the longest catch of the night on a 13-yard gain.
Defensively, Napier and Nolan Eller led with five solo tackles while Nolan Schultz with 14 total tackles, Eller with 13, Konnor Adamy with 12 and Napier with 10 were all in double figures. Keegan Lavicky just missed with one solo and eight assisted for nine total tackles.
Adamy also made two stops behind the line.
St. Paul advances to play at 9-0 Oakland-Craig on Friday after the Knights took down Doniphan-Trumbull 50-16. St. Paul has made the playoffs 15 times but is just 10-14 overall in the postseason.
The Wildcats had made the quarterfinals just two other times before Friday but lost 49-21 to Pierce in 2010 and 56-12 to Norfolk Catholic last season.
"Their opponents had only rushed for 250 yards on them in the first 10 games. That's just 25 yards a game," Mimick said. "We rushed for 150 or 160, so we were able to find ways to move the ball. But it was difficult.
"We were scrambling for the yards we did get, and they were kind of bulldozing us for their yards."
Peter Huguenin and Nate Tenopir are the sports reporter and sports editor for The Banner-Press. Reach them via email at DVDsports@lee.net