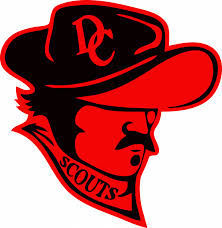 Clayton Denker did all he could in the final game of his varsity career but David City couldn't find a crucial late stop and saw a 12-point second half comeback fall by the wayside in a 32-25 loss to No. 9 North Bend on Friday at home.
At 4-4 and needing a win to have a chance a wildcard playoff berth, the Scouts allowed three first-quarter touchdowns and trailed 25-13 at halftime before scoring the next 12 points in the second half. North Bend ended postseason hopes with the final possession and a touchdown drive that sent DC home with a losing record.
Had David City been able to hold on, force overtime and win in extra time, the wildcard points earned with the victory would have tied DC with Yutan.
The win over NBC then would have provided the tiebreaker and put the Scouts in C-2 playoffs, albeit against No. 1 seed Sutton.
Instead, the loss extended the program's playoff drought to eight years.
North Bend held the lead three times in the first quarter on a 9-yard touchdown pass, 82-yard kickoff return and 12-yard run, but David City answered twice.
You have free articles remaining.
Vodicka tied it 7-7 on a 5-yard run capping a drive, the Tigers ran back the ensuing kickoff but Vodicka tied it 13-13 on another 5-yard scamper.
North Bend then took control with a 12-yard run and a 5-yard run in the second quarter for a 25-13 advantage.
Denker brought DC to within 25-19 on a 35-yard run in the third quarter and tied it on a 75-yard rumble in the fourth, but the Scouts missed a two-point conversion and an extra point and found themselves tied with just minutes remaining.
North Bend, scoreless through the first 20-plus minutes of the second half, put together a drive and scored the game-winner on a 5-yard run.
Denker finished with 170 yards on 22 carries and the two second-half touchdowns. North Bend out gained David City just 305-292, and ran just 10 more plays, but continually extended drives, going 7 for 10 on third down.
David City says goodbye to eight seniors - Denker, Hunter Behrns, Spencer Allen, Jackson Valentine, Ethan Dietrich, Gunner Poulas, Wayne Moore and Juan Piris. 
Nate Tenopir is the sports editor for The Banner-Press. Reach him via email at DVDsports@lee.net