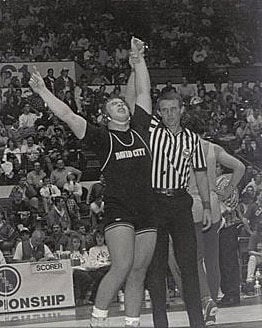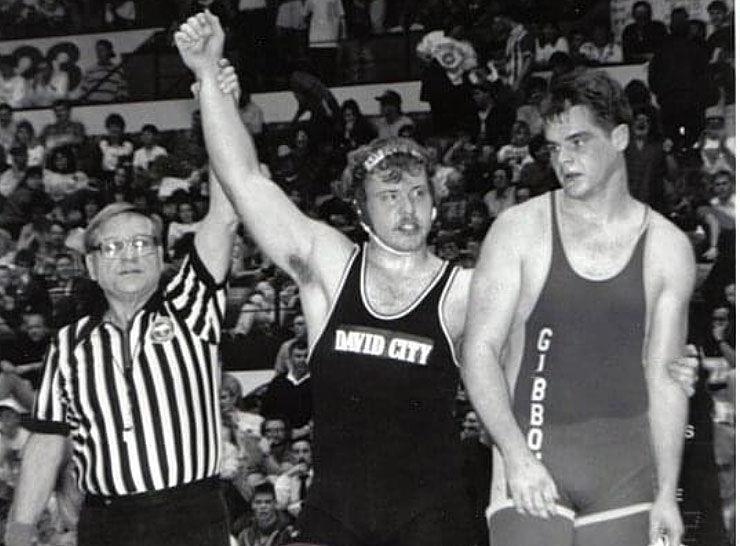 David City has had plenty of fantastic wrestlers shed blood, sweat and tears in the Scout wrestling room over the years.
Thirty different Scouts have stood atop of the podium as state champion, leading to four team-championship trophies, seven runners-up and one third-place finish.
In that list of 30 though, there are only a handful of multiple-time champs. Travis Worm had back-to-back golds in 2007 and 2008 while Melvin Hernandez was a three-peat champ 2016-2018.
But perhaps setting the standard for the program is the first-ever multi-champion Scott Stara who claimed state gold in 1990, '91 and '92.
His career included four gold-medal matches, losing as a freshman to future NFL player Quentin Neujahr. Although that loss prevented Stara from joining the exclusive four-time champions club that includes fewer than 40 wrestlers in the history of Nebraska, Stara never lost another match.
"I grew up with the sport," Stara said. "My brothers both were in it, so I was always around it. I didn't think I would (be that successful), but it was one of my long-term goals." 
Even from a young age, Stara showed promise. His head coach, Galen Kamrath, was in his corner since he started back in elementary school. 
From early on, Stara always had a size advantage.
"I remember he was a lot bigger than the rest of the kids," Kamrath said. "He was probably in the third grade, but for him to get a match at youth tournaments, he'd have to wrestle fifth and sixth graders. He always got his medals, so he was happy." 
While he was feared on the mat and his physical appearance could be intimidating, many of his friends saw Stara differently. His kind demeanor and caring spirit weren't his most obvious features to those who only saw him inside the circle. 
"His nickname was bear," Nathan said. "He's a big hairy guy. He was 15 years old and has a full beard. But, he was a gentle giant type. He was always willing to help people out. Always friendly to everybody. He was a very fierce competitor. If you saw him on the street you probably wouldn't think much of it - 'This guy is a three-time state champion' type of thing." 
Through Stara's time wrestling, both Kamraths can recall several stories that have created a Scout legend.
Galen, the head coach at David City from 1978 to 2011, remembered one occurrence when Stara gave up a rare takedown at a regular season meet. 
"When he was an upperclassman, we were up at the Boone Central Invite and he was wrestling a heavyweight from Neligh-Oakdale and he happened to give up a takedown and he was very upset," Galen said.
"I felt sorry for the kid, because Scott got the escape, took him down, and pinned him really fast. That was his mentality. If you scored on him...I felt sorry for the guy that scored on him. That was his attitude. I looked over at the coach and he kind of smiled. He came over afterward and said, 'I think we pi#%ed him off,' and I said 'Yes, I think you did.'" 
While the intensity was evident on the mat, Stara showed extreme levels of calmness before and after.
Sometimes he was so calm he had no trouble catching a few Zs during tournaments.
"You'd see him get angry a couple of times, but very rarely would you see him angry off the mat," Nathan said. "One of the stories I always bring up is at wrestling tournaments we'd have to go wake Scott up.
"He'd literally be sleeping between the bleachers. He'd wake up, walk out on to the mat, pin the guy and go lay down and fall asleep again. That was Scott."
While he might have been off in dreamland during tournaments, the rest of the time his feet were firmly on the ground. Nathan described Stara as the "dad of the group" who was always had a mature outlook on potential teenage high jinks. 
"He wasn't a loudmouth or the funny guy," Nathan said. "He was the one who was just taking care of everybody. He'd be our voice of reason when we wanted to do something stupid." 
Stara said that none of his state titles were particularly the most meaningful of the three, but there were some key matches along the way.
Once, an ex-coach overheard some wrestlers talking strategy about Stara. From their perspective, he was a defensive wrestler who lacked offensive ability.
The former coach clued Stara into what was said. He then went out and proved the assessment false in his next match. 
"I don't normally shoot because I like to feel them out and see how they are," Stara said. "I know the first period I went out there and shot like crazy. I don't think that kid knew what was going on."
His opponent chose neutral to start the second period. 
"I know I went in to shoot and I shouldn't have shot, because you want to make the shot right," Stara said. "I felt like I was getting caught so I backed out and I knew he was shooting in on me and I knew I was going to the ground. My butt was going to hit the mat.
"I just remember thinking, 'Let's try something here.' I put my arms around his waist and I put my right foot in between his legs. When my hips hit the mat, I threw him up and over my head. When I did that his back was on the mat all I had to do was turn around and catch a headlock." 
After high school ended, Stara wrestled in occasional tournaments before becoming a wrestling official for nearly 13 years. Now, he splits time between working at the post office in his new home in Lincoln and back on the family farm back in David City. 
Peter Huguenin is a sports reporter for The Banner-Press. Reach him via email at DVDsports@lee.net
Be the first to know
Get local news delivered to your inbox!