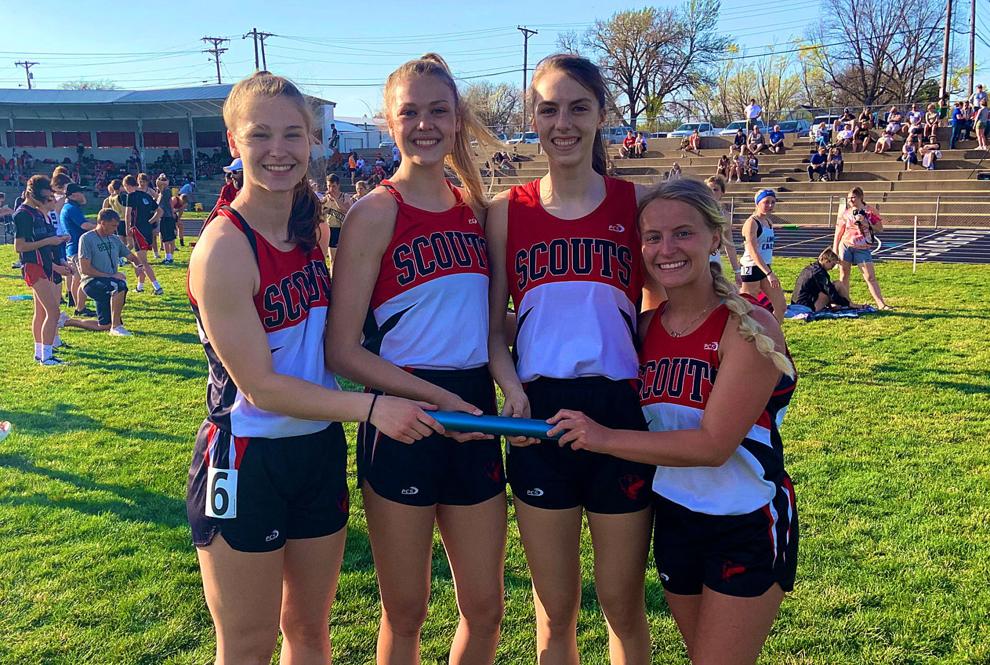 David City's Neely Behrns and her 400 relay teammates knew their potential to set a school record in the event. Yet, when they finally did, the accomplishment was somewhat of a surprise.
Behrns and her track and field coach, Tali Reeves, said following some bad handoffs - as well as finishing runner-up in the event - it seemed making history would have to wait.
The final time said otherwise.
Behrns, Avery and Maya Couch and Natalie Blum's time of 51.30 seconds was good enough to break a mark that had stood since 2008.
"It was a shock when our coaches told us that we had run a good time," Behrns said. "We had some bad handoffs during the race and lost for the first time this season, so it felt like a school record was not possible."
Reeves said she believed it was only "a matter of time" before the mark was broken. Even though it wasn't a clean race, Reeves said she's hopeful the record is just the beginning of the group's potential.
"I believe the best is yet to come for these girls. They are eager to get back on the track and better their time," Reeves said.
The Clarkson-Leigh 100 relay team barely beat out David City when its girls ran a 51.16.
The Lady Scouts just missed out on winning the Aquinas Invite as well. They ended up in a close second with a score of 124 while the hosts finished with 131.
The 100 relay wasn't the only highlight for David City. Payton Andel took first in the pole vault with a distance of 9 feet even. Maya Couch placed first in the long jump in 16 feet, 2.50 inches. Additionally, Blum finished fifth in the same event (14-10.00).
Avery Couch wound up in the top spot in the triple jump (35-3.75). In the discus throw, Lauren Vandenberg was first (101-02). She also took first in the shot put (36-8.00).
Keetyn Valentine, Emily Glodowski, Emily Johnson and Chloe Zegers paired up in the 800 relay and ran to a runner-up time in 12:47.61.
Lili Eickmeier finished as the runner-up in the 300-meter hurdles (52.05). Valentine placed third in the 800 (3:01.01). Maya Couch, Behrns and Avery Couch finished third, fourth and fifth, respectively, in the 100-meter dash (13.27, 13.46 and 13.48).
Behrns and Maya Couch each took third and fourth in the 200 (27.70 and 28.03). Vandenberg placed fifth in the 400 (1:07.26). In the 1600, Glodowski wound up in fifth (7:39.19).
The 400 relay team of Kaydense Hansen, Eickmeier, Vandenberg and Zegers finished in fifth place (5:04.05).
Although the 100 relay team was quite the accomplishment, Reeves said several of the athletes set personal-bests and had "great performances all around."
Behrns added she and her teammates are eager to see how they build off their record-setting run.
"The best part is that it is still early in the season and we can still get a lot better," she said. "We hope to continue to beat our own record and make the school record even better."
Andrew Kiser is a reporter for The Banner-Press. Reach him via email at DVDsports@lee.net.