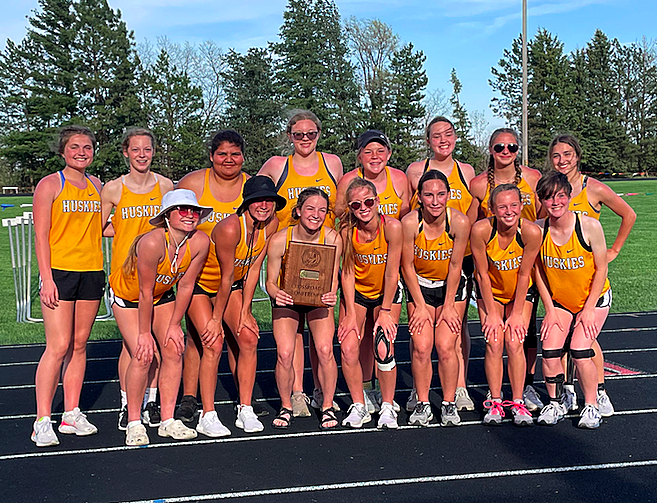 The Shelby-Rising City girls track and field team had 15 medal winners as the Huskies finished in first place overall on May 1 at Crossroads Conference Meet. Raising a team trophy by the SRC girls was an accomplishment a generation in the making.
"This is a huge and very exciting accomplishment for our young team because the communities of Shelby and Rising City have not brought home a conference championship in 40 years on the girls' side," Coach Aundrea Morner said. It wasn't just the performance of our individual champions that led to this team's conference championship but the performance of all of our girls who went out and competed their best."
Liberty Baker finished in first place in the 100-meter hurdles when she came across the line at 16.04 seconds. Baker won a second medal in the 300 hurdles in a time of 52.04.
Angel Barnes came away with gold in the 3200 on a run of 13:13.76. Alexa Carter followed her on a time of 14:07.42 and was third.
Later, Barnes finished second in the 1600 at 6:19.09 while Carter was fifth on a run of 6:31.66.
In the 400, Alex and Ava Larmon received a silver and bronze medal, respectively (1:04.01 and 1:04.55).
The 1600 relay team was the runner-up (4:25.40). In the 3200 relay, Shelby-Rising City was awarded bronze (11:30.33). The 400 relay runners placed fourth (54.73).
Kira Pavlik won a bronze medal in the long jump at 15 feet and ½ inch. She was also fourth in the pole vault when she reached a top height of 8 feet exactly.
In the triple jump, Pavlik and Allie Neujahr ended up in third and fourth, respectively. Pavlik had a best jump of 32-2.50 while Neujahr's top mark was 31-5.50. Neujahr also took sixth in the high jump at 4 feet, 8 inches.
Morner lauded the team's three seniors, Pavlik, Neujahr and Maddie Hopwood, in shepherding their younger teammates.
"We are going to miss their dedication and leadership next season but for now, we are very much looking forward to the performance that all of our athletes give at the district track meet," Morner said.
Meanwhile, the Shelby-Rising City boys team ended up in fourth place.
"Overall, our athletes showed up to compete and gave performances they should be very proud of," Morner said.
Hunter White finished in first place in the 110-meter hurdles with a time of 17.37 seconds. He also took first in the long jump with a distance of 19 feet, 8 and ½ inches.
White was .02 seconds away from receiving his third gold medal in 300 hurdles but he ended up as the runner-up in the event (44.14). Cross County's Christian Rystrom barely beat him to the line.
Justin Knoll finished first in the high jump with a distance of 5-8.00.
Shelby-Rising City's 3200 relay took bronze (9:39.42). The 1600 relay placed fourth (3:57.57). The 400 relay team finished fifth (47.67).
Shelby-Rising City competed at the district meet in Wood River on Thursday. Be sure to check online and in next week's edition for scores and results.
Andrew Kiser is a reporter for The Banner-Press. Reach him via email at DVDsports@lee.net.