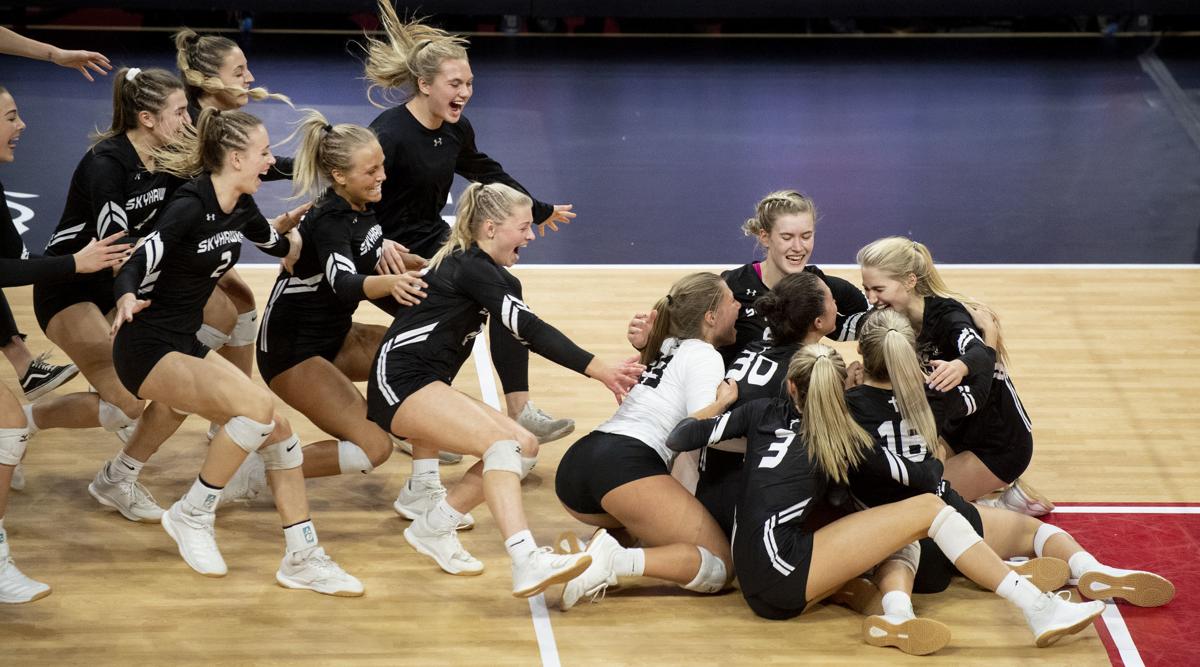 It was a day for dynasties and redemption stories on championship Saturday at the Nebraska State Volleyball Tournament.
Humphrey St. Francis and BDS started the day off with a classic five setter that included big comebacks and roller coasters of emotion. An unlikely champion took the trophy in Class A completing a late-season run.
Omaha Skutt continued its journey to history with a fifth straight title in Class B. Lincoln Lutheran returned to the championship following a loss last season and denied unbeaten St. Paul the perfect season in C-1.
Grand Island Central Catholic finally found a way to solve Hastings St. Cecilia in C-2 and Diller-Odell celebrated its first state championship following runner-up finishes in 2015 and 2016
Class A - Papillion-La Vista South def. Gretna 27-25, 21-25, 25-22, 18-25, 15-7: Papio-LVS had a losing record in mid-October, went on a six-match losing streak early in the season but finished atop Class A nonetheless in one of the most improbable state title runs in Nebraska history.
The Titans earned their way into state with district sweeps of Omaha Burke and Millard South, kept the momentum rolling with sweeps over No. 3 Elkhorn South and No. 2 Lincoln Pius X in the first two rounds of state then used a defensive effort that included 18 blocks to take the title.
Papio South trailed by seven in the first set but mounted a comeback, lost the second and the fourth but led early in the fifth and finished the win, appropriately, on the 18th and final block of the night.
Class B - Omaha Skutt def. Omaha Duchesne 25-14, 25-12, 25-16: The Skyhawks captured their fifth straight state championship in dominant fashion, sweeping through the state tournament a perfect 9-0 in sets. In Saturday's title match, Skutt hit an impressive .447 and had four or fewer errors in each set.
The title is tied for the third-longest streak of championships in Nebraska history. Skutt returns much of its core next year including Husker commit Lindsay Krause.
Shickley and Bellevue West share the record with six consecutive state titles.
C-1 - Lincoln Lutheran def. St. Paul 25-27, 25-20, 30-28, 25-19: After coming up short in five sets in the 2018 state title match, Lincoln Lutheran completed the journey this time, denying unbeaten St. Paul the storybook ending for what had been an unbeaten season.
Lutheran led by eight in the first and was up 22-17 late but let it slip away. The Warriors led again late in the second but held off the Wildcats and evened the match. Lutheran then saved several set points in the third on the way to victory then pulled away tied 18-18 in the fourth.
St. Paul hadn't lost a set all year until the semifinals. Lutheran's run to the title also included a win over Wahoo in the semis - the team that took down Lutheran in the 2018 championship match.
C-2 - Grand Island Central Catholic def. Hastings St. Cecilia 26-24, 25-22, 25-15: After falling to the Hawkettes three times previously this season, the Crusaders won the one that mattered and captured their first state title since 2010.
St. Cecilia saved a pair of set points in the first before GICC finished it with a kill and an ace. The Crusaders took control in the second with a 12-2 run. The third was a GICC runaway with sisters Avery and Allison Kalvoda combining for 10 kills.
The championship was the 10th for legendary coach Sharon Zavala and the 10th in program history, third all time following Bellevue West with 12 and Scotus Central Catholic with 15.
D-1 - Diller-Odell def. Fremont Bergan 25-19, 25-17, 25-22: The Griffins were playing in their third championship match in five seasons but this time earned the program's first title with a sweep of last year's champion.
Diller-Odell swept all three state tournament opponents and controlled Saturday's match with the serve, committing 12 errors but also five aces to none for Bergan. Controlling the beginning of points allowed the Griffins to hold the Knights to just .089 hitting.
Diller-Odell also had two hitters with double digit kills while Bergan's leader had just seven. The Griffins only dropped five sets all season and had just one loss - a defeat to C-2 Fillmore Central.
D-2 - BDS def. Humphrey Lindsay Holy Family 26-24, 25-16, 19-25, 18-25, 16-14: BDS captured it's second straight state title after trailing Thursday in the quarterfinals 2-0 and Friday in the semifinals 2-1. The Eagles were also forced to fight off several match points in a 30-28 fourth set win Friday over Wynot.
Saturday was the exact opposite. BDS led two sets to none before errors drug the Eagles into the fifth. They then trailed 8-4, came back and let 14-9 but let five championship points slip away. A passing error then a kill eventually won it.
For St. Francis, it was the first title match since 2007.
Be the first to know
Get local news delivered to your inbox!