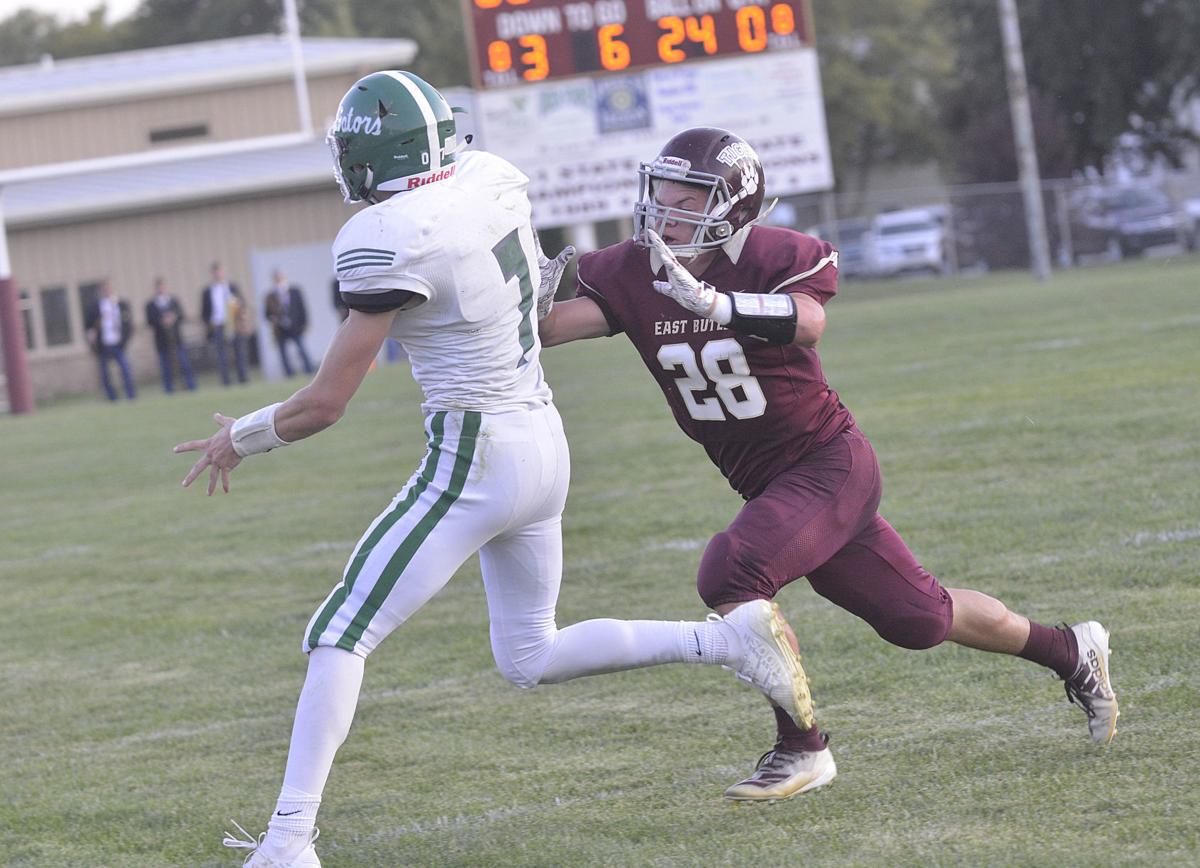 Five straight Osceola/High Plains touchdowns generated with a powerful Storm ground game handed East Butler a third straight loss on Friday at home and dropped the Tigers below .500 for the first time this season.
East Butler led early before back-to-back OHP touchdowns gave the visitors the lead. The Tigers responded late in the first quarter but then didn't find any more points until the final 12 minutes. The Storm ran off 33 points of their own during that drought and ran away with the game.
OHP piled up 449 yards and threw just five passes in 57 plays while dictating the action with running backs Keaton Van Housen and Dylan Soule.
Van Housen carried 25 times for 186 yards and two touchdowns while Soule piled up 140 yards on 17 touches also with two scores.
Jaden Rhynals was East Butler's most effective weapon with 194 yards passing on 13 of 20 completions and one touchdown. On the ground he carried 16 times and picked up 86 yards.
Trevin Brecka caught six of his passes for 139 yards and a score.
"OHP is an athletic team that made plays throughout the game. I was proud of the way our team started the game and battled in the contest," coach Shawn Biltoft said in emailed comments. "Turnovers are difficult to overcome, and our team played hard."
Rhynalds opened the scoring with a 10-yard run that gave East Butler a 6-0 lead after the two-point try failed. OHP answered right away on Van Housen's 68-yard run and Soule's two-point conversion then Soule's 53-yard scamper and another two pointer.
Brecka capped the first quarter with a 23-yard touchdown catch.
Osceola/High Plains then scored on a 10-yard run, 3-yard run and 28-yard field goal for a 35-14 halftime lead and Van Housen 8-yard run and Soule 58-yard touchdown for an insurmountable 49-7 advantage in the second half.
Rhynalds 2-yard run finally ended the Storm momentum in the fourth quarter. Still, OHP added another touchdown before it was over.
"Their strength is running the ball and they played well upfront. Their overall team speed was difficult to stop," Biltoft said. "We moved the ball at times on the ground, but looked to the air as we were trying to get points in a hurry."   
East Butler closes the season Friday at home against Omaha Brownell Talbot. The Tigers are currently in the playoffs but are also in a precarious position.
Class D-1 has a postseason that includes 10 district champions and 22 wildcards. East Butler is currently the 20th wildcard. However, Brownell Talbot is 2-5 and will damage the Tigers' wildcard average win or lose. A loss would be extremely destructive.
East Butler needs a win and a slight bit of help to qualify, though the Tigers were 3-5 a year ago and made it in, losing in the first round to Exeter-Milligan/Friend.
If they find themselves on the postseason bracket, it will likely be facing one of the top five seeds in D-1.
"We need to focus on our team and play well," Biltoft said. "We have had quite a few close games and we need to find a way to end the regular season on a positive note."  
Nate Tenopir is the sports editor of The Columbus Telegram. Reach him via email at DVDsports@lee.net.
Be the first to know
Get local news delivered to your inbox!