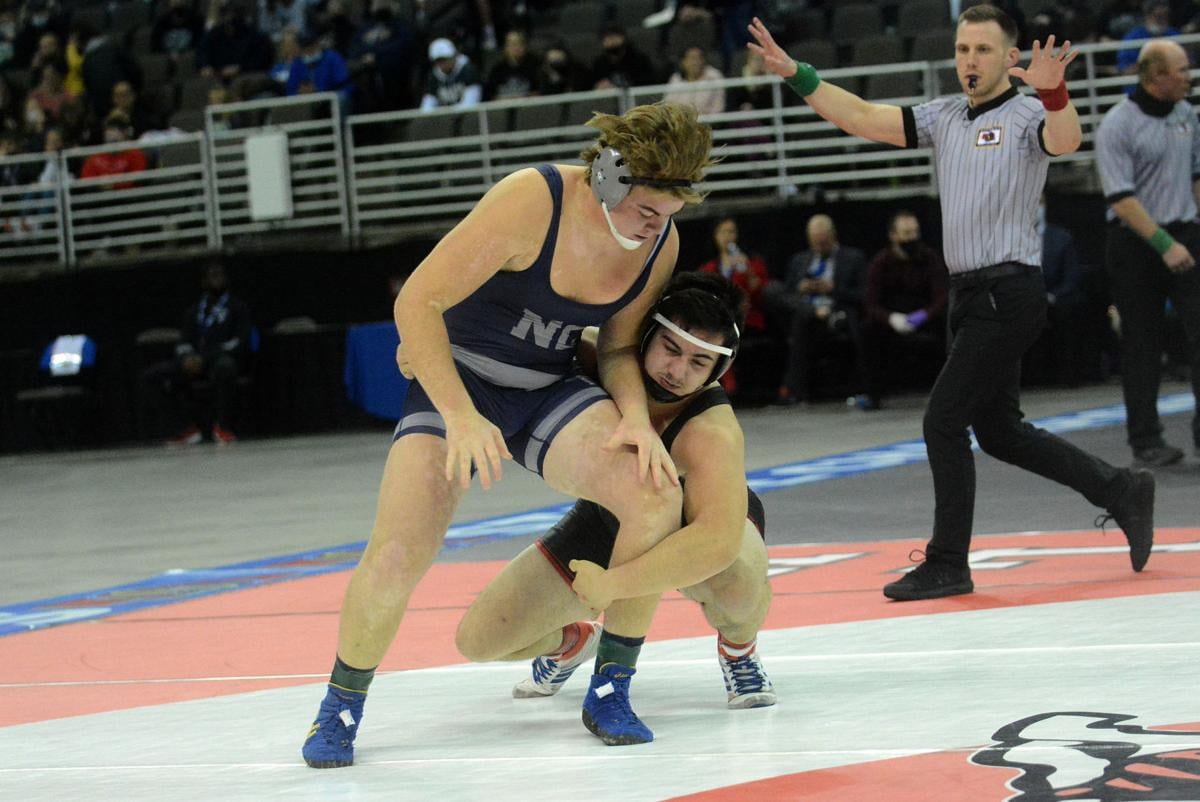 OMAHA - David City wrestling sent three members to state title matches, came away with a gold medal, two silvers and a fourth-place finish while earning third place in Class C over the weekend at the state tournament in Omaha.
The Scouts were looking for their first back-to-back team titles in program history but came up a little short in total medal count and a little short in the final round.
Senior Dylan Vodicka became just the fifth David City wrestler to win more than one state championship when he breezed through the tournament to a 12-4 major decision in the gold medal match.
Fellow senior James Escamilla was back in the finals after a loss a year ago. but his return didn't offer the redemption he was looking for. Escamilla was setting the pace and the tone of the 220-pound title match when he was put on his back and pinned.
Junior Tre Daro made a run to his first title match but was halted by the unbeaten No. 1 guy in the division. Senior Clayton Harris made his second trip to state and this time came away with a medal, fighting back through the consolation round.
Central City won its fourth state championship with three gold medals, a silver, fifth and sixth, holding off Aquinas Catholic 135-127 in the team standings. David City scored 127 last year when it had four finalists and six with medals.
"How you do at the district tournament, a lot of times, is a factor in how the state tournament is going to set up," coach Tahner Thiem said. "We, obviously, did well at the district tournament sending 11 guys to state, but we did not do enough to get the draws that would have benefited us more."
Harris was maybe the best example of how David City faced a tough road to repeating. A district runner-up, he faced the No. 1 ranked guy, according to the coaches association, in the quarterfinals. Then, after a loss and a bounce-back win, had to beat No. 2 just to reach the medal round.
Zach Bongers (113 pounds) had a 5 vs. 6 matchup in the quarterfinals, Simon Schindler (120) was in a 3 vs. 4 bout in the same round, Ethan Zegers (126) went head-to-head with No. 3 in the first round, Josh Spatz (132) saw No. 1 in the quarters and Ethan Underwood (138) had No. 1 in his first match. Add in that Harly Eickmeier was 0-2 at 145 and Jake Ingwersen (285) lost in the heartbreak round and there simply weren't enough points to challenge for a trophy.
But it wasn't as if state didn't provide the Scouts meaningful moments to recall for those moving on and for those back in the room next winter.
Vodicka cemented himself as one of the best ever, Escamilla showed how a late bloomer can reach his full potential and Daro firmly established himself as a leader for next season. Harris, though he didn't wrestle in a title match, carried the pride of a Scout wrestler with him and won three in a row to nearly capture a consolation championship.
Not every season will include a team trophy, but David City returned home proving, once again, its status among the elite and its chances for continued success in the future.
"We could have probably won a few more close matches, but a lot of guys did a lot of good things," Thiem said. "We graduate six and have fewer returning medalists next year, but I have no doubt the guys will do what it takes to give themselves and give us, a chance."
Nate Tenopir is the sports editor of The Banner-Press. Reach him via email at DVDsports@lee.net.