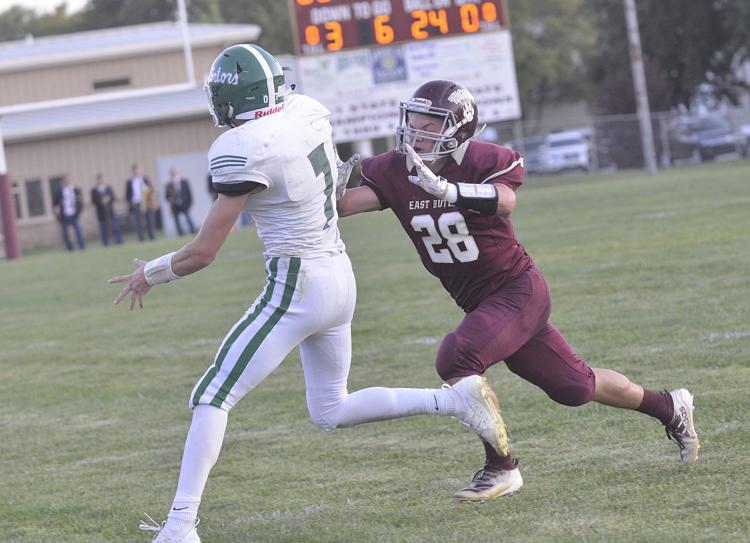 East Butler came into Friday's game against Wisner-Pilger ranked No. 7 in class D-1 by the Lincoln Journal Star after defeating West Point GACC in week 1. But, after losing to the Gators, the Tigers find themselves outside the top 10. 
All the scoring in the game happen in the second quarter, as Wisner-Pilger scored 20, compared to East Butler's 14. 
The loss drops East Butler's record to 1-1 and brings Wisner-Pilger to 2-0 on the season. 
"We played a really solid team," East Butler head coach Shawn Biltoft said after the game. "We made a few too many mistakes to come out with a win tonight. Overall, I'm proud with the way the kids battled the second half, and we'll have to look to get better each week." 
Wisner-Pilger started the second quarter scoring a touchdown just moments in to take a 6-0 lead. 
East Butler senior quarterback Jaden Rhynalds then took the following kickoff 79 yards for a touchdown and tie the game 6-6. 
But, three players latter, Wisner-Pilger senior tight end Dylan Kneifl caught the ball after an East Butler defender tipped it and ran 61 yards for a touchdown, regaining a 12-6 advantage. 
Four possessions later, the Gators started at East Butler's 12-yard line after a fumble with just over four minutes left in the half.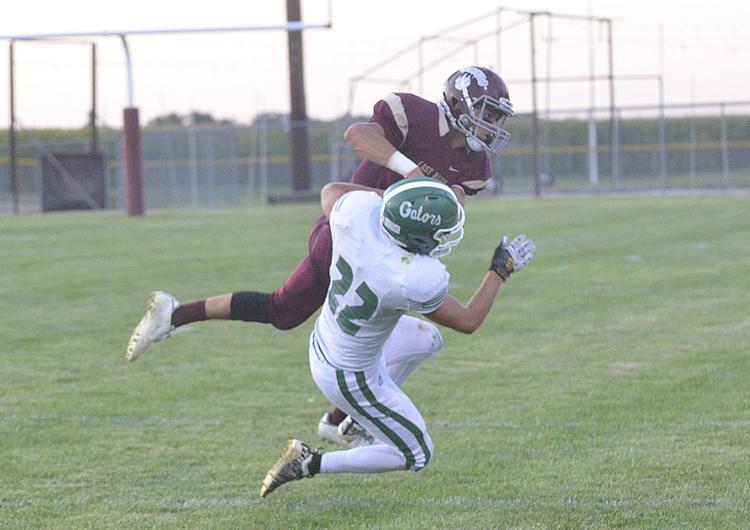 A roughing the passer penalty put the ball at the 6 where Wisner-Pilger senior quarterback Trevor Styskal ran it in two plays later for a 4-yard touchdown, giving his team a 20-6 lead. 
With not much time left, Rhynalds and the Tigers had the ball at their own 15-yard line with 3:23 left int the half. Rhynalds ran the ball three times for 12 yards and completed seven passes during the drive including a 6-yard pass to sophomore Trevin Brecka for a touchdown. 
The Tigers settled for a 20-14 halftime deficit.
During the second half, East Butler never got its offense going. Drives ended on a fumble, punt, punt, turn over on downs and another turn over on downs in the final possession. 
You have free articles remaining.
Register for more free articles
Stay logged in to skip the surveys
"We just didn't execute well on offense," Biltoft said. "Defensively, to hold a team to 20 points gives us a chance to win. I was happy defensively. They scored on some big plays, and that was their first game. They had some big plays. We just weren't able to make those big plays and capitalize on some of those things." 
Rhynalds finished the game completing 21 of his 33 pass attempts for 154 yards, throwing one touchdown and one interception. He also carried the ball 22 times for 60 yards. 
Junior Joash Malina led the Tigers in receiving yards with 57 from five receptions. 
Brecka led the team in tackles with 13. 
"I don't think (we'll let this bring us down) at all," Biltoft said. "This is not going to be that much of a loss that it's going to affect them. They're going use it as motivation and come out next week ready to go."
East Butler is in action next at 7 p.m. on Friday at Nebraska Christian.
Nebraska Christian is 2-0 this season with wins over Thayer Central and Nebraska Lutheran.
Peter Huguenin is a sports reporter for The Columbus Telegram. Reach him via email at DVDsports@lee.net.