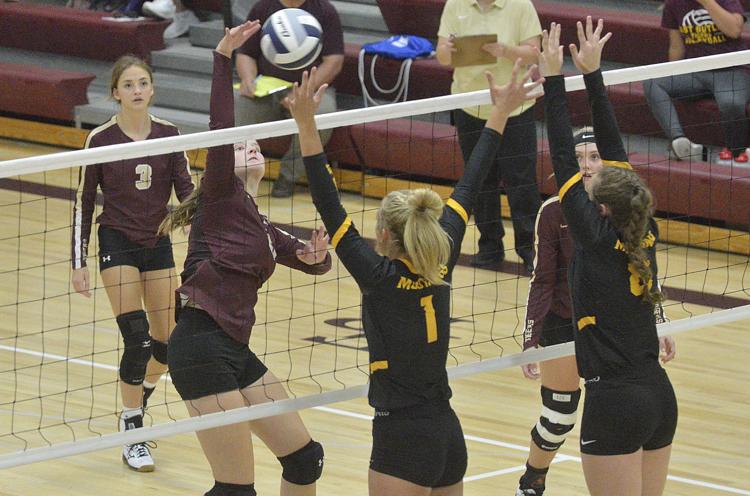 It was a busy week for the East Butler volleyball team, which played eight games from Sept. 3 through Saturday. 
It wasn't an easy start to the season as the Tigers lost their first six matches. But on Saturday at the Weeping Water Invitational East Butler put a notch in the win column against Wilber-Clatonia - 25-19, 16-25 and 25-20. 
Lexi Haney led East Butler in kills with eight while Allie Rigatuso tallied seven. 
Freshman Katie Haney served four aces and Kate Rathjen recorded a team-high 11 digs. 
Kailyn Hummel and Addie Sullivan both recorded 10 assists to lead the Tigers. 
"It was great to get our first win of the season," head coach Karmen Widick said in emailed comments. "Everyone needed to experience that, the girls, the coaches, the parents. The girls competed well in the tournament and continue to improve on little things match by match.
"It's hard to determine success without wins, but we are seeing success in areas of play as we work on finding chemistry and consistency on the court. This tournament was the end of a week with eight matches in it. While it's great to get that much court time, it doesn't allow us much time to work on things in practice that we need to iron out." . 
On Sept. 3, the Tigers hosted a triangular and lost matches to Hampton and McCool Junction getting swept 2-0 in both. 
On Sept. 5, East Butler went to a triangular hosted by High Plains. High Plains defeated East Butler 2-1 and Giltner swept East Butler 2-0. 
At the Weeping Water Invite on Saturday the Tigers lost games to Weeping Water, Lourdes Central Catholic and Conestoga. 
SATURDAY - DAVID CITY DEF. WINNEBAGO: David City also got its first victory of the season on Saturday, defeating Winnebago in two straight sets. 
The Scouts won 25-13 and 25-18. 
No other information was made available. 
David City lost two games during the week losing to Fillmore Central on Sept. 5 and Logan View/Scribner-Snyder on Saturday. 
You have free articles remaining.
Register for more free articles
Stay logged in to skip the surveys
During the loss to Fillmore Central, Payton Andel totaled 28 assists, Lauren Vandenberg recorded 17 kills, Neely Behrns managed six kills and 13 digs, Maya Couch tallied six kills and Natalie Blum finished with 13 digs and two aces. 
SEPT. 3 - SHELBY-RISING CITY DEF. MADISON: Shelby-Rising City won its season opener on Sept. 3, sweeping Madison 25-12 and 25-21 in a home triangular. 
Sophomore Jordie Nekl recorded 11 kills to lead the Huskies, and served a team-high three aces. 
Senior Kamryn Pokorney led S-RC in blocks with two, while Nekl and Reece Ingalls both recorded four digs.
Later that evening S-RC lost to North Bend Central 2-1. 
On Sept. 5 Shelby-Rising City lost 3-1 to Cross County. 
"We started our season off strong with some very competitive matches," S-RC head coach Makenzie Kuhnel said. "We started off with Madison where we had many opportunities being able to use our attackers in a variety of ways, and was able to formulate our rotations and get those consistent.
"Our Cross County match was one we will learn from. We were very strong at the serving line, but we had a night where something wasn't connecting." 
SEPT. 3 - ARLINGTON DEF. AQUINAS: Aquinas volleyball lost it's only game of the week, falling to Arlington in five sets on Sept. 3 at home. 
Aquinas took a 2-0 lead, winning the first two sets 25-23 and 25-21 but lost the next three sets to close out the match. 
"All I can say at this point is that we are improving," Aquinas head coach Jody Pelan in comments. "We've been competitive in our matches and are continuing to gel as a team even though we have new players in every position, none of whom have varsity experience except for our libero." 
No stats were made available. 
Shelby Rising City will play Aquinas at 5:30 on Thursday at S-RC. The Huskies also travel to Howells-Dodge for a tournament on Saturday. 
Peter Huguenin is a sports reporter for The Banner-Press. Reach him via email at DVDsports@lee.net