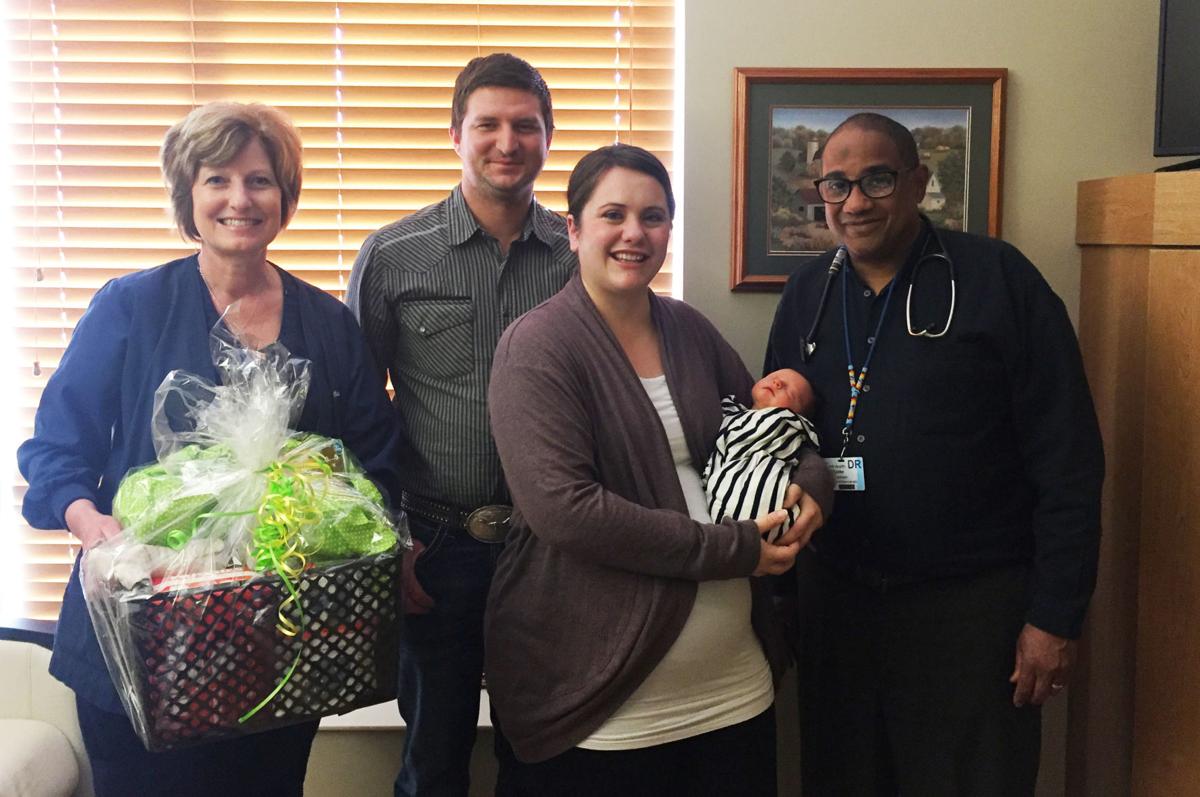 Amber Krula and her husband, Kyle, had a slight hunch that they were going to have a beautiful baby boy. But until he arrived at 1:33 p.m. on Jan. 4, at 7 pounds, 5 ounces, they still didn't know the child's sex.
"We kind of had a hunch that it was a boy, but Kyle got to announce it at the birth that we were having a little boy," Amber said. "It was exciting."
Excitement aside, Amber and Kyle now have a bundle of joy, Kade Gerhart Krula, who now has the distinction of not just being the first baby born at CHI Health Schuyler in 2020, but also being born there in the new decade.The middle name comes from Amber's grandfather, who was none too pleased after hearing that his name was going to be used for his granddaughter's firstborn.
"I talked to him on the phone yesterday and he said, 'Why in the world would you give your kid that name?'" Kyle said. "You can be embarrassed by a middle name, that's what they're for."
Having that first birth of the year in Schuyler represents one more accomplishment for CHI's obstetrician program, which has seen enormous growth recently.Facility President Connie Peters said that it was a gift for them to provide services for new parents and newborns alike in a town as small as Schuyler.
"Being able to bring in a new life into the world is an exciting part of health care that our employees absolutely love," Peters said. "We love to celebrate those joys along with families and the New Year's baby (brings) lots of promise and excitement."
The excitement had been there for Amber and Kyle as she went through the childbirth process. Everything went smoothly for them and both praised the work of CHI nurses and doctors.
"The staff has been great," Amber said. "Dr. (John) Jackson has been great, too, through the process."
Three days after the birth, Amber and Kyle saw plenty of family stop by to see Kade for the very first time. Both Amber and Kyle's parents each visited, as well as Kyle's sister. He even got the opportunity to FaceTime with his aunts and uncles.
"He got visits from Grandma and Grandpa and got to interact with his aunts and uncles," Amber said. "We wanted to keep it small."
Getting the chance to see him for the first time was something that the couple will never forget. For Kyle, it was the opportunity to see him alive and well made the whole experience finally feel completely real.
"The first time seeing him, that was pretty neat," Kyle said. "It was pretty neat meeting him for the first time (and) telling her that we're having a son."
The family left CHI Health a few days after the little one's arrival and they had everything that they had hoped for from their first child. Amber wants more, but most importantly, they currently have a happy, healthy baby boy to bring into their family.
"We were anxiously awaiting him to come out," Amber said. "Afterwards, we've just been elated that he's happy and healthy."
Kyle had a similar opinion.
"Our main thing was that we wanted a healthy kid," Kyle said. "We didn't care whether we had a son or a daughter, we just wanted (him) healthy."
Be the first to know
Get local news delivered to your inbox!