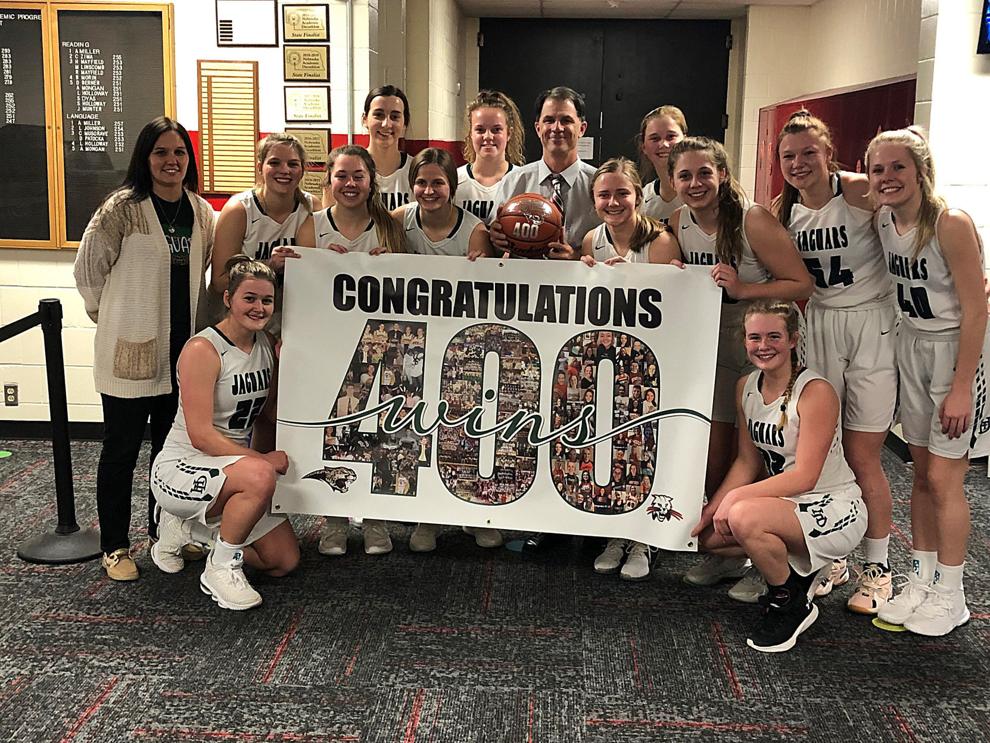 Howells-Dodge girls head coach Scott Polacek used to hear from legendary Howells basketball coach Jim Morrison that accomplishments, like winning 400 games, simply has to do with longevity.
Regardless, Polacek reached quite the milestone last week when Howells-Dodge (4-5) defeated Cornerstone Christian (3-2) 64-22 in the championship of the Mead Holiday Tournament for his 400th career victory. Afterward, there was quite the ovation from the Jaguar fans in attendance.
"What stands out are a couple things," he said. "Number one, I've had some fantastic players come through this program. Their parents did a great job of getting them ready for high school.
"Me and my assistants talk about the fact that we just don't want to screw them up. You want to take someone who has the skills and put them in a position where they can let their play shine." 
Junior Jaedyn Ratzlaff led the team with 24 points in a 60-15 blowout. The Jags led 38-11 at halftime. They defeated Cornerstone Christian 64-22 two days earlier in the opening round.
Schuyler Boys 49, Columbus Lakeview 30: Senior duo Easton Hall and Aaron Langmeier exploded in the first round of the Columbus Holiday Tournament on Dec. 30. 
Columbus Scotus 49, Schuyler Boys 29: After winning the previous night, Schuyler fell victim to a Scotus team that wouldn't miss from the perimeter - Scotus hit 11 3-pointers.
The Shamrocks also kept Hall and Langmeier in check, causing the Warrior offense to struggle. 
Columbus Lakeview 67, Schuyler Girls 11: Senior Jocelyn Tena was the only Warrior to make a field goal as Schuyler shot 3 of 33 from the field in a first-round holiday tournament loss.
Twin River 53, Schuyler Girls 15: Twin River senior Katie Paczosa scored 20 points in the consolation game and the Warriors struggled shooting again. Schuyler shot 5 of 54 from the field. The Warriors had been away form the court for three weeks.
Clarkson/Leigh Girls 64, Fillmore Central 42:  Clarkson/Leigh showed its strength to play as a group in the first round of its holiday tournament. 
The Patriots finished with a season-high 17 assists, six of which came from senior Alissa Kasik. Fillmore Central only had five assists. 
Clarkson/Leigh Girls 57, Arcadia/Loup City 43:  The Patriots dominated the battle of the boards, outrebounding Arcadia/Loup City 31-19. Senior Kayden Schumacher led Clarkson/Leigh with 10 rebounds. 
Senior Cassidy Hoffman scored 20 points. 
Clarkson/Leigh Boys 47, Fillmore Central 38: The Clarkson/Leigh boys trailed Fillmore Central by five points entering the fourth quarter in the first round of the Shelby-Rising City Holiday tournament Dec. 28 when junior Eli Hays turned on the defensive pressure in the fourth quarter and forced five steals in the final eight minutes. 
His effort on defense led Clarkson/Leigh to a 47-38 win. 
Arcadia/Loup City 30, Clarkson/Leigh Boys 29:  Clarkson/Leigh lost in the championship game. It was close and came down to the very end but 18 turnovers and 16 fouls were too much to overcome. 
Howells-Dodge Boys 84, Cornerstone Christian 22: Howells-Dodge had one of the most balanced games of its season in which four players scored in the double digits and six others contributed. 
Lance Brester scored 14, Blake Sindelar added 12, RJ Bayer finished with 11 and Nathan Hegemann totaled 10. 
Howells-Dodge Boys 56, Mead 37:  The Jaguars used a suffocating defense to win the Mead holiday tournament. Howells-Dodge held its opponent to only 15 points in the first half and scored 30 of its own, many of which came in transition. 
Howells-Dodge Girls 60, Mead 15:  Howells-Dodge coasted in the championship game hitting nine 3s including three from Ratzlaff. Ratzlaff finished with 17. 
Peter Huguenin is a sports reporter for the Schuyler Sun. Reach him via email at SCHsports@lee.net