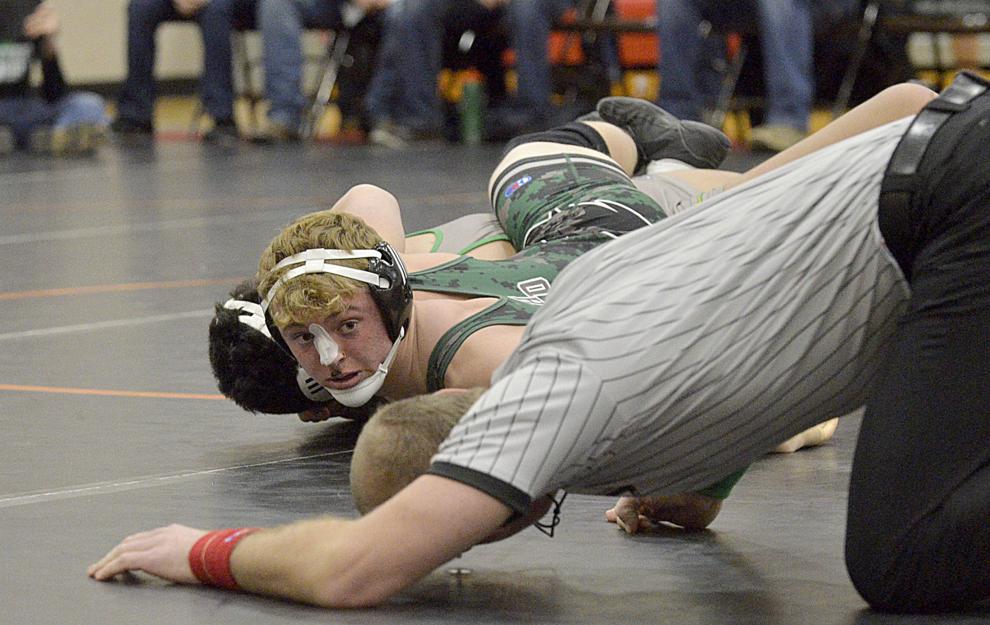 Howells-Dodge wrestling saw some of the toughest competition it will see all year at the Duane Carlson Logan View Invite on Saturay. The tournament included two Class A teams, two Class B teams and seven Class C teams. 
The Jaguars only brought six wrestlers to the tournament but won three medals including a silver after Jestin Bayer went 3-1 at 170 pounds. 
"It's a little tougher tournament," head coach Brian Jones said. "There's a lot of teams outside Class D. It's kind of one of those where you can bill it as, 'Hey guys let's go out there and do the best we can. A loss won't hurt you and a good win can be a confidence builder.'
"It wasn't maybe our best performance. I think we were steady but I wouldn't say we won any matches I didn't think we were going to win, and we didn't lose a ton of matches that I didn't think we would. It was one of those where we didn't outperform and we didn't terribly underperform." 
Levi Belina won a bronze at 160 and Lane Belina placed fourth at 145 for the other two Jaguar medals. 
Gage Stutzman (132), Austin Hegemann (138) and Jacob Hegemann (182) all won at least one match but fell just short of the podium. 
Bayer started his day with a first-period pinfall over Jace Riffle of Lincoln Northeast, pinned Gavin Ruwe of Logan View in the quarterfinals and defeated Jacob Stoner of Fillmore Central 10-2 in the semifinals. 
Bayer led Christopher Scdoris of Milford 2-0 after the first period before Scdoris stuck Bayer on his back in the second period. 
"We had him on his back early in the match and we were looking solid on top and we kind of got a little out of position on bottom and boom we're pinned," Jones said. "I would have liked to see that for another four or five minutes and see what would have happened there."
Levi Belina pinned Isaiah Reed of Syracuse in the quarterfinals before losing to Riley Eickmeier of Columbus Scotus 11-2 in the semifinals. He bounced back to pin Ty Miller of Logan View in the consolation semis and defeated Brock Mahoney of Columbus Lakeview in with a second-period pin. 
Lane lost his quarterfinal match to Trent Stauffer of Milford but bounced back in the third round of consolations to pin Alex Foust of Logan View JV. He received a medical forfeit in the consolation semis before losing to Aiden Hinrichs of Fillmore Central in the third-place match. 
Stutzman defeated Roman Lott of Lincoln Northeast 6-5, Austin Hegemann pinned Tristen Hansen of Fort Calhoun and Billy Walters of Lincoln Northeast and Jacob Hegemann pinned Connor Robertson of Logan View JV. 
The Jaguars finished eighth as a team out of 15. Milford won the team race.
Peter Huguenin is a sports reporter for the Schuyler Sun. Reach him via email at SCHsports@lee.net