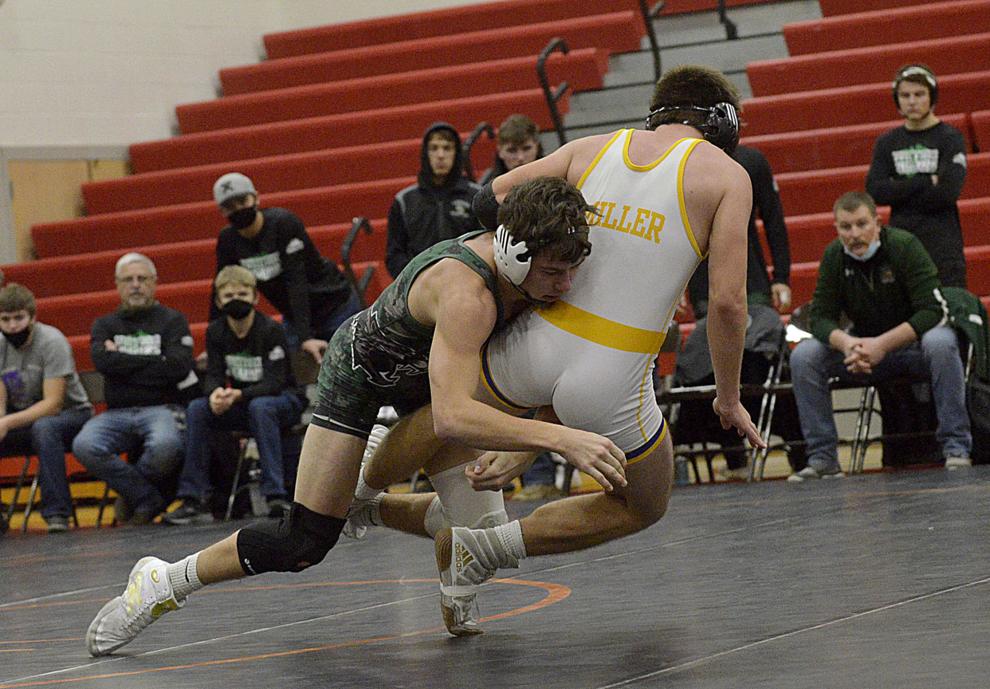 Howells-Dodge junior 160-pounder Levi Belina fell one match shy of a gold medal at the East Husker Conference Tournament in 2020. He didn't let that happen again on Saturday, going 5-0 with three pins to win conference gold at Pender.
Belina wasn't the only local wrestler to stand atop the podium. Clarkson/Leigh 132-pound freshman Dylan Higby finished 5-0 and also claimed a conference championship.
Clarkson/Leigh finished sixth as a team while Howells-Dodge placed fifth out of 13. Twin River won the invite and West Point-Beemer came in second.
Howells-Dodge head coach Brian Jones said he feels his team is gaining momentum headed into the end of the season.
"We're getting into the postseason competitions," he said. "There was some tough competition at EHC and some even matchups. We certainly didn't win as many of what I call 50/50 matches as we had hoped, but I still feel like we're moving in the right direction. Overall, we competed hard and had some really nice results for only having six wrestlers on the mats.
Belina was one of several Jags to win a medal. Sophomore Jesin Bayer placed second at 170, freshman Lane Belina took third at 145, freshman Austin Hegemann earned fourth at 138, sophomore Tyson Coufal came in fifth at 182 and junior Jacob Hegemann took fifth at 182.
Levi Belina went 5-0 with three pins, a medical forfeit and a 7-3 decision over Twin River's Mason Tenski who placed second. He is now 43-6 on the season.
Bayer went 3-1 with three pins and a 7-4 loss to Twin River's Jaxson Jones, who won the tournament. Lane Belina went 3-2. He pinned his opponent in all three of his victories.
Austin Hegemann won two matches by pinfall both of which came in under a minute. Coufal also pinned two opponents in the first period.
"We still need to get our fullest, healthiest team on the mat for the final few weeks," Jones said. "This week we really need to focus on finding ways to win close matches, and more importantly, we need to build confidence as we head into the district competitions. I believe we have some really talented, hard-working kids that owe it to themselves to compete at their highest level from now on out."
Clarkson/Leigh also brought home some hardware.
Freshman Jaden Stoklasa and sophomore Jackson Koehn both won silver at 145 and 182, respectively, junior Bryce Jurgensen earned a bronze at 106, freshmen James Grotelueshen, Isaac Baumert and Andrew Rivera all placed fifth and freshmen Morgan Bunner and Nathan Bahns each finished in sixth.
Higby went 5-0 with one pin, one forfeit, one technical fall, one major decision and one decision. The tech fall came in the championship match over Ryan Woitaszewski of West Point-Beemer.
Stoklasas finished 3-1. He pinned his first three opponents before losing to West Point-Beemer's Ty Kaup in the championship match. Koehn went 3-1 with two pins.
Jurgensen opened the day with a second-period pinfall over Tycin Lampman of Wisner-Pilger. Bunner opened the consolation bracket with a pinfall over Kristopher Pena of West Point-Beemer, and Bahns won by tech fall over Juan Garcia of BRLD in pool play.
Both Howells-Dodge and Clarkson/Leigh will be in action next at subdistrict tournaments on Saturday. Howells-Dodge will be in the D-3B subdistrict in Brainard and Clarkson/Leigh will be in the D-1A subdistrict in Shelby.
The D-3B subdistrict will include Cambridge, Creighton, East Butler, Harvard, Hastings St. Cecilia, Johnson County Central, Neigh-Oakdale, Sandhills/Thedford and Sumner-Eddyville-Miller.
The D-1A subdistrict is going to include Anselmo-Merna, Arapahoe, Cedar Bluffs, Friend, Pender, Plainview, Scribner Snyder, Shelby-Rising City, South Loup and Weeping Water.
Peter Huguenin is a sports reporter for the Schuyler Sun. Reach him via email at SCHsports@lee.net