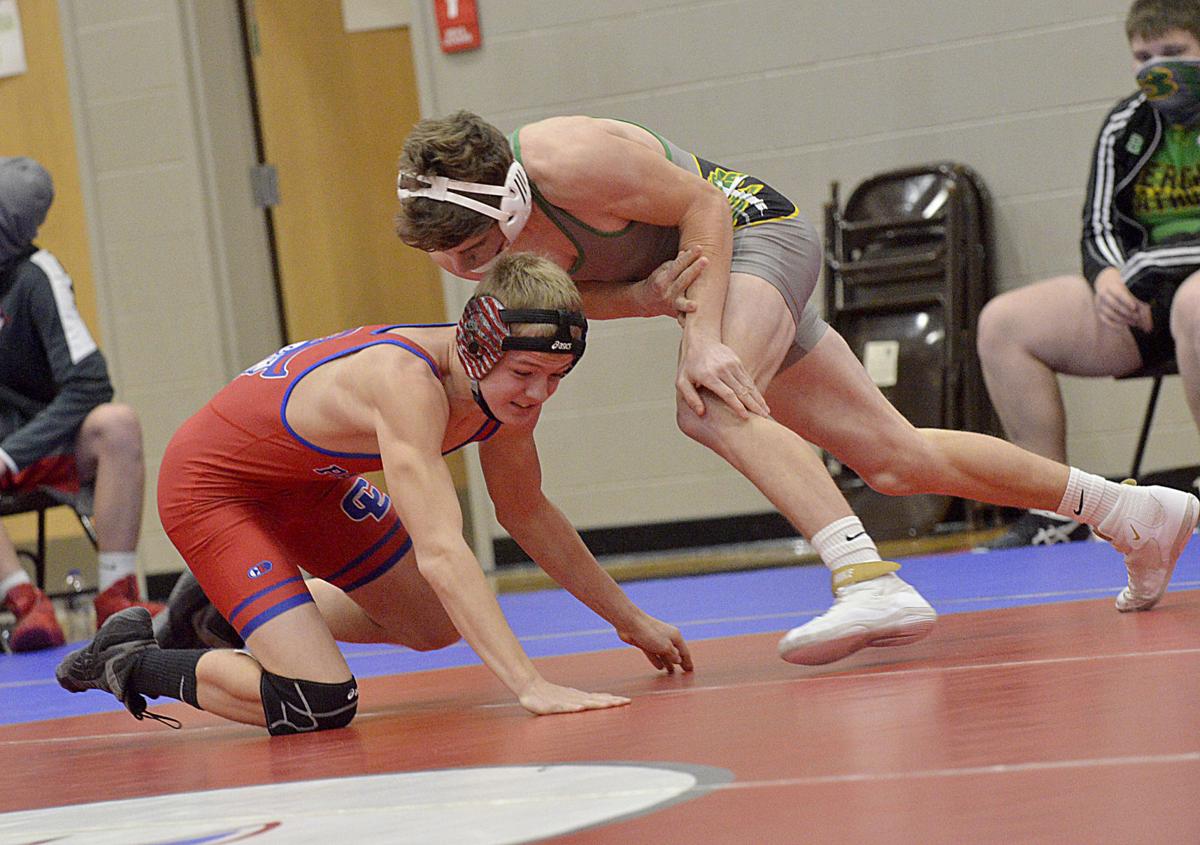 Clarkson/Leigh wrestling ended the first half of the season with one of its best performances of the early campaign. 
The Patriots traveled to Osceola to compete in the Cross County/Osceola duals Dec. 22 where they finished in second place after going 4-1 in duals. 
Clarkson/Leigh started the tournament with four straight wins. Clarkson/Leigh defeated Nebraska Christian 36-18, Shelby-Rising City 30-24, Fullerton 48-18 and Dorchester 54-0 before losing to CCO via tiebreaker. 
"Thought overall we wrestled well, asked a few kids to challenge themselves and wrestle up against some tough opponents," head coach Tyler Reeves said. "I challenged the boys to win this tournament, and they were really close. We wrestled nine freshmen, one sophomore and one junior. Hard to not be happy with our results going 4-1 in duals." 
Clarkson/Leigh 36, Nebraska Christian 18:  Clarkson/Leigh had the benefit of receiving five forfeits but also had some success on the mat. Dylan Higby continued his success with a second-period pin against William Twogood. Higby was up 8-2 at the time of the pin. 
The Patriots lost matches at 126 pounds, 138 and heavyweight. 
Clarkson/Leigh 30, Shelby-Rising City 24:  The Patriots secured another victory after four forfeits at 113, 182, 285 and 106.
Isaac Baumert scored a victory for Clarkson/Leigh at 126 pinning Kole Eickmeier with four seconds remaining in the second period. 
Eickmeier scored a takedown in the second period to tie the score at 4-4 with just over a minute and a half remaining. Baumert escaped with 29 seconds left and created a takedown before the pin. 
SRC won matches at 132, 138, 145 and 152. 
Clarkson/Leigh 48, Fullerton 18:  Clarkson/Leigh scored 42 points off forfeits and Fullerton saw 12 of its points come via forfeits.
Fullerton won a match at 182 before Bryce Jurgensen secured a win at 106 when he pinned Colby Strecker in the second period. 
Jurgensen scored three takedowns and a three-point nearfall in the first to take a 9-2 left before eventually finish the job. 
Clarkson/Leigh 54, Dorchester 0:  Jaden Stoklasa started the dual for Clarkson/Leigh after forfeits at 126, 132 and 138. 
Stoklasa pinned Jacob Hatfield in the second period to start the momentum rolling for Clarkson/Leigh. Stoklasas scored four takedowns and a two-point nearfall in the first period before pinning Hatfield.
The Patriots received another forfeit at 152. 
Jackson Koehn needed just 56 seconds to pin Marcos Gonzalez at 182. Andrew Rivera secured the last win of the dual at 285 when he pinned Victor Alegria in 30 seconds. Clarkson/Leigh received forfeits at 106 and 113.  
CCO 36, Clarkson/Leigh 36:  It came down to the wire, but CCO went 3-1 against Clarkson/Leigh in matches wrestled proved to be the difference. 
The Patriots received 30 points from forfeits compared to just 18 for CCO. 
Clarkson/Leigh started the dual with forfeits at 132 and 138. Stoklasas stretched the lead with a first-period pin over Dalton Noble.  
CCO turned it around to win a match at 152, receive forfeits and 160 and 170 and win again at 182 to take the lead. 
There were double forfeits at 195 and 220. 
CCO extended its lead at 285 before Clarkson/Leigh won via forfeit at 106 and 113. Clarkson/Leigh and CCO traded forfeits at 120 and 126. 
Peter Huguenin is a sports reporter for the Schuyler Sun. Reach him via email at SCHsports@leee.net