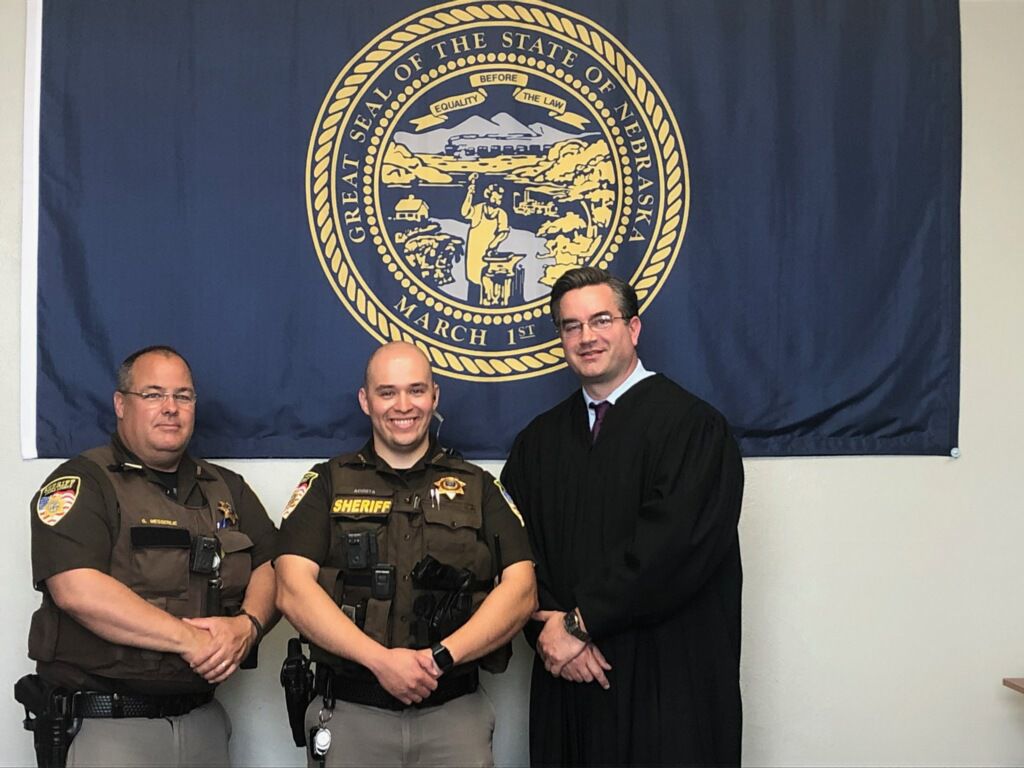 For Daniel Acosta, newly-confirmed Colfax County deputy, it's good to be home.
A Colfax County native, he worked in Platte County the last two years as a correctional officer and then as a deputy. He's stepping into his new role in a time of nationwide protests, riots and the current pandemic but said he wants to be an example that law enforcement officers are here for the community.
"Growing up with a Mexican-American family household, I've seen… (the) Spanish speaking community not necessarily have the confidence to notify law enforcement just because of the language barrier," he said. "With me being fluent in Spanish (that) is something that I can definitely use to better the community with, using my assets to trust the community, we do have Spanish speaking law enforcement officers (to) make them feel better."
Acosta has always been interested in law enforcement and he got his first law enforcement job two years ago when Platte County Sheriff Edward Wemhoff hired him as a jailer.
Part of his job involved motivational interviewing, where Acosta spoke with prisoners to get them to think positively about their future rather than about their current situation.
"You see a lot of people at their worst," he said. "Anything from asking simple questions on how you're doing, what can I as a correctional officer do to help you throughout your situation and your stay, having various conversations about you know, asking them about what their goals in life are, what their aspirations are, their belief in a deeper level."
During these conversations, inmates said things before that changed his perspective or blew him away.
"You have people that are coming from broken homes people that don't have a lot whether that's financially or morally," he said. "And that's just being able to learn everyone's backstory is something that I found I cherish."
Although he said it has been tough working long hours away from his family, he enjoyed the challenge and the problem solving of motivational interviewing, and his ability to relate to other people is something Colfax County Sheriff Shawn Messerlie appreciated.
"You really got to have someone out there who has that personality where they can talk with somebody (and) relate with somebody. You've got to do your job but there's a basic understanding of also what's going on," Messerlie said. "We're not the bad guy although we have that perception all the time."
Acosta is a genuine, down-to-earth guy, said Messerlie, and he feels bad he took Acosta away from Wemhoff.
Messerlie said Acosta's bilingual skills are a valued asset to his office. They have a diverse department, he noted, where they don't judge people based on their color or background -- they judge them based on if they're a decent person.
"I wouldn't say it doesn't exist, racism in our county but I don't see it a whole lot," Messerlie said. "There's no inkling any of our officers of having any race issues. And if there were, they wouldn't be working here."
He said when they pin a badge on someone, they look for what type of person they are.
Although Acosta has been interested in law enforcement for a while, he also has future goals for his career. He sees himself retiring as a law enforcement officer and wants to possibly earn stripes as a sergeant.
"I would absolutely love to work as a K-9 handler. I love dogs; I love animals," Acosta said. "But with that job position they do a lot of drug interdiction. They stay busy. That's something that definitely is on my list."
Personally, he loves what he does and he loves helping everyone and everyone. Professionally, he has been proud to make an impact taking impaired drivers off the roads and knowing he has made an impact dealing with troubled youth.
"I truly cherish this career," Acosta said. "I'm just here a normal guy trying to not only better myself but better the community each and every day."
Be the first to know
Get local news delivered to your inbox!