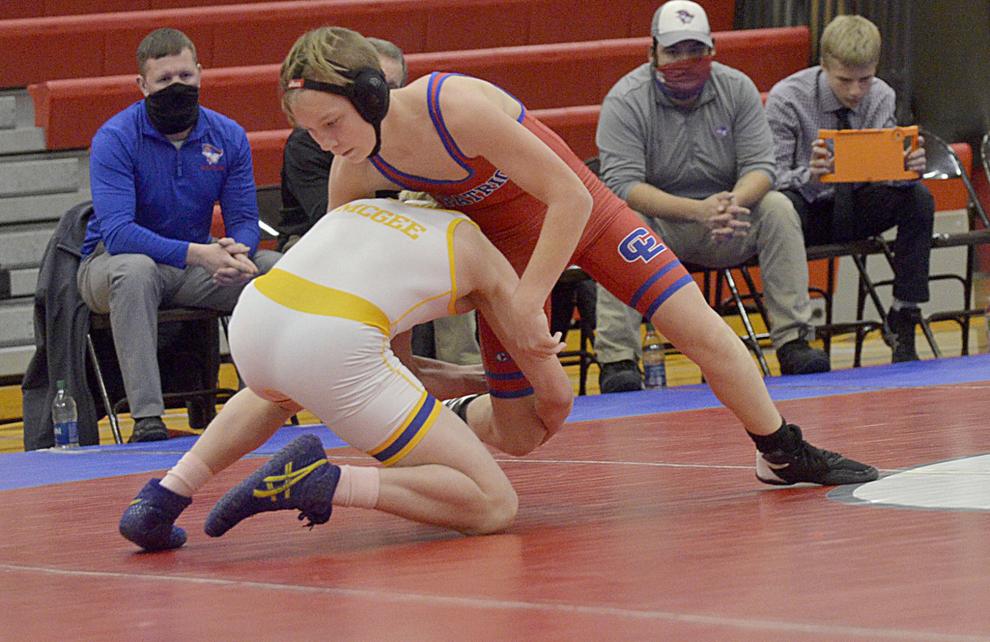 Howells-Dodge and Clarkson/Leigh wrestling faced off against some of the toughest competition the two teams have faced this on Saturday at the Wisner-Pilger invite. 
It was a fairly successful outing for both teams, with the Jaguars finishing in fourth place and the Patriots in sixth out of 16. 
Omaha Bryan won the Invite with 170 points, Ralston finished second with 160 and East Butler took third with 118. 
"I thought we looked a little rusty after coming back from break last weekend in Shelby. We looked a little tired. It just didn't look like we were being as offensive as we should have been," head coach Brian Jones said. "Saturday was a good day for us. All seven wrestlers placed, everybody wrestled well. It was good." 
Levi Belina (160) and Jestin Bayer (170) both went undefeated to claim gold medals. 
Belina finished 3-0 with two pinfalls and a sudden- win over East Butler's Trevin Brecka, who had defeated Belina earlier in the year. 
Bayer also finished 3-0 with one pin. 
Lane Belina (145) and Tyson Coufal (152) each finished with bronze medals. Lane Belina ended the day with a 3-1 record, winning all three matches by pinfall. Coufal went 4-1 with two pins. 
Gage Stutzman (132), Austin Hegemann (138) and Jacob Hegemann (182) all placed fourth.
Stutzman won two matches both by pinfall, Austin Hegemann won three matches two via pin and Jacob Hegemann won one match by pinfall. 
Jones hopes the tournament success builds momentum for the second half of the season. 
"We have to keep going in the right direction," he said. "We have a tournament next weekend at Battle Creek, which is a tough tournament. Once you hit the New Year and things start going, it just becomes a blur. We can't take any steps back now." 
Dylan Higby was the lone gold medalist for the Patriots at 132 pounds. He pinned Kajler Elliot of Omaha Bryan in the quarterfinals, defeated Rylee Rauner of Lincoln Southeast 8-4 in the semis before defeating Michael Polivka of East Butler 13-5 in the championship match. 
Jackson Koehn at 182 finished in second place. He pinned Jacob Hegemann of Howells-Dodge in the quarterfinals and pinned Tyler Bellar of Summerland in the semis before losing in the championship match. 
Morgan Bunner picked up the only other medal for Clarkson/Leigh at 113, finishing in fourth place. He lost in the semifinals but bounced back to pin Corah Linnaus of Stanton in the consolation semifinals. He lost in the third-place match. 
Bryce Jurgensen picked up a win over Rycin Lampman of Wisner-Pilger at 106 with a first-period pin, and Jaden Stoklasa pinned Kyle Heise of East Butler in the first-period on consolation round three. 
Clarkson/Leigh will be competing at the Cross County/Osceola duals on Thursday before wrestling at the Cross County Invite on Saturday. 
Peter Huguenin is a sports reporter for the Schuyler Sun. Reach him via email at SCHsports@lee.net